FIFA World Cup Teams Draw: U.S. Gets Short End Of Stick, Longest Travel Itinerary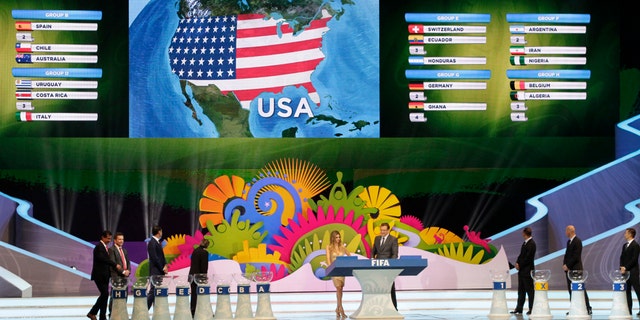 COSTA DO SAUIPE, Brazil (AP) – Defending champion Spain will play its opening World Cup game against the Netherlands, a repeat of the ill-tempered 2010 final, while host Brazil faces a relatively easy path to the knockout stage after Friday's draw.
The draw was full of bad news for the United States, which has the toughest group and the worst travel schedule. The U.S. opens with African power Ghana on June 16 on the coast in Natal, then plays Portugal and Cristiano Ronaldo in the Amazon rain forest city of Manaus. The Americans then go to back to the northern coast to play Germany, one of the favorites, in Recife.
"I kind of had in my stomach that we were going to get Germany. Obviously it's one of the most difficult groups in the whole draw."
"I kind of had in my stomach that we were going to get Germany," said U.S. coach Jurgen Klinsmann, who played for Germany's 1990 World Cup championship team and coached his native country to third place in 2006. "Obviously it's one of the most difficult groups in the whole draw."
Brazil starts its campaign for a sixth World Cup title with an opener against Croatia. Mexico, which struggled to qualify, and Cameroon are also in the group.
Argentina, champion in 1978 and 1986, first plays Bosnia-Herzegovina, the only World Cup newcomer among the 32 teams. After that game in Rio de Janeiro, the Argentine team and four-time world player of the year Lionel Messi plays Iran and Nigeria. In six previous World Cup encounters, Nigeria has beaten Argentina just once.
Argentina will be heavily favored to come out on top of Group F. If so, it could find either Switzerland or France in its first knockout game. Those European nations will be hoping to come out on top of their Group E that includes Ecuador and Honduras.
The Spain-Netherlands match is on June 13. When they met at the 2010 final, referee Howard Webb showed a record 14 yellow cards. Chile and Australia are the other two teams in the Group B.
England's first match will be against four-time champion Italy in the heat and humidity of the Amazon basin, which coach Roy Hodgson had said he wanted to avoid.
Italy and England will have to play their best to advance from Group D, since it also includes 2010 semifinalist Uruguay and Costa Rica.
"It's a tough group, there's no doubt about that. In Italy and Uruguay it's almost as though we have got two number one seeds in our group," Hodgson said.
England could also face hostility from the home crowd after the city's mayor said he did not want the English in Manaus because they complained about the climate.
Colombia, Greece, Ivory Coast and Japan are in Group C.
One of the easiest groups on paper looked to be E, with Switzerland, Ecuador, France and Honduras.
Russia, host of the next World Cup, is in Group H with Belgium, Algeria and Korea.