Feldman's Heisman Top 5: Myles Garrett is an unstoppable force for A&M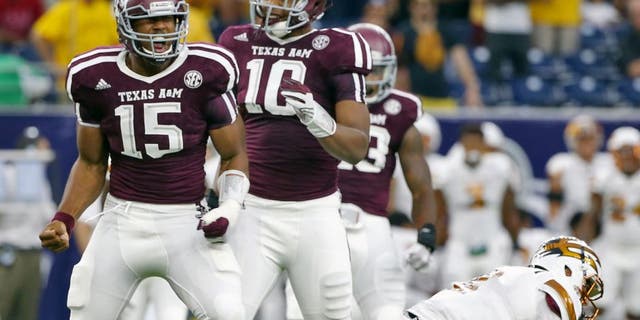 Welcome to my first Heisman Top 5 of 2015. We're starting this deal from scratch, so this weekly list is going to be very fluid every Saturday night.
Note: If a team hasn't played yet, I'm going to hold off factoring in those candidates till next week.
1. Myles Garrett, Texas A&M, DE: The 6-4, 262-pound Freak played a pivotal role in carving up a potent Arizona State offense, limiting the No. 15 Sun Devils to under 300 yards. Garrett not only had 2.5 sacks, 8 tackles, a forced fumble and drew a holding penalty, but he also drew double and triple teams and spurred his bookend mate Daeshon Hall to a four-sack night.
2. Derrick Henry, Alabama, RB: Wisconsin's had a lot of good backs over the past decade, but the Badgers had to deal with a special one Saturday night. The 6-3, 245-pounder only had 13 carries but still managed to gain 147 yards and score three touchdowns.
3. Josh Rosen, UCLA, QB: It was almost impossible to live up the lofty hype, but the true freshman was that impressive against UVA, completing 28 of 35 passes for 351 yards and three touchdown. In the process, he connected with 11 different receivers.
4. Malik Zaire, Notre Dame, QB: The 11th-ranked Irish thrashed Texas 38-3, and Zaire -- the biggest question mark for ND -- was superb, going 19 of 22 for 313 yards, three TDs and no turnovers.
5. Trevone Boykin, TCU, QB: I almost put Oregon QB Vernon Adams (246 yards passing, 2 TDs) here, but I'll go with Boykin. The No. 2 Horned Frogs faced a pretty good Minnesota team on the road with a tough Gophers secondary, and Boykin came through with 338 total yards.
Bruce Feldman is a senior college football reporter and columnist for FOXSports.com and FOX Sports 1. He is also a New York Times Bestselling author. His new book, The QB: The Making of Modern Quarterbacks, came out in October, 2014. Follow him on Twitter @BruceFeldmanCFB and Facebook.