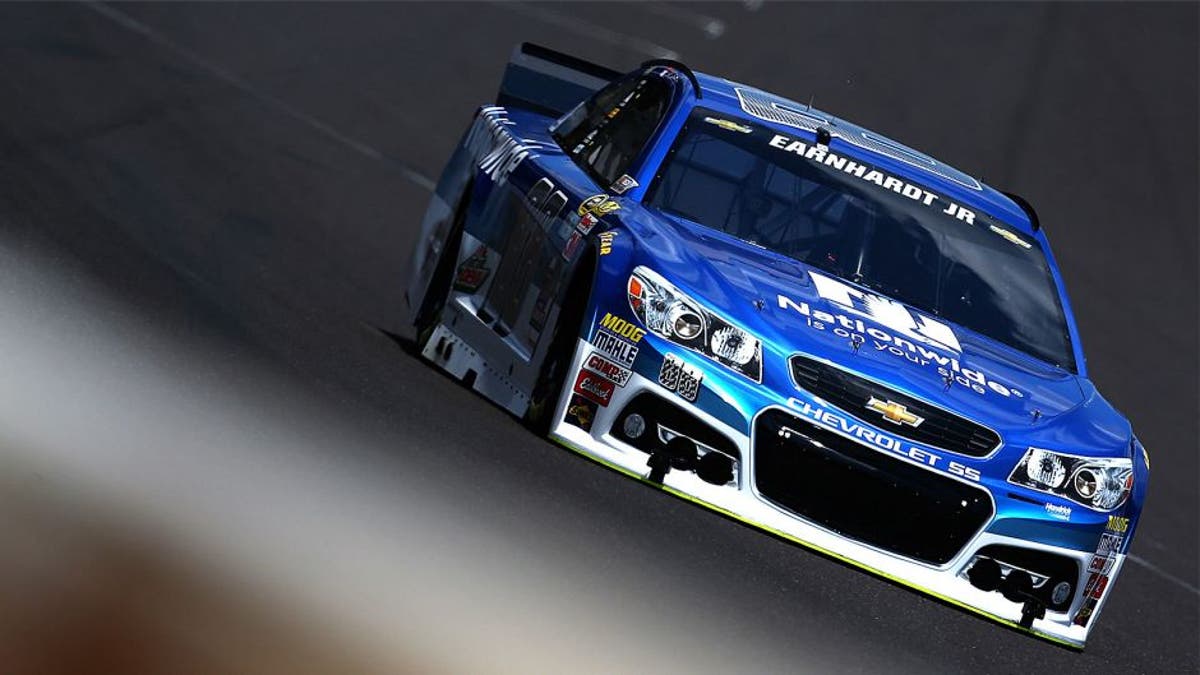 After leaving the Magic Mile, we come to a place where real magic happens. This week the Sprint Cup Series comes back to the historic Indianapolis Motor Speedway for this weekend's Crown Royal 400. The Brickyard will play host to this prestigious stock car racing event on motor racing's most identifiable and iconic track. IMS is a rectangular oval with very flat banking all the way around. The straights are completely flat, and the four corners have banking that varies from 9 to 12 degrees. The track is very temperature sensitive, so constant adjustments to the race car are a must in order to keep up with the changing handling conditions throughout the event. Over the last few seasons Goodyear has been able to develop a great tire for stock cars at Indianapolis Motor Speedway, so we expect solid racing and for tire wear not to be an issue this Sunday afternoon. The long green flag runs that are commonplace at Indy could bring the fuel-mileage factor into the strategy for this 400-mile event, so we'll need to keep that detail in the back of our minds when making our driver list this week. The rectangular oval has played host 21 Sprint Cup Series events to this point, so we have some very extensive data on how the drivers perform at Indianapolis Motor Speedway.
Indianapolis Motor Speedway is perhaps the most unique track that the series visits each year. No other track on the circuit has enough comparable characteristics to draw even a modest comparison. The racing we just experienced at the flat one-mile oval of New Hampshire Motor Speedway is probably the most recent and closest set of data to consider. Those drivers that dominated at Loudon are likely to keep the momentum rolling this weekend at Indianapolis. Let's take a quick look at the loop stats for the last 10 NASCAR races at Indy. Since the Sprint Cup Series only races at Indianapolis Motor Speedway once a season, this span will cover the last 10 years and should give us a good statistical tool to evaluate the drivers for this weekend's Crown Royal Jeff Kyle 400. Indy's results are really our best information to evaluate driver performance, so this chart will have some added emphasis in our prognostications this week. You'll notice that Jimmie Johnson leads the list across various categories, and that dominance has led to victories in the past. The following table has the loop stats from the last 10 years or 10 races at Indianapolis Motor Speedway.
| DRIVER | AVG FINISH | QUALITY PASSES | FASTEST LAPS | LAPS LED | LAPS IN TOP 15 | RATING |
| --- | --- | --- | --- | --- | --- | --- |
| Jimmie Johnson | 13.8 | 248 | 173 | 302 | 1,192 | 108.1 |
| Jeff Gordon | 7.9 | 315 | 157 | 95 | 1,252 | 105.6 |
| Kyle Larson | 7.0 | 36 | 2 | 5 | 148 | 104.4 |
| Tony Stewart | 7.8 | 319 | 98 | 121 | 1,095 | 101.9 |
| Kasey Kahne | 14.4 | 299 | 102 | 158 | 1,237 | 100.1 |
| Kyle Busch | 10.6 | 297 | 64 | 42 | 1,178 | 98.5 |
| Matt Kenseth | 12.6 | 282 | 18 | 29 | 1,238 | 96.6 |
| Kevin Harvick | 12.5 | 254 | 34 | 55 | 1,057 | 92.7 |
| Greg Biffle | 13.1 | 217 | 60 | 53 | 1,062 | 92.3 |
| Denny Hamlin | 15.3 | 227 | 54 | 75 | 851 | 90.6 |
| Clint Bowyer | 13.6 | 194 | 12 | 6 | 845 | 85.0 |
| Brad Keselowski | 14.0 | 104 | 30 | 44 | 371 | 84.2 |
| Carl Edwards | 13.4 | 263 | 44 | 6 | 819 | 83.9 |
| Joey Logano | 15.3 | 147 | 10 | 21 | 489 | 83.8 |
| Dale Earnhardt Jr. | 19.3 | 238 | 46 | 48 | 791 | 82.5 |
| Brian Vickers | 17.4 | 133 | 8 | 19 | 655 | 82.5 |
| Ryan Newman | 16.4 | 157 | 28 | 45 | 658 | 79.6 |
| Jamie McMurray | 16.5 | 184 | 15 | 26 | 646 | 78.8 |
| Austin Dillon | 18.0 | 39 | 3 | 1 | 114 | 75.5 |
| A.J. Allmendinger | 18.0 | 111 | 3 | 4 | 291 | 75.2 |
Recent history has shown us that Chevrolet has a complete stranglehold on this historic venue. The last 12 victories at Indy have gone to Chevrolet drivers of various camps. Jimmie Johnson and Tony Stewart alone have won six of those 12 victories at IMS. While Stewart is not in a good place right now, Johnson certainly is in a position to extend his winning ways at the Brickyard. Jeff Gordon is a five-time winner at Indy and the winner of this event one year ago. If you're looking for a storybook ending this Sunday afternoon, the driver of the No. 24 Chevrolet pulling into victory lane in his final start there would be hard to top. Last year's 400-mile race at motor racing's most famous track saw the Gordon take control late and hold off Kyle Busch and Kasey Kahne to win his fifth Brickyard trophy. Considering that Gordon is still looking for his first win of the season, we're making a very timely visit to Indianapolis.
Even though Chevy owns this dominant win streak at this track, we still can't overlook the top contenders from Ford and Toyota. With the resurgence of Brad Keselowski at New Hampshire and Kentucky, we can't overlook Ford's opportunity to upstage Chevy this weekend. Drivers like Kyle Busch, Joey Logano, Carl Edwards and Keselowski are more than capable of pulling the upset in this Sunday's Jeff Kyle 400. As for Toyota, their chances of winning a first Brickyard 400 trophy will primarily fall on Busch and Edwards. The two stars are racing the most consistently in that manufacturer's camp and both will be looking forward to their first chance to kiss the bricks at Indianapolis. We'll take a look at the top contenders and the streaking drivers in the Sprint Cup Series, along with historical data in order to give you the drivers you need this weekend to dominate the Brickyard and your fantasy racing league.
The Contenders - Drivers in the hunt for the win
Kyle Busch - The Joe Gibbs Racing star rides a five-race Indianapolis Top-10 streak into this weekend's Jeff Kyle 400. That includes a pair of runner-up finishes in that streak. The Brickyard has held a lot of success for him over the years. Eight Top 10's in 10 total starts just speaks to his excellence at this historic track. Coming off the dominant victory at New Hampshire, we wouldn't rule anything out for Busch. Even though he's only led 42 laps over those 10 starts at IMS, he's hot enough right now to consider a top contender this weekend. A first-ever victory in this prestigious race is very likely for the No. 18 team.
Brad Keselowski - With Keselowski's big performance and many laps led at New Hampshire this past week, the Penske Racing star served notice that he will be a Chase participant later this season. Not only that but his chance to win at new speedways seems very possible given his recent Loudon and Kentucky outings. The driver of the No. 2 Ford has only five career starts at Indianapolis. Those have yielded only a pair of Top-10 finishes but 44 laps led. Coming off the big New Hampshire performance we expect the veteran driver to show up with a fast car this weekend at the Brickyard and to post a career-best performance, possibly a race-winning performance.
Kevin Harvick - Another great veteran driver to rely on this weekend would be Stewart Haas Racing star Harvick. The No. 4 Chevy team is a weekly contender to win as he showed at Loudon this past week with 59 laps led and a brilliant third-place finish. Indianapolis has been a very good track for Harvick, with one victory, four Top 5's and eight Top 10's in 14 career starts. Harvick has led over 100-career laps at Indianapolis Motor Speedway so he knows all too well what it takes to get to the front and stay there at this rectangular oval. Harvick's series-leading eight runner-up finishes this year shows that he's a top contender each weekend of the season.
Joey Logano - Logano appears to be getting back into top form. After 35 laps led and second- and fourth-place finishes the last two races, things look very good heading to the Brickyard. Based on historical numbers, the No. 22 team has this track dialed-in. In four prior starts at Indianapolis Motor Speedway he has two Top-10 finishes. That includes 11 laps led and a steady eighth-place finish in this event two years ago, and 10 laps led and an even better fifth-place finish last season. The No. 22 Ford was powerfully fast at New Hampshire last weekend, which sets up pretty well for Indianapolis. Logano could roll a lucky number Sunday afternoon.
Solid Plays - Drivers who are near locks for the Top 10 with an outside shot at winning
Matt Kenseth - The No. 20 Toyota team has been getting better of late. Kenseth rides a two-race Top-10 streak into the Brickyard this Sunday afternoon. The Joe Gibbs Racing star has piled up some pretty good numbers over his career at Indy. He's cracked the Top 5 in three of his last four starts at Indianapolis. At some point, JGR and his team are going to bring a car strong enough to win here. It may not happen this weekend, but he won't be far off the winner's heels judging by recent history. Toyota hasn't had much success as a whole at Indianapolis, but this camp is pretty hot entering the weekend. Certainly another Top-10 finish to go with his prior nine here is in the offing.
Dale Earnhardt Jr. - In recent seasons Indianapolis has been a track of surprise winners. In 2010 it was Jamie McMurray upsetting the stars of the sport, in 2011 it was Paul Menard winning his first Sprint Cup victory at the Brickyard and in 2013 it was underdog Ryan Newman kissing the bricks after 400 miles. Earnhardt has never won at this historic oval, and he's a prime candidate to throw off that dry spell and surprise the NASCAR world with a win Sunday afternoon. With only five-career Top 10's at this track, the history doesn't look great, but three of those have come in the last three seasons. The No. 88 team has been improving steadily at IMS, and they should be a Top-10 finisher in the Jeff Kyle 400.
Jeff Gordon - Outside of Tony Stewart, Gordon has one of the longest and most impressive resumes of NASCAR racing at Indianapolis. The Hendrick Motorsports veteran might be looking at his best chance to get into victory lane this season at the Brickyard this weekend. Gordon's a five-time winner of this event, including this event one year ago, and he's led well over 500 laps at Indy for his career. Gordon's historic resume at the Brickyard is proof of his high level of performance at this track. His 17 Top-10 finishes here lead all drivers by a wide margin. The driver of the No. 24 Chevrolet should be a steady Top-10 finisher at IMS.
Jimmie Johnson - Johnson's bad luck of late is somewhat troubling coming to Indianapolis, but the No. 48 team's excellence here is too good to ignore. The six-time champion has won four of the last nine events at the historic speedway, and that puts him second to teammate Jeff Gordon for the all-time lead at Indy. The No. 48 team is sitting on four wins to this point in the season, so the Hendrick Motorsports star has good potential to kiss the bricks this Sunday afternoon at Indianapolis. Given that Johnson has a victory and runner-up finish in his last three starts at IMS, he's got to be considered a strong fantasy racing play for this event.
Sleepers - Drivers with good history at Indianapolis who can provide a solid finish
Carl Edwards - The Joe Gibbs Racing star has come on strong the past couple weeks. We can start valuing the No. 19 Toyota team in weekly lineup leagues thanks to the turnaround. Edwards' Indianapolis resume is a bit of a mixed bag with three Top 10's in 10-career starts. However, he's maintained a respectable 13.4 average finish across those starts. That means the veteran driver is running at the end of all these races and almost always finishing on the lead lap. Considering how well the Gibbs teams are performing right now and with a new aero package this week at IMS, Edwards is set up for a career-best finish at the Brickyard.
Kurt Busch - The Indianapolis resume has been a mixed bag for the driver of the No. 41 Chevrolet. Busch's four Top-10 finishes in 14 starts wouldn't normally inspire much confidence entering this weekend. However, it's been the body of work this season that makes this Stewart Haas Racing driver a steady play at the Brickyard. He rides a six-race Top-10 streak into Indianapolis and that includes a Top 10 at last week's flat track in New Hampshire. In the end analysis most fantasy racing players won't pick on Busch this weekend because of his spotty history at this track, but the new aero package and his current hot streak suggest his first Brickyard Top 10 since 2004.
Ryan Newman - The 2013 winner of the Brickyard returns for another shot at kissing the bricks. Newman is coming off a steady 11th-place finish at Loudon and looking for more in the Jeff Kyle 400. That bodes well coming to yet another flat track this Sunday afternoon. Outside of the lone victory, Newman's resume at IMS isn't very impressive, but it's what he's done here of late that makes him fantasy racing worthy. With seventh-, first- and 11th-place finishes at Indy the last three seasons, the veteran driver's performance here is swinging in the right direction. Newman should be a steady performer with a lot of upside this 400-mile event at Indianapolis Motor Speedway.
Kasey Kahne - The Hendrick Motorsports star has had a frustrating season, but the Brickyard history is enough to slide him into the sleepers list this week. Kahne has 158-career laps led, three Top-5 and six Top-10 finishes in 11 Brickyard 400 starts. When he's not hitting the big finishes and paydays in this prestigious race, he's had some pretty tough outcomes. We're reminding of Kahne's big crash in turn 2 and DNF here in 2007 when he was racing for owner Ray Evernham. However, most of Kahne's Indy heartbreak lies squarely in the distant past. His start here last season netted 70 laps led and a strong sixth-place finish. The driver of the No. 5 Chevrolet should be a big upside player in the Jeff Kyle 400.
Jamie McMurray - The 2010 winner of the Brickyard 400 is solidly in the sleepers list this week. While this season has been a campaign of ups-and-downs for the No. 1 Chevy team, there have been some bright spots along the way. McMurray has always been a top performer at the historic rectangular oval. The Chip Ganassi racing veteran has good career numbers at this facility, and will likely field a fast car this Sunday afternoon at Indianapolis. McMurray's five career Top 10's and 14.6 average finish at the Brickyard makes this one of his most successful tracks on the circuit.
Paul Menard - The 2011 Indianapolis winner returns to the scene of his biggest moment as a Sprint Cup Series driver. Menard shocked the NASCAR world in that race when he out-dueled stars like Jeff Gordon and Tony Stewart in the closing laps and won at the historic speedway where he'd never cracked the Top 10 before. Menard will be hard-pressed to equal that feat this weekend, but he should be able to maintain a high level of performance at Indianapolis. The RCR driver has posted steady Top-15 finishes in two of his last three starts since the big win, so he should be a steady performer in the Jeff Kyle 400.
Slow Down - Drivers to avoid this week
Denny Hamlin - Hamlin has a series of ups-and-downs in his resume at the Brickyard. With only four Top-10 finishes in nine career starts, it might seem as if we should lay off the No. 11 Toyota team this weekend. What is most troubling is his recent level of performance. The Sprint Cup Series just left New Hampshire Motor Speedway, one of Hamlin's better venues. The Joe Gibbs Racing star had a very fast car there, but could only manage a 14th-place finish with a Top-10 car. It's just one more questionable performance in what has been an inconsistent year for the driver of the No. 11 Toyota. Hamlin brings a lot of upside, but he also brings a lot more risk to Indianapolis this weekend.
Trevor Bayne - With the Brickyard belonging lock, stock and barrel to Chevy drivers the last several seasons, it's hard to be a Ford driver coming to this track this weekend. If you're not Brad Keselowski or Joey Logano it could be difficult sailing at the 2.5-mile flat oval. In Bayne's case he's made four-career starts at the track that have yielded only one Top-20 finish. Things have not come easy for the No. 6 Roush Fenway Racing team this season and the young driver comes to Indianapolis a lowly 27th in the driver standings. With little history, questionable level of performance and a lot of youth working against him, it would appear that we're better served passing on Bayne for the Jeff Kyle 400.
Sam Hornish Jr. - With eight-career IndyCar starts here and even the huge Indy 500 win back in 2006 it's hard to pick against this much experience at this oval. Added to that are his four starts in a NASCAR stock car at IMS, but they have netted little in the results. Hornish has only one Top 20 in those four stock car races at the historic oval. The experience pales when we take a long hard look at the numbers that have been collected by the driver of the No. 9 Ford. Once again Hornish is looking square at the prospect of finishing outside the Top 20 this weekend in this installment of the Brickyard. It's best to keep him on the bench this weekend if possible.
Tony Stewart - Stewart's two wins and seven Top 5's at Indy make him one of the top drivers in the field this weekend. The fact that the owner/driver of the No. 14 Chevrolet is winless to this point in 2015 is the larger point. In fact, he's collected only one Top-10 finish this season and the nerves and animosity growing within the team are a troubling sign. Stewart historically picks up the pace during the summer part of the schedule, but it hasn't happened this season. The fact of the matter is that this driver and team are going to have to string some good finishes together before they'll be fantasy racing worthy.
Taylor is a three-time FSWA Racing Writer of the Year.
Get a FREE RotoWire 10-day trial (no credit card required) at RotoWire.com.