FANTASY NASCAR PREVIEW: CAMPINGWORLD.COM 500 Driver Picks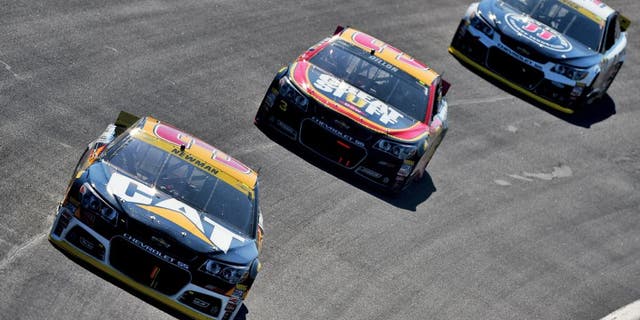 NEWYou can now listen to Fox News articles!
This weekend the luck factor comes into play like no other race in the 10 events that makeup the Chase for the Sprint Cup. NASCAR comes to Talladega Superspeedway for the CampingWorld.com 500 and for the wild restrictor-plate racing action that Talladega provides. This is the perfect event to throw in with the short tracks, flat tracks, and intermediate ovals that make up the final 10 races in the Chase for the Sprint Cup championship. Considering that we've spent the last two weeks racing on intermediate ovals with few cautions and few crashes, we're in for some major changes as the "big one" comes back into play. The multi-car, multi-line drafts and side-by-side racing at near 200 mph is nothing short of chaotic. Five hundred miles of racing in these tight conditions almost always leads to disaster, and that's where the luck factor comes into play this weekend. Considering that this weekend's race is the final of the Contender Round and the cut for the Eliminator Round in the Chase, the stakes will be even higher than usual. If Dale Earnhardt Jr. hopes to engrave his name on the Sprint Cup trophy for the first time, a victory here will go a long way to that end. The Hendrick Motorsports star won here in May of this year in a pretty dominant performance. The No. 88 Chevrolet team has been almost flawless on the superspeedways the last couple seasons, so that should go a long way towards boosting Earnhardt's confidence entering this event. The two biggest threats to Earnhardt's hopes for an Eliminator round-advancing win this weekend would be Kevin Harvick and Denny Hamlin. Both are past winners at this 2.66-mile oval and both are on the bubble for possible Chase elimination, short of a victory this Sunday afternoon. The stakes will be high and so will the nerves. As we saw with Joey Logano and Matt Kenseth at Kansas last weekend, the consequences of this Chase format is more pressure than ever at this point in the season. When the green flag drops the mayhem will ensue and championship hopes will be made or dashed after 500 miles of racing at 'Dega.
Talladega Superspeedway may be unlike any of the other tracks in the Chase, but history still plays a big part. The drivers that tend to run up front and win at this large oval are usually the same drivers each and every time we visit Talladega. As you'll see in the table below, some of the drivers who are vying for the championship are also very proficient at Talladega Superspeedway. Here are the loop stats for the last 21 races at the famous restrictor-place track.
| DRIVER | AVG FINISH | QUALITY PASSES | FASTEST LAPS | LAPS LED | LAPS IN TOP 15 | RATING |
| --- | --- | --- | --- | --- | --- | --- |
| Dale Earnhardt Jr. | 18.8 | 4,616 | 82 | 410 | 2,496 | 92.8 |
| Matt Kenseth | 17.4 | 4,897 | 71 | 409 | 2,527 | 89.2 |
| Jimmie Johnson | 15.3 | 4,199 | 56 | 285 | 2,253 | 89.0 |
| Ryan Blaney | 13.0 | 535 | 2 | 15 | 246 | 88.5 |
| Kurt Busch | 18.2 | 5,620 | 57 | 95 | 2,537 | 88.3 |
| Denny Hamlin | 18.5 | 3,851 | 80 | 222 | 1,731 | 83.5 |
| Brad Keselowski | 15.6 | 2,697 | 55 | 45 | 1,160 | 83.2 |
| Kyle Larson | 22.7 | 709 | 5 | 0 | 234 | 80.5 |
| Jamie McMurray | 20.2 | 3,741 | 65 | 218 | 1,846 | 80.1 |
| Kevin Harvick | 15.8 | 3,820 | 89 | 138 | 1,841 | 79.9 |
| Martin Truex Jr. | 20.5 | 4,309 | 57 | 50 | 1,985 | 79.6 |
| Aric Almirola | 20.5 | 1,984 | 34 | 14 | 859 | 79.4 |
| Joey Logano | 20.9 | 2,876 | 54 | 56 | 1,203 | 79.3 |
| Jeff Gordon | 20.0 | 3,347 | 63 | 393 | 1,805 | 79.2 |
| David Ragan | 17.8 | 3,089 | 63 | 35 | 1,364 | 79.2 |
| Kyle Busch | 22.4 | 3,707 | 90 | 156 | 1,784 | 78.6 |
| Tony Stewart | 20.1 | 2,854 | 82 | 269 | 1,615 | 77.8 |
| Clint Bowyer | 15.3 | 2,627 | 105 | 98 | 1,295 | 77.7 |
| Austin Dillon | 22.3 | 1,191 | 15 | 0 | 398 | 76.4 |
| Paul Menard | 20.4 | 3,573 | 79 | 39 | 1,597 | 75.7 |
The loop stats from Talladega look a bit odd when compared to other tracks in the series. Right away we notice a lack of drivers like Joey Logano, Kasey Kahne, Kyle Busch, Jeff Gordon and Carl Edwards in the Top 10 of this list. Luck plays a large part in winning Talladega. Some times it's all in the timing and when to make your move at this oval. The second thing we notice is the lower overall driver ratings. Wrecks play a big part in Talladega racing, and everyone eventually gets caught up in a big one, putting a dent in their statistical performance. In this season's earlier race at Talladega in May we saw Dale Earnhardt Jr. take the lead after the final restart and cruise over the final 27 laps for the win in a thrilling 500-mile race. Yes indeed, anything can happen at Talladega. The 27 lead changes were a 13-season low at the massive superspeedway, but the action was still edge-of-seat none-the-less. We're certain that we're in for more of the same in this Sunday's CampingWorld.com 500. We should see some big multi-car crashes and some late cautions as the urgency gets the best of the drivers in the closing laps. With the big wrecks and caution flags as a result of the pack racing, we should see the familiar "sand-bagging" drivers who hang out in the back of the field. The driver who keeps a low profile most of the race may ultimately be the one to push to the front in the closing laps and make for a thrilling victory. One thing is for certain, the championship field will narrow even more after this 500-mile event, as four more drivers drop from the Chase field and only eight advance to the Eliminator round. From that standpoint this truly is separation Sunday in NASCAR. Some drivers will move on to Martinsville with their Chase for the Cup hopes intact, while others will load the wrecked remains of their race cars onto the hauler and start to think about next season. Here are the drivers who you need to focus on for fantasy racing glory at Talladega Superspeedway.
The Contenders - Drivers in the hunt for the win
Dale Earnhardt Jr. - While the 2015 season has turned downward for Earnhardt and the No. 88 team during the Chase, he still makes a strong start on his favorite tracks. At this point, a Hail-Mary shot at victory lane is all he has left to stay alive in the Chase. Earnhardt's restrictor-plate resume this season holds thrilling victories at both Talladega and Daytona this summer, so the team is on fire on these huge ovals. The NASCAR icon will be looking to swing for the fences this Sunday at the huge speedway in central Alabama. Earnhardt is a six-time Talladega winner and he's led almost 900-career laps at this superspeedway. If there's anywhere that he holds his own Chase destiny in his hands, it's here.
Denny Hamlin - The Joe Gibbs Racing star is coming on strong as the Chase wears on. Hamlin comes to central Alabama this weekend poised to advance in the Chase unless something crazy happens. He could very well punch his ticket to the Eliminator Round with a victory. It wouldn't be that surprising considering that he won his first Talladega victory just this past season. The No. 11 Toyota team has been lights out on the restrictor-plate race tracks since 2014. Hamlin has 48 laps led, one win and four Top-5 finishes in the seven events to-date. To that he added wins in the Sprint Unlimited and Bud Duel at Daytona during Speedweeks last season. The No. 11 Toyota team has been second only to the No. 88 team in terms of performance on these big ovals the last two years.
Kevin Harvick - The Stewart Haas Racing veteran used to be one of our prime contenders on these superspeedway tracks. Although Harvick's numbers cooled in the last couple seasons, he's on the upswing as we visit the 2.66-mile tri-oval again. Having one career win and 13 Top-10 finishes at Talladega Superspeedway, the driver of the No. 4 Chevrolet has steady stats at this track and a steady 45-percent Top-10 rate. Harvick has performed similarly at Daytona as well. His runner-up finish in this season's Daytona 500 and fourth-place finish in the July Daytona race speak volumes of his superspeedway racing skill. Harvick sits in precarious position to transfer to the next round of the Chase, so you know he'd love to win and make that automatic.
Matt Kenseth - While the Joe Gibbs Racing star is a one-time Talladega winner (this event in 2012) and 10-time Top-10 finisher at the Alabama oval, he's currently experiencing some bad luck entering this crucial race. A crash at Charlotte and controversial spin out on the last lap at Kansas last week have put the No. 20 team squarely behind the eight ball as we come to Talladega. Kenseth would likely fail to transfer into the next round of the Chase unless some very wild stuff happened, or unless he wins Sunday's CampingWorld.com 500. The veteran driver has had great speed the last few weeks, but just lacking the luck to put together a win. Considering that he finished runner-up in this event one year ago, we think Kenseth is a great "buy low" contender for the win this week.
Solid Plays - Drivers who are near locks for the Top 10 with an outside shot at winning
Jimmie Johnson - Johnson has been uncharacteristically poor throughout the Chase for the Cup, and it wasn't until this past week's Top 5 at Kansas has even looked like the Jimmie Johnson that we know and expect. The news is mostly good as the series visits Talladega Superspeedway this week. The Hendrick Motorsports star is a two-time Talladega winner, and he's finished as high as runner-up as recently as May of this year at the Alabama oval. Johnson's 41-percent Top-10 rate at this facility is bolstered by his restrictor-plate racing success this season. The driver of the No. 48 Chevrolet has posted fifth-, second- and second-place finishes at Daytona and Talladega in 2015. Those are hard results to discount.
Kurt Busch - We look forward to the Stewart Haas Racing star's start at Talladega this weekend. Coming off the good finish at Kansas, the No. 41 team is in good position to advance to the Eliminator round of the Chase. So there's plenty of reason to be optimistic about his chances at Talladega. Busch's plate-track stats speak for themselves with 14 Top 10s in 29 Talladega starts. That's a strong 48-percent Top-10 rate on a track that requires as much luck as skill to succeed. The veteran driver has posted seventh-, 12th- and fifth-place finishes on the superspeedways this season, so they have the speed to succeed. The No. 41 Chevrolet should be very fast, and Busch will know what to do with it in this race.
Ryan Newman - We can usually depend on Newman when we visit the superspeedways. The Richard Childress Racing veteran has been strong on this oval in recent visits. With four Top-10 finishes in his last six trips to Talladega, things have been pretty steady for this veteran driver. Considering he's thick in the middle of the Chase battle and looking towards advancing, the pressure is on this weekend. Newman posted a bunch of Top 10s at Talladega in the middle part of this past decade, and he's been reviving that success of late. The RCR veteran finished fifth in this event one year ago, and he finished seventh here in May. Newman should slot somewhere in that range this Sunday afternoon.
Clint Bowyer - Bowyer has always been very good on superspeedways. Although he established most his stats and wins as a Chevrolet driver for Richard Childress Racing, it's clear that he has the knowledge of pack racing in the draft to succeed. His three restrictor-plate starts this season have netted two Top-10 finishes. Bowyer has two wins and 10-career Top 10s at Talladega Superspeedway, and that ranks him among the leaders at this facility. The veteran driver has had only one DNF at Talladega since the 2007 season, and that's some security on this high-risk oval. Considering the recent and historical numbers, we expect Bowyer to be on his game in Sunday's 500-mile melee at Talladega.
Sleepers - Drivers with good history at Talladega who can provide a solid finish
Joey Logano - The Daytona 500 winner has never really been that good or consistent on superspeedways. However, he had the speed and the luck to win the biggest race of the season in February of this year. Considering that Logano is riding a two-race win streak into Sunday's CampingWorld.com 500, he's got a lot of momentum on his side. The Penske Racing star scored an 11th-place finish in this event one year ago, and we're willing to be he'll be even better this time around. With the pressure of advancing in the Chase not an issue with the No. 22 team, we expect Logano to race hard and have some fun at Talladega.
Jeff Gordon - Gordon is the top restrictor-plate driver among all active drivers with a series-leading 12 victories. So it's not surprising that we've listed him in our sleeper plays list this week. The Hendrick Motorsports star is still in the hunt for this season's championship and that's more than enough motivation for this driver and team to forge a good finish. There's good reason to believe that Gordon will be one of the solid drivers at Talladega this weekend. He won the pole position here in May and led 47 laps before bad luck saddled him with a poor finish. Gordon also won the pole and led 87 laps in the season-opening Daytona 500, so the No. 24 team has had plenty of superspeedway speed this season.
Martin Truex Jr. - A surprising inclusion in our sleepers list this week, but there's no doubt the No. 78 Chevrolet has been powerful on these restrictor plate tracks season. Truex has eighth- and fifth-place finishes at Daytona and Talladega earlier this season, and the crash and DNF at Daytona in July is the only blight on the record. That Top-5 finish in the GEICO 500 now gives the Furniture Row Racing veteran seven-career Top 10s at Talladega Superspeedway, and that includes three of the last five races here. The No. 78 team is still quite alive in the Chase for the Cup and we expect Truex to race with a real sense of urgency this Sunday afternoon.
Austin Dillon - Dillon's superspeedway resume is short, but there's already a number of accomplishments here to point towards. In his first-career start at Daytona in 2014 he earned the pole position and finished ninth in his first Daytona 500. In the seven-career starts so far between Daytona and Talladega the Richard Childress Racing driver has collected three Top-10 and six Top-15 finishes. That works out to a surprising 14.0 average finish for the driver of the No. 3 Chevrolet. While Dillon won't be racing for Chase glory this Sunday, he'll have that puncher's chance of doing something very big in the CampingWorld.com 500.
Ryan Blaney - The young Wood Brothers Racing driver is on a roll. After grabbing a respectable Top-15 finish at Charlotte two weeks ago, the team traveled to Kansas this past week and Blaney raced like a veteran en route to a seventh-place finish. His only other Top 10 of 2015 came in May of this year at Talladega. The driver of the No. 21 Ford qualified third and finished fourth in the GEICO 500. Blaney races way more mature than his 21-year age would lead you to believe. In weekly lineup leagues, this driver and team present a must start at Talladega.
Casey Mears - This veteran driver has been one of the most consistent drivers in the Sprint Cup Series on superspeedways the last two seasons. Mears has earned four Top 10s and six Top 15s in the last seven starts between Daytona and Talladega. The Germain Racing driver's last start on an oval this size yielded an 11th-place finish at Daytona in July of this year. With an 11.9 average finish across that span, it underscores that the No. 13 team has been doing some truly impressive work on these restrictor plate tracks since 2014. We expect Mears to be a Top-15 finisher yet again in Sunday's CampingWorld.com 500.
Slow Down - Drivers to avoid this week
Brad Keselowski - The three-time Talladega winner comes to central Alabama this weekend looking for a win and automatic bid to the next round of the Chase. Considering his recent performance issues, it will be a tall task for a driver and team on the verge of elimination. Keselowski has had some tough luck at the historic superspeedway in recent visits. Sandwiched around his win in this event one year ago are finishes of 29th-, 38th- and 22nd-place in his last four Talladega starts. The term boom or bust certainly comes to mind. With all his finishes outside the Top 20 in the last three restrictor-plate races, the current trends don't bode well going into this 500-mile Talladega battle.
Carl Edwards - Ever since Edwards flew airborne into the fence at Talladega in 2009, there has just been bad vibes between this driver and this track. Sure, the Joe Gibbs Racing star has brought plenty of fast cars here over the years, but the results have been hard to come by. With only five Top-10 finishes in 22 starts, Talladega Superspeedway ranks as one of Edwards worst tracks on the circuit. The 2015 season on restrictor plate tracks has been particularly puzzling for the driver of the No. 19 Toyota. Edwards has no finishes inside the Top 20 and only three laps led to go along with one DNF. Even though the weight of the Chase will be bearing down on this driver, this just isn't a horse to bet on in the CampingWorld.com 500.
Michael Waltrip - Not that long ago, Waltrip used to be a fixture in our sleepers list for the Talladega and Daytona race weekends. However, it's become painfully clear that some skill erosion has taken place over the last two seasons for the 52-year old driver. Waltrip has only posted one Top 10 in his last seven Talladega starts, and he's collected only one Top 10 in his last five Daytona starts. Even though he's a four-time winner on restrictor-plate tracks, it appears that the sun may finally be setting on a very long and colorful career. Don't be duped into using Waltrip at Talladega this week in your weekly lineup leagues. There will be a lot of sentiment and reflection in what could very well be his last Sprint Cup Series start, but there won't likely be a Top-20 finish.
Kyle Larson - It's hard to believe, but it almost appears that the No. 42 Chip Ganassi Racing team is snake-bit on these restrictor-plate tracks this season. The talented Larson is a good fantasy racing play most weeks, but the superspeedways have been a real puzzle for this young driver in 2015. He has three crashes and DNFs in all three Daytona and Talladega races to-date. That is somewhat tempered by the fact that Larson has one-career Top 10 in three starts at the Alabama launching pad, but the trend is too disturbing to sleep on this weekend. It's best to bench Larson this week in favor of more reliable superspeedway drivers.
Taylor is a three-time FSWA Racing Writer of the Year.
Get a FREE RotoWire 10-day trial (no credit card required) at RotoWire.com.