Fans drape 'Racism is as American as baseball' banner over Green Monster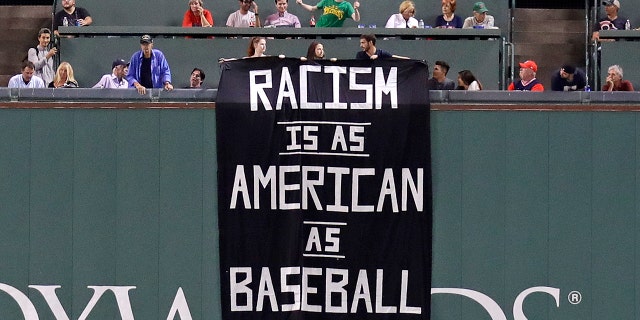 Protesters caused a stir at Boston's Fenway Park Wednesday night when they unfurled a banner proclaiming "Racism is as American as Baseball" over the famed Green Monster.
Two women and one man were seen holding up the black banner in the middle of the fourth inning of the Red Sox game against the Oakland Athletics.
The Boston Globe reported that the crowd booed the banner until it and the protesters were removed by security. The game was not delayed.
In a statement, the Red Sox said that four people were ejected from the park and the banner was "in violation of the club's policy prohibiting signs of any kind to be hung or affixed to the ballpark." The club's statement did not mention the message on the banner.
Boston fans were embroiled in a racially charged episode in May, when Baltimore Orioles outfielder Adam Jones said he was taunted with racial slurs by fans sitting in the Fenway bleachers. Two days later, the Red Sox announced that they had banned a fan from the park for life after he directed racial slurs at another fan the night after Jones said he was abused.
After deadly violence at a white nationalist rally in Virginia last month, Red Sox owner John Henry said he planned to ask the city of Boston to change the name of Yawkey Way, which runs in front of Fenway Park. The street is named for Tom Yawkey, who owned the Red Sox from 1933 until his death in 1976.
Under Yawkey's ownership, the Red Sox infamously became the last team in the American League to integrate when they signed Pumpsie Green in 1959.