Examining Vikings first depth chart: Offensive breakdown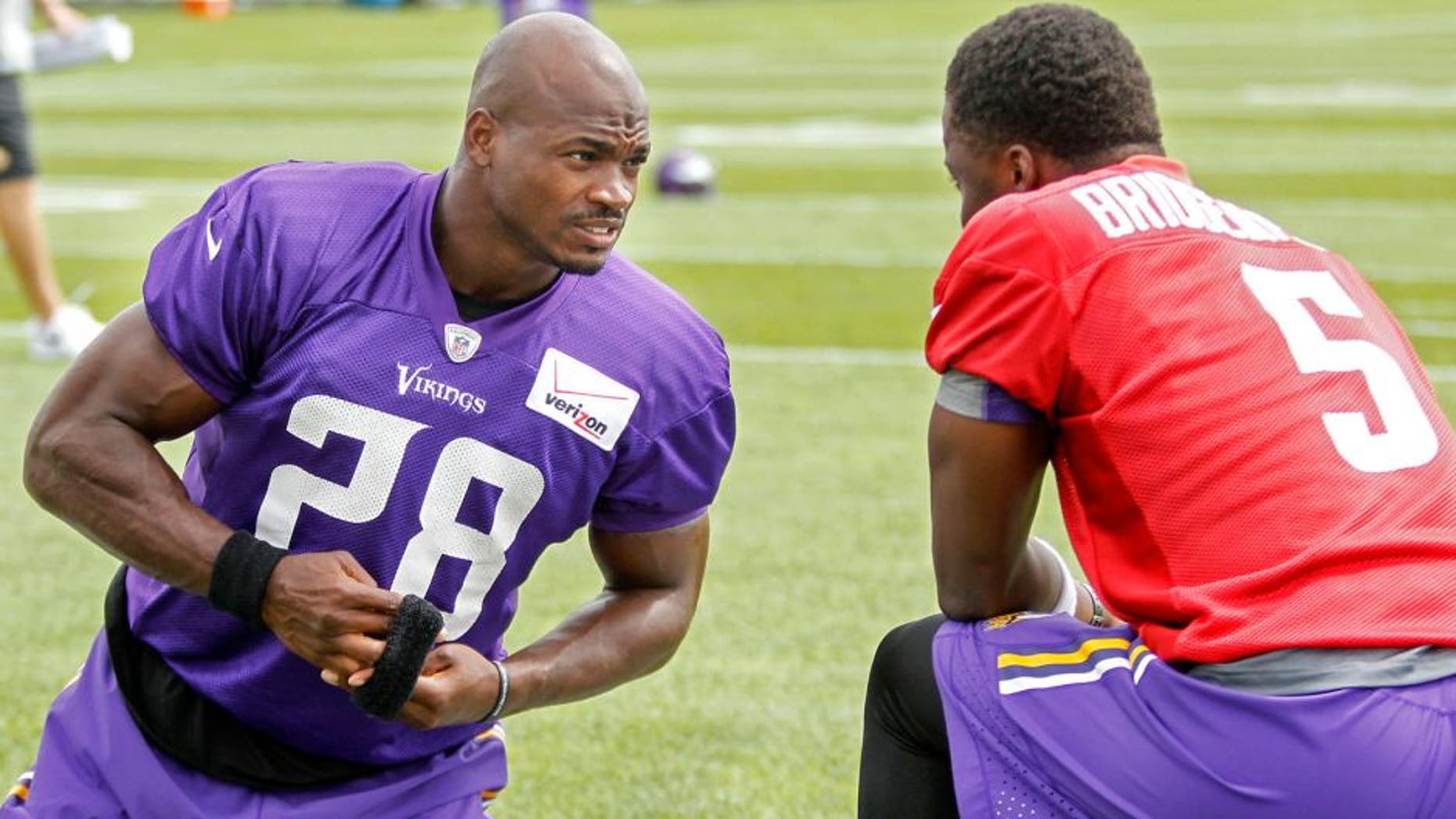 The Minnesota Vikings released their first depth chart Tuesday, which they say is unofficial, in advance of the preseason opener Sunday against the Pittsburgh Steelers.
So, to reiterate: This is the team's initial depth chart. It's unofficial. It's for the first preseason game. It's tentative. Capricious. Subject to change.
OK, now that we've sufficiently hedged our bets, let's take a look at this thing and react to it. We'll dive into the offense on Tuesday and analyze the defensive placements on Wednesday. Because when it comes to football season, you just can't prognosticate enough.
Position: QB
Teddy Bridgewater
Shaun Hill
Taylor Heinicke
Mike Kafka
Reaction: No surprises among the first two, but it's interesting that Heinicke, a 6-foot undrafted rookie who played in a spread offense at mid-major Old Dominion, has moved ahead of Kafka, a six-year NFL backup.
Position: HB
Adrian Peterson
Jerick McKinnon
Matt Asiata
Joe Banyard
Dominique Williams
DuJuan Harris
Reaction: The first three are set, but after that there could be a bit of fluctuation among the trio of undrafted backs. Banyard, a practice-squad veteran entering his fourth pro season, and Williams, a high-hurtling second-year player, could give way to Harris, who was impressive with the Packers in 2012 and entered the 2013 season as their projected starter before a knee injury ruined those hopes.
Position: FB
Zach Line
Blake Renaud
Reaction: Line's a lock to be the starter, and it's an uphill battle for the undrafted Renaud, who was a linebacker in college and is learning the position on the fly. Also, Asiata can play fullback.
Position: WR
Mike Wallace
Cordarrelle Patterson
Jarius Wright
Isaac Fruechte
Jordan Leslie
Gavin Lutman
Reaction: For the outside position, the biggest takeaway is Patterson being listed ahead of Wright, who has played in Minnesota's three-receiver sets. But much was made by Patterson and coaches in the offseason about the electric returner making strides as a receiver, so perhaps the work is paying off.
Position: WR
Charles Johnson
Adam Thielen
Stefon Diggs
Donte Foster
DaVaris Daniels
Ryan Whalen
Reaction: In the slot, the first three will likely make the team but their placements could change. Johnson is the main man, but Thielen, the talented but little-used backup, could be outpaced by Diggs, a dynamic rookie returner.
Position: TE
Kyle Rudolph
Rhett Ellison
MyCole Pruitt
Chase Ford
Brandon Bostick
Reaction: There's some intrigue here, as Pruitt, the fifth-round rookie, has so far surpassed Ford, who caught 23 passes for 258 yards last year with Rudolph out. Bostick has some real receiving potential, but his notorious kick-return gaffe for the Packers in last year's NFC Championship Game likely stands out for a bottom-of-the-roster guy who'd need to make the team as a special teamer.
Position: LT
Matt Kalil
Carter Bykowski
Babatunde Aiyegbusi
Reaction: As much as fans might salivate over the sheer size of Aiyegbusi, the 6-foot-9 Polish giant, it's unlikely he passes Bykowski, and very possible neither makes the team.
Position: LG
Brandon Fusco
David Yankey
Zac Kerin
Bob Vardaro
Reaction: What's attention-grabbing here is that Yankey is listed at guard, though the 6-6 second-year lineman has been playing at left tackle recently in practice.
Position: C
John Sullivan
Joe Berger
Tom Farniok
Reaction: No surprises and probably there will be no changes, as the two grizzled veterans snapping the ball to young Bridgewater won't give way to Farniok. It's possible Minnesota could move Berger to right guard.
Position: RG
Mike Harris
Tyrus Thompson
Isame Faciane
Reaction: One of the few positions with a legitimate competition going on, Harris is nominally the starter -- for now. That could change if Thompson, the sixth-round rookie, outplays the unremarkable fourth-year veteran or if Berger slides over.
Position: RT
Phil Loadholt
TJ Clemmings
Austin Shepherd
Reaction: Clemmings can play guard or tackle, but in this first depth chart the fourth-round rookie is listed at tackle. Loadholt likely won't be unseated, though Clemmings could be moved inside to right guard.
Follow James Carlton on Twitter