Ex-Gophers coach Kill signs on as Kansas State associate AD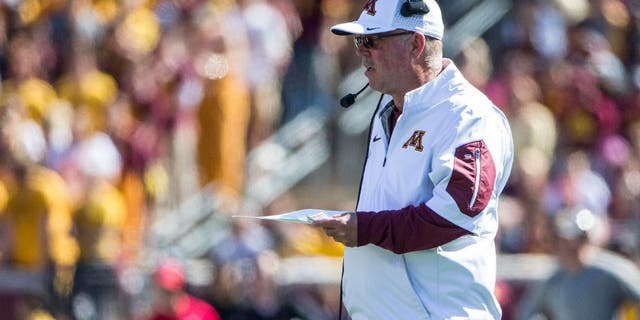 NEWYou can now listen to Fox News articles!
Former University of Minnesota football coach Jerry Kill is getting back in the game.
Kill has been named associate athletic director at Kansas State, the school announced Tuesday, just seven months after he resigned from his coaching position with the Gophers.
The Cheney, Kansas native was quick to shut down any speculation that he might be returning to the sidelines: He isn't after Wildcats coach Bill Snyder's job.
"Rebecca and I couldn't be happier to return home to the state of Kansas and join the K-State Athletics family and Manhattan community," Kill said in a statement "I want to make it known that my coaching days are over, and I am excited to start this next phase as an administrator for one of the finest athletics departments in the country."
The 54-year-old Kill resigned from his position with the Gophers in October after suffering a series of seizures on the sidelines.
"Jerry's health issues have precluded him from coaching again, but his passion for athletics and young people make this a positive step for his future career," Snyder said in a statement.
Kill has a 156-102 as a head coach, and spent time at Saginaw State, Emporia State, Southern Illinois and North Illinois before joining the Gophers.
He led Minnesota to a 29-29 record and three bowl games during his five years at the helm.