Ex-Army Ranger Alejandro Villanueva made first NFL start in Steelers loss to Chiefs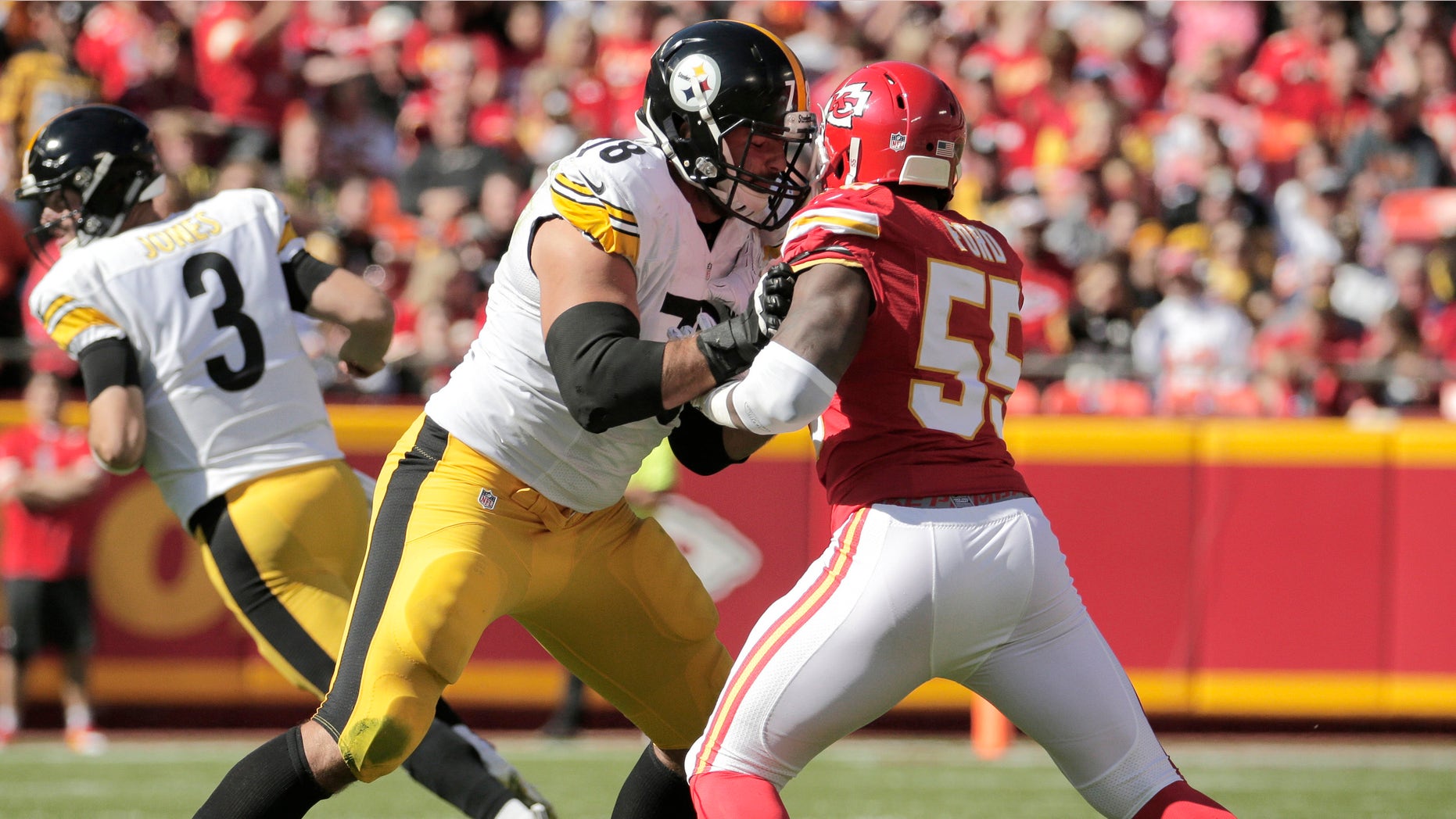 A former Army Ranger took his skills to the gridiron on Sunday when he got his first NFL start for the Pittsburgh Steelers.
Alejandro Villanueva, who won a Bronze Star while serving Afghanistan, played offensive tackle in the Steelers' 23-13 loss to the Kansas City Chiefs, who broke a 5-game skid.
Villanueva took the place of left tackle Kelvin Beachum, who sustained a season-ending knee injury in last week's victory over the Arizona Cardinals.
Ahead of Sunday night's game, Villanueva said he was not overly nervous about moving into the lineup because of his teammates.
"Kelvin Beachum works even harder than me," Villanueva said. "(Wide receiver) Antonio Brown is the hardest worker on the team. (Defensive end) Cam Heyward is a guy that makes sure that I'm up to (par at practice) with my technique and football skills.
He said is amazed by his teammates, adding that he's "feeding off the energy of my teammates and coaches. That's what's making this team so special."
"He's been ready for this ever since walking into this building," Steelers guard Cody Wallace said Thursday. "In fact, he was ready long before he ever got here."
Military service and the Bronze Star — awarded for heroic or meritorious service in a combat zone — aside, Villanueva's path to the NFL has been astonishing.
The 27-year-old finished his college career in 2009 at the West Point playing wide receiver. Last season, following his four-year commitment in the service, the 6-foot-9, 277-pound Villanueva went to training camp with the Philadelphia Eagles as a defensive lineman and was waived. He signed with the Steelers, who kept him on the practice squad all season while converting him into an offensive lineman.
Steelers coach Mike Tomlin couldn't help but notice Villanueva during the playing of the national anthem last year before a preseason game against the Eagles.
"There was a guy standing over there about a head taller than everybody else saluting during the anthem and it kind of got my attention," Tomlin said. "I wanted to know about this enormous human being over there saluting."
Villanueva added 65 pounds over the past offseason and made the 53-man roster in training camp. He remains in the Army reserves and is taking classes at Carnegie Mellon University's Tepper School of Business in Pittsburgh while working on an MBA.
"You know that you have to perform like they expect you to," Villanueva said. "You can't sit back and make excuses."
"I just have to get better," he said. "Get lower. Get faster. Get sharper, and overall just be a little bit better."
"I'm not shocked by anything Al does," Tomlin said. "He's a unique man, he's a talented man, he's a sharp guy, and a very gifted athlete. I think he's capable of doing anything he puts his mind to."
Based on reporting by the Associated Press.