Evans lays out Giants' top two priorities this offseason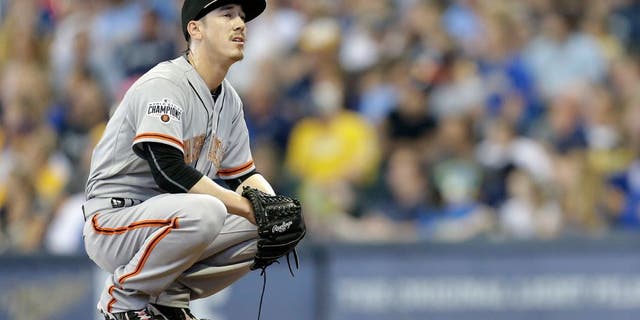 Tim Linecum has become a free agent, leaving the Giants to decide if they want to re-sign him or go another direction for their staff. Mike McGinnis Getty Images
If the San Francisco Giants can manage to stay healthy in 2016, they have a chance to be contenders yet again, but there are a few areas that the front office wants to address this offseason.
General manager Bobby Evans revealed the Giants' needs that they'll look to free agency and the trade market to fulfill.
"I think we recognize that there's a need to deepen our rotation, improve our rotation," Evans said. "There's also a need to keep an open mind about other areas we could improve, whether that's looking at our left-field situation or at ways to give us some depth. There are a lot of opportunities out there that we don't yet know in great detail -- trade-market opportunities."
Although they missed the postseason after winning the World Series in 2014, Evans is proud of the resiliency San Francisco displayed despite a litany of injured players in 2015, including starters Hunter Pence, Brandon Belt, and Joe Panik.
"To see the guys fight all the way to the last week of the season is a credit to the whole clubhouse and the culture," Evans said. "It was young players recognizing we're without some of our bigger pieces, but we can still make a difference. We were very proud."
Beyond the need for starting pitching and an everyday left fielder, the Giants believe they have the core intact for a deep postseason run in 2016.
"It's a special group of guys and a very special group of leaders," Evans said. "Bruce Bochy is a Hall of Fame manager. Buster Posey is a significant portion of the leadership in our clubhouse. Hunter Pence. Matt Cain and Madison Bumgarner. The stability and continuity, the tone set by our team president Larry Baer, by our ownership group, there's a lot to be thankful for. We take pride in it, and we continue to try and get better and live up to it."