Embattled Rodriguez plans to join Yankees Monday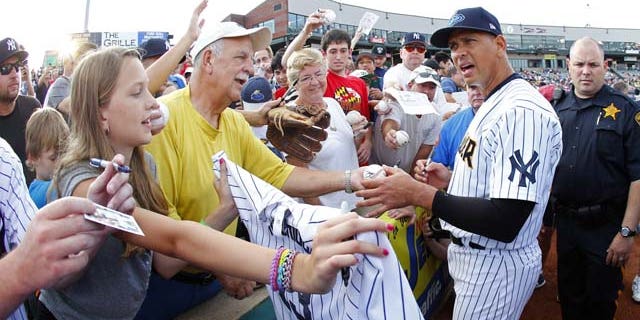 TRENTON, N.J. – Alex Rodriguez brushed aside any worries about a pending suspension, saying he's headed to Chicago and plans to play for the New York Yankees on Monday night.
"I'm excited to play Monday," the star third baseman said after drawing four straight walks with Double-A Trenton on Saturday night. "I can't wait to see my teammates. I feel like I can help them win."
Rodriguez said he would work out Sunday -- no one disclosed the site -- and then travel to Chicago, where the Yankees will open a three-game series with the White Sox on Monday.
No matter what else happens?
"I'm flying to Chicago," he said.
Major League Baseball and the Yankees turned down requests Saturday to meet with Rodriguez's camp and the union about the embattled star's expected drug penalty, two people familiar with the talks told The Associated Press.
The overtures were made two days before MLB was poised to hand Rodriguez a lengthy suspension for his part in the Biogenesis case. The two people spoke to the AP on condition of anonymity because no public statements were authorized.
"I've been on the field the last 5 1/2 hours. I haven't seen or heard anything," Rodriguez said. "My focus has been on baseball. As far as any of that stuff, I'll let those guys take care of what they need to take care of."
Before Rodriguez took the field, his side reached out to the Yankees and union head Michael Weiner contacted MLB Executive Vice President Rob Manfred. The Yankees and MLB said they had no interest in such talks.
There was always the chance, however, that further negotiations could take place at the last minute.
"I'll have an opportunity, when the time is right, to tell my full story," Rodriguez said.
The New York Post, Daily News and New York Times reported the discussions earlier Saturday.
There hasn't been any definite word on the severity of Rodriguez's looming penalty, with speculation ranging from a lifetime ban to a suspension through the 2014 season.
Also possible, according to those familiar with the talks, was a suspension lasting until Aug. 31, 2014, the day before all teams are permitted to expand their rosters from 25 players to 40.
The 38-year-old Rodriguez hasn't played in the majors this season. The three-time American League MVP is recovering from hip surgery and a strained quadriceps.
A day after Rodriguez homered for Trenton, Thunder manager Tony Franklin hedged on whether A-Rod was ready to rejoin the majors.
"That's not for me to say," Franklin said. "His swing is getting better. He's running better. He's doing the baseball things OK right now. But that's a different game up there."
"I think he can handle it because he's been there for a number of years," he said. "I don't think he'll be surprised by anything on the baseball field despite what's going on now. He's been one of the best baseball players I have ever seen. Once they decide he's ready to go back, I don't think he'll have any trouble adapting at all."
Rodriguez certainly had no trouble tracking balls, drawing three of his four walks on full-count pitches against Reading. He swung through a 91 mph fastball on a 3-0 pitch his third time up in the fifth and flipped his bat.
A high-and-tight fastball backed him off the plate in the seventh, and he turned and smiled, thankful the pitch didn't hit him.
Rodriguez ran the bases, then left the game after the seventh. He gave his batting gloves and a bat to fans in the sellout crowd of 8,113 before heading into the dugout.
"I feel great," Rodriguez said. "It was great to see a lot of pitches."
A few minutes before the national anthem, he chatted up fans near the dugout, fist-pumped a kid and walked off to have a catch.
Rodriguez caught a knuckling line drive by the game's first batter and later fielded a grounder and began an inning-ending double play.
Batting second, Rodriguez walked to the plate to Jay-Z's "On To The Next One" and received a mixture of cheers and boos in the first. He fouled off a 2-2 pitch before eventually drawing a walk.
Rodriguez slowly went first to third on a double off the right-field wall and was stranded. He also walked in the third while his girlfriend, former pro wrestler Torrie Wilson, held up her cell phone to video the action from a second-row seat behind the plate.
In the top of the second, Rodriguez ranged to his right to field a grounder and threw high and wide to second. It was ruled an infield hit, though he probably would've made the play a few years ago.
The next inning, Rodriguez fielded a slow bouncer down the line and made a strong throw to first to get the out. He heard loud cheers as he jogged slowly to the dugout, looking around and seemingly taking in the crowd's appreciation.