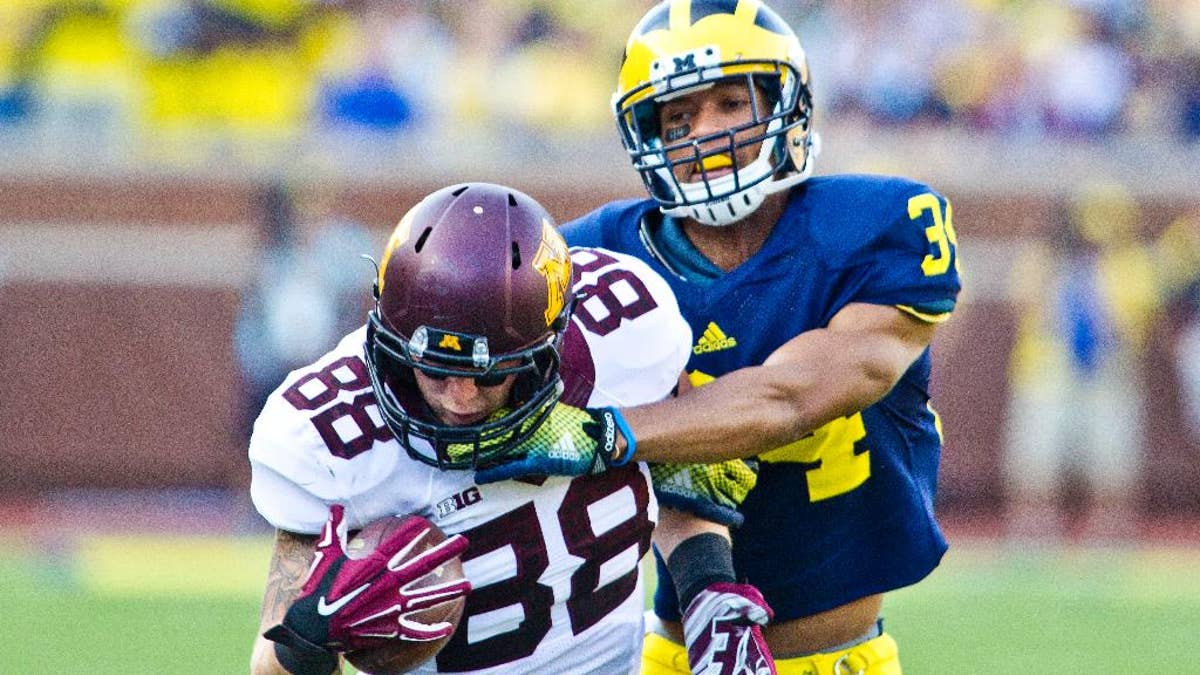 PISCATAWAY, N.J. – Brady Hoke and struggling Michigan are in trouble heading into the weekend and they have to hope that surprising Rutgers doesn't add to their problems.
Hoke and the Wolverines football program have spent the past week under the microscope after the coach left sophomore quarterback Shane Morris on the field for two plays following a hit to the head last weekend in a loss to Minnesota.
Hoke has taken responsibility for the program's breakdown in communication and plans to start Devin Gardner against Rutgers (4-1, 0-1) at High Point Solutions Stadium on Saturday night.
The problems for Hoke and Michigan (2-3, 0-1) are compounded by their play on the field. They have lost two straight games and the three losses by the end of September are the most in the program's history.
Making things even more upsetting to the Michigan faithful is the fact that the Wolverines are a 3-point underdog to the Scarlet Knights, who are making their debut in the Big Ten Conference this season.
Hoke, who has posted a 28-16 record in three-plus seasons at Michigan, and athletic director Dave Brandon have come under fire in recent days.
Playing football might help calm things down.
"We're excited about going to Rutgers," Hoke said. "These two schools are the oldest schools, besides the Ivy (League teams), playing football — so that's exciting. It will be a new environment, and we are excited to get on the road."
Rutgers is coming off impressive wins over Navy and Tulane and lost a close game with a late touchdown to Penn State in its third game.
Scarlet Knights senior safety Lorenzo Waters said the players are not getting caught up in playing a conference game. All the hoopla surrounding the first league game turned out to be a distraction.
This week's game is one between two of the nation's oldest programs.
"It's a big deal," Waters said. "But at the same time, Rutgers is a big deal and that's what we're trying to get people to understand."
Here are some other things to watch when Michigan plays Rutgers:
RUNNING RUTGERS: Rutgers plays its best football when quarterback Gary Nova does not have to throw. The one game where the run game let him down was Penn State and it resulted in five interceptions. But Michigan has one of the top rushing defenses, allowing an average of 105.6 yards, 22nd best in the country. That stat was inflated last weekend when Minnesota ran for 206 yards, so look for the Wolverines to try to bounce back.
MICHIGAN TURNOVERS: The Wolverines are ranked last in the nation in turnover differential at minus 12. They have two takeaways in five games, both fumble recoveries. They have lost five fumbles and the quarterbacks have been intercepted nine times.
GARDNER STARTS AGAIN: With Gardner back in the starting lineup, Rutgers will have to prepare for a dual threat. Gardner rushed for 483 yards and 11 touchdowns last season and added 91 yards this season. He also threw for 2,960 yards and 21 touchdowns last season. He has thrown for 733 yards and 5 TDs this season but he also has been intercepted six times.
RUTGERS PRESSURE: The Scarlet Knights' 21 sacks are tops in the Big Ten. Michigan has allowed nine sacks in five games.
HISTORY: Rutgers played Princeton in the first college football game in 1869. Michigan started its program 10 years later. The game is the first meeting between the two oldest non-Ivy League football programs in the country. Michigan is making its third trip to New Jersey and first since a 21-0 win at Princeton on Oct. 31, 1931. The only other time the Wolverines have played in New Jersey was a 13-4 loss to Princeton on Nov. 4, 1881.
SELLOUT: The game is sold out, Rutgers' second in as many Big Ten games. A record crowd of 53,774 saw the Scarlet Knights take on Penn State on Sept. 13. It will be the fifth sellout since the stadium expanded in 2009.