Eliot Marshall takes over as head coach of Elevation Fight Team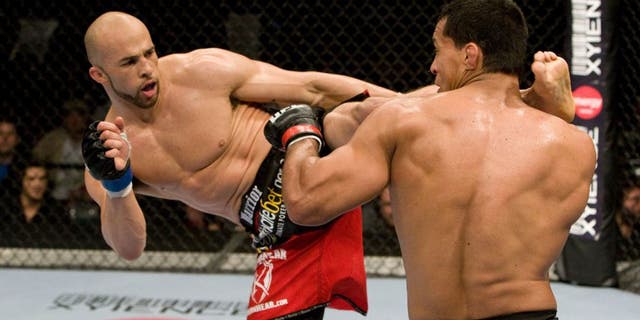 NEWYou can now listen to Fox News articles!
Following the retirement of Leister Bowling after UFC 207, former UFC fighter and "Ultimate Fighter" competitor Eliot Marshall has taken over as head coach of the Elevation Fight Team in Denver.
Several top UFC fighters call the Elevation Fight Team home including former bantamweight champion TJ Dillashaw, top 10 ranked welterweight Neil Magny, Matt Brown and numerous others.
Marshall told FOX Sports that Bowling's decision to retire made sense for him because as his children got older, he wanted to spend more time with them and less time at the gym so it was a natural transition for him to take over.
"Leister stepped down and it totally made sense. His kids are getting older and the way he makes money in a daily living isn't through martial arts. He has a flooring store, kitchen and baths and stuff so if the guys want more work with him, he's got to take more time out of his day. Where like when one of the guys wants extra work with me or Christian (Allen), we just say come to one of our schools. That makes sense him stepping down," Marshall said.
According to Marshall, who was already the Brazilian jiu-jitsu coach for the team, he will ultimately take over Bowling's spot but it's not exactly the typical head coaching position.
Marshall says the Elevation Fight Team has always been a gym run by committee with all the coaches weighing in for any major decision and nothing will change now that he's at the top of the pecking order.
"I'm the head coach but there's no real head coach," Marshall said. "Christian handles the striking, I handle the jiu-jitsu, we're going to get a wrestling coach. We have two other coaches in Vinnie Lopez and Cody Donovan.
"We sit down and we come to a decision together between the four of us. If it's going to be told to the media, I'll be the guy talking to the media. If it's got to be told to the guys, that's the role of our head coach. It's not like I'm sitting down and telling Christian or Vinnie or Cody what to do."
Marshall has been a coach for most of his life, working with fighters as well as students who just wanted to learn Brazilian jiu-jitsu.
Marshall has a simple philosophy when it comes to coaching because he's less concerned about wins and losses while focusing more on bettering the fighters he's working with on a daily basis.
"I always have the philosophy that I want people to lead better lives. That's always the goal," Marshall said. "So I want people to have better lives than they had in 2016. Whether that means winning fights or figuring out how to move onto the next stage of your life after fighting. That's the goal of all of this.
"I was super lucky that I was able to lose my last fight but also win my last fight. It made for an easy transition for my next stage in life, which can be very difficult."
Of course that doesn't mean that Marshall isn't committed to taking the Elevation Fight Team to the next level while hopefully adding a couple of championships during 2017.
"I want TJ (Dillashaw) to be the champion, I want Neil to get a title shot and I want everyone's life to improve," Marshall said.
While the Elevation Fight Team has been around for a few years already, the gym got a lot of attention in the past year with a new sponsorship from the supplement company MusclePharm, which provided them with a state of the art facility in Denver.
Since that time, Elevation has grown with several new fighters joining the roster and Marshall says he hopes the team continues to grow under his leadership but he still wants to maintain the family atmosphere they've always enjoyed.
"We welcome everyone but we want to make sure it's a good fit," Marshall said. "I don't want a million guys. I have a family, too. I had to travel three times in December and that was a lot. You can't pay attention to each individual guy as much when you don't have a close knit team of guys that you care about. I like that better. I coach better. I do everything better. I can bond with the fighters better.
"Our team works much better that way. That's how we at Elevation like to do it."