Eli Manning throws clutch fourth-down TD to help Giants edge Bengals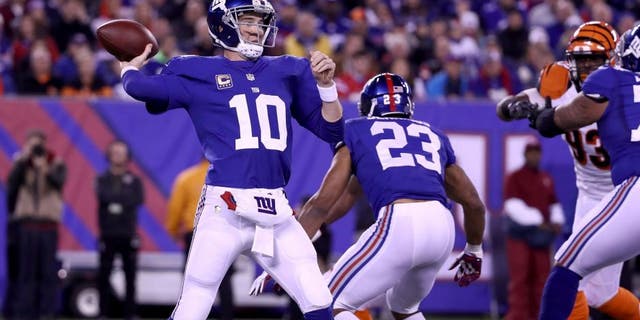 NEWYou can now listen to Fox News articles!
EAST RUTHERFORD, N.J. -- Eli Manning threw his third touchdown pass of the game on a fourth-down gamble by coach rookie Ben McAdoo, and the New York Giants beat the Cincinnati Bengals 21-20 Monday night for their first four-game winning streak since 2013.
Manning threw scoring passes of 10 yards apiece to rookie Jerrell Adams and Odell Beckham in the first half and a game-winning 3-yarder to rookie Sterling Shepard on a daring call with New York (6-3) down 20-14 early in the fourth quarter.
The Giants defense took over from there, closing it out on Landon Collins' fourth interception in the past three games and two stops, the last on consecutive sacks of Andy Dalton with less than five minutes to play.
Dalton threw a 13-yard touchdown pass to A.J. Green and Jeremy Hill scored on a 9-yard run that was set up by an 84-yard kickoff return by Alex Erickson to start the second half. Mike Nugent kicked two field goals for Cincinnati (3-5-1), the second giving the Bengals a 20-14 lead early in the third quarter.
The Giants had a 14-10 halftime lead. Manning (28 of 44 for 240 yards with two interceptions) capped an 80-yard opening drive with his pass to Adams. He hit Beckham (10 catches for 97 yards) on New York's final drive of the half.
A 71-yard pass from Dalton (16 of 29 for 204 yards) to tight end Tyler Eifert set up Green's touchdown, and an interception by Dre Kirkpatrick led to Nugent's first field goal, which was disappointing since Cincinnati had first-and-goal at the Giants 7 after the return.
INJURIES
Giants second-year G Brett Jones made his first NFL start and lasted one series before leaving with a strained calf. New York WR-KR Dwayne Harris (toe) left in the second half as did the Bengals DE Wallace Gilberry (calf).
RING OF HONOR
The Giants inducted two-time Super Bowl-winning coach Tom Coughlin, defensive end Justin Tuck and former general manager Ernie Accorsi into their Ring of Honor. Coughlin, who stepped down after last season, was the last to be introduced and he started by saying he wasn't going to be "cheated" in giving his acceptance speech. He wasn't. He spoke so long the teams had to wait for the second half to start.
UP NEXT
Bengals: Host the Bills on Sunday.
Giants: Finish a three-game homestand with a matchup against Chicago.