Eli Manning surgical in Giants' comeback Week 5 win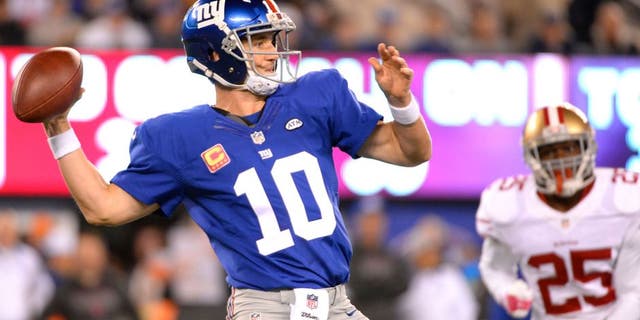 NEWYou can now listen to Fox News articles!
The New York Giants were down four points with just 101 seconds to go when quarterback Eli Manning led the offense on an 8 play, 82-yard touchdown drive to put the Giants ahead for good in their 30-27 Week 5 win over the San Francisco 49ers.
Manning was locked in during the final drive, 5-of-9 passes for all 63 yards and a 12-yard touchdown pass to Larry Donnell. He also added an 11-yard scramble. Manning led the drive without his top two wide receivers until the Giants crossed the 50-yard line. Both Odell Beckham Jr. and Rueben Randle were sidelined with injuries, but Beckham eventually returned mid-drive to draw a crucial 8-yard pass interference penalty.
It didn't matter who was playing wide receiver for the Giants on Sunday night because Manning was as crisp as he has been all season long. Throughout the course of the game, Manning showed excellent pocket awareness and moved well inside the pocket to avoid pressure and complete passes. Manning diagnosed the defense and delivered quick-hitting passes -- something he has done throughout his time with offensive coordinator Ben McAdoo.
Manning finished the game having completed 41-of-54 passes for 441 yards, three touchdowns and just one interception. Manning is now up to 1,417 yards passing on the season with 10 touchdowns and just two interceptions.
Since McAdoo installed his quick-passing offense, Manning has thrown for 5,827 yards with a 40:16 touchdown to interception ratio over 21 regular season games.
After the game, Giants defensive back Prince Amukamara used emojis to describe how he felt after watching Manning completely take over the football game.
With the victory, Manning passed Giants legend, quarterback Phil Simms, for the most wins by a quarterback in franchise history with 102.
He will look to continue his impressive play in a difficult Week 6 game at Philadelphia against the Eagles. It is unknown at this time if Manning will be without both Beckham and Randle for the game, but the extra day of rest will certainly help their chances of playing.
MORE NEWS: Want stories delivered to you? Sign up for our NFL newsletters.