Eli Manning comes to defense of Odell Beckham Jr.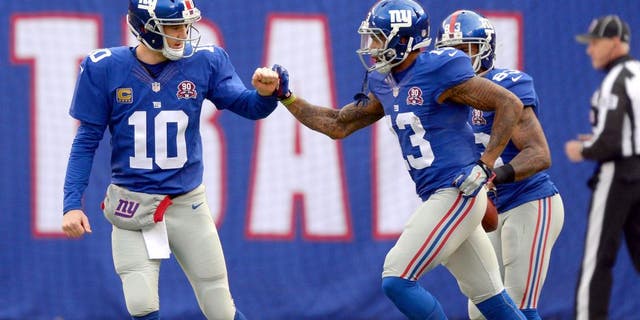 NEWYou can now listen to Fox News articles!
Giants wide receiver Odell Beckham Jr. was fined nearly $9,000 for allegedly punching a Bills defensive player during the Giants' Week 4 win over the Buffalo Bills. Giants quarterback Eli Manning did not seem worried about the fine or the comments made by Bills defensive players about Beckham.
Manning spoke with reporters on Wednesday, and according to Art Stapleton of Newsday, he said Beckham "plays hard, practices hard and he wants to be great and he's emotional about it. He takes it very serious and I think that's a good way to play football."
Manning and Beckham have connected for 307 yards and two touchdowns on 24 receptions this season. They haven't found things as easy as in 2014 -- Beckham is on pace to see 160 targets but only turn those into 96 receptions.