Eighth-ranked Louisville aims to avoid upset against UCF in schools' first meeting since 1985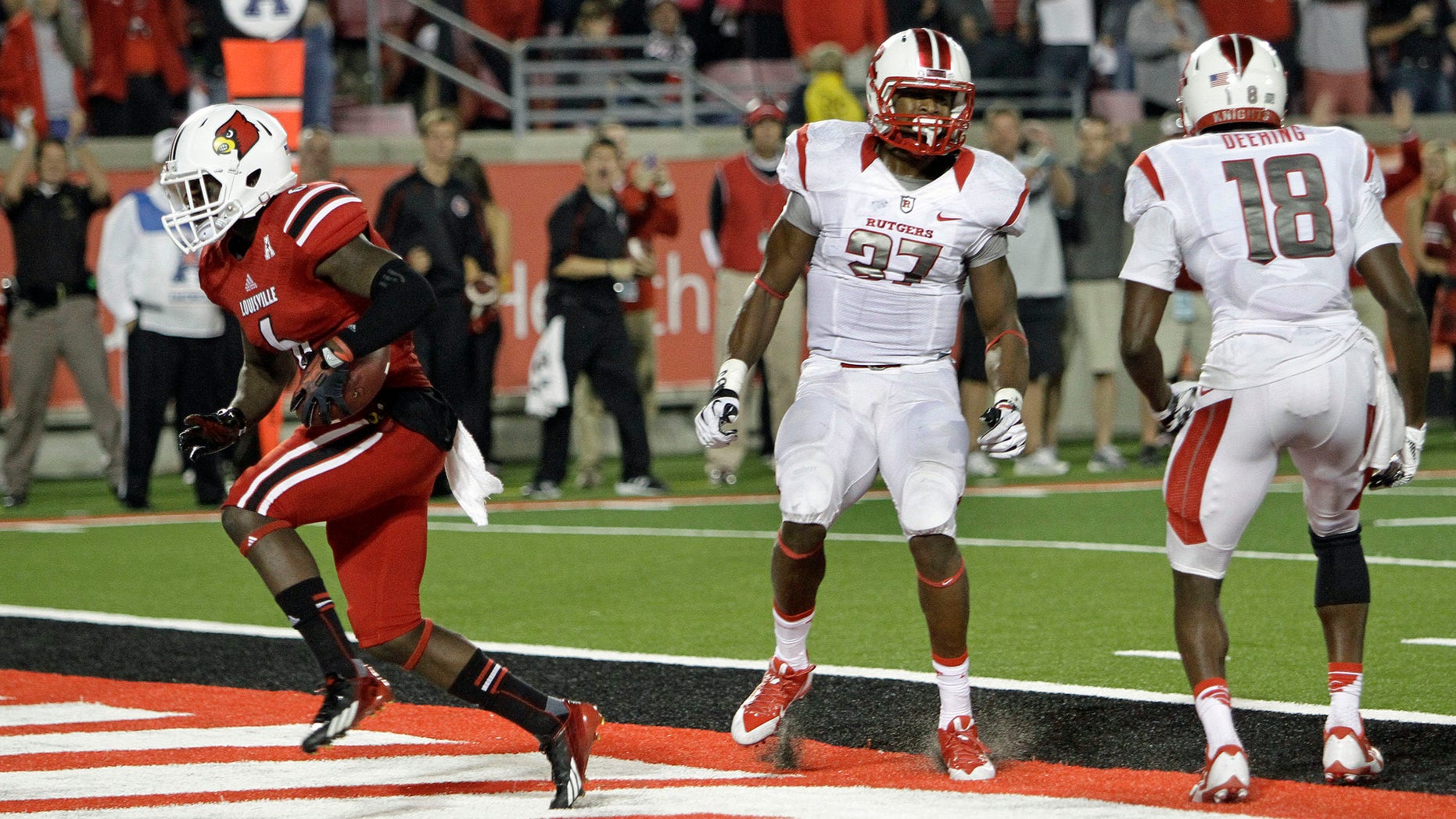 LOUISVILLE, Ky. – This will be the only regular season meeting between Central Florida and eighth-ranked Louisville in the American Athletic Conference.
There is a lot riding on this one-shot showdown.
The schools meet Friday night for only the second time and the first since 1985. Louisville handed the then-Division II Knights a 42-21 defeat but both are now FBS programs battling for the American's BCS berth.
With the Cardinals (6-0, 2-0 AAC) heading to the Atlantic Coast Conference in 2014, UCF (4-1, 1-0) hopes to make this lone league meeting a memorable one by derailing the Cardinals.
It will be Louisville's third game in 13 days and the Cardinals say they are well aware of the Knights' upset potential after UCF's road-win at Penn State three-point loss against South Carolina.
"This game is a big one," Louisville coach Charlie Strong said this week. "Central Florida was able to go to Penn State and win on the road in Happy Valley. Then they played South Carolina close.
"Everybody sees what they have done, they see the record, they think it is going to be a really good matchup. It should be and I expect it to be."
The quarterback play is certainly worth watching.
The game matches the AAC's top two signal-callers in Louisville's Teddy Bridgewater and UCF's Blake Bortles, both juniors. They rank 1-2 in passing efficiency, respectively, though Bridgewater (1,872 yards, 18 touchdowns) has 538 more yards and double the TDs as his counterpart.
Knights coach George O'Leary said both QBs are capable of making defenses miss and buying time with their footwork.
"I think Teddy probably has a quicker trigger," O'Leary said when comparing the two. "Blake's looking for that extra guy all the time instead of taking what's there. And he's getting better at that. I think Teddy gets rid of the ball.
"You may pressure him or get a hit on him, but the ball's gone already. Or else he's good enough to step up and gain some ground or gain some time for his receivers making them miss."
Those abilities are one reason Bridgewater has generated Heisman Trophy buzz this season, but Knights running back Storm Johnson believes Bortles gives his team the edge in the pocket. Johnson even went as far to insist that Bortles will be the best quarterback on the field Friday night instead of Bridgewater.
Asked to explain his bold declaration, the back added, "because we're blocking for him."
___
Here are five things to watch as Central Florida tries to upset No. 8 Louisville on Friday night:
LOUISVILLE RECEIVERS: The Cardinals could be without leading receiver DeVante Parker (shoulder) and Kai De La Cruz (groin). Both are game-time decisions. The upside for Louisville is that senior Damian Copeland is coming off a career-best eight-catch, 115-yard game against Rutgers and is motivating a deep corps of receivers to step up their games and fill the voids if the other two can't go. "That's the biggest thing, just making sure guys are executing," he said.
THE KNIGHTS TAKETH AWAY: UCF had three interceptions and a fumble recovery against Memphis and enters with five pickoffs and seven fumble recoveries. The Knights are tied for sixth in FBS turnover margin at plus-7.
PASS PROTECTION: Neither team gives up many sacks but UCF faces a big challenge against a Louisville defense that recorded a season-high eight against Rutgers and enters the game ranked No. 3 at 3.83 per game. Cardinals DEs Lorenzo Mauldin and Marcus Smith have been especially dangerous lately: Smith had two sacks vs. Rutgers while Mauldin has recorded three in the past two contests to lead the conference with 6.5 overall.
THIRD DOWN: Louisville is No. 1 with a 63.6 percent conversion rate on the pivotal down and posted its third-best effort of the season by going 9 of 13 against Rutgers. UCF ranks second in the conference, converting nearly 51 percent of its chances. The Cardinals are just as stout on defense, leading the AAC at 24 percent and ranking No. 3.
CENTURY MARK: Friday night will mark Louisville's 100th game at Papa John's Cardinal Stadium. The Cardinals are 74-25 in 15 years at their 55,000-seat home, 16-8 in four seasons under Strong.
___
Online: http://collegefootball.ap.org/
___
Associated Press Reporter Kyle Hightower in Orlando, Fla., contributed to this report.
___
Follow Gary B. Graves on Twitter at http://www.twitter.com/garybgraves