Eagles' LeGarrette Blount, Chris Long, both ex-Patriots, go from one Super Bowl winner to another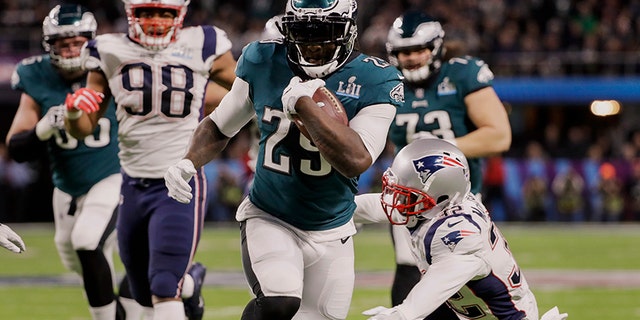 NEWYou can now listen to Fox News articles!
Switching teams paid off for Philadelphia Eagles running back LeGarrette Blount and defensive end Chris Long.
The Eagles won their first Super Bowl by outscoring both players' previous team, the New England Patriots, 41-33, on Sunday night.
That means Blount and Long will each be getting a Super Bowl ring with the Eagles -- after the duo earned one with the Patriots last year.
Blount – who ran for 90 yards and had one touchdown in Super Bowl LII – joined the Eagles this season after two stints in New England, with a stop at Pittsburgh in between. Long played one season with the Patriots.
"This is a resilient group of guys. It's not about the other team on the other side, it's about this team and this resilient group of guys," Blount said after the victory. "We've done everything the coaches have told us to do all season. Everything. We dug deep."
Long said he thanked Patriots star Tom Brady – who he calls the "greatest quarterback of all time" – after Sunday's game.
"I just came right up to him and I said, 'I never told you how much I appreciated you,'" Long said he told Brady after the final whistle. "He's given so many people rings."
In October, Long committed to donating his 2017 season salary to increase educational opportunities. Fox News previously reported Long signed a two-year, $4.5 million contract with the Eagles, including a $500,000 signing bonus and $1.5 million guaranteed. His base salary in 2017 was $1 million.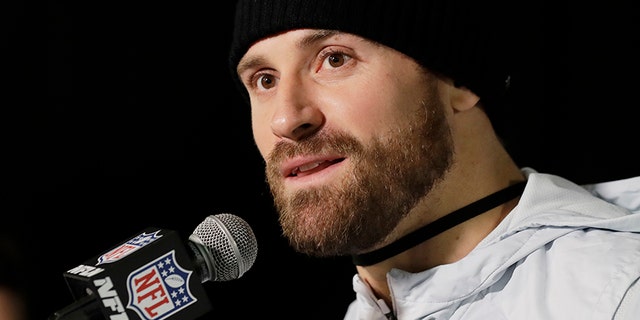 The son of NFL Hall of Famer Howie Long, Chris credited football with helping him see beyond his gaze, widening his perspective on the larger world.
In the locker room and on the field, with men from all regions of America, he said he learned what collaboration is with others of different identities and ideologies.
"I wish everybody would have a chance to be on a team," Long said last year. "I really do believe, it might be cliché, but we come from a lot of different walks of life and backgrounds and I've played with a lot of guys I probably would have never met in other walks of life.
He added: "We sit here in a bubble in a really positive way. I wish the rest of the world could be on a team... (W)e get to really be exposed to each other's different cultures, different ways of life and the way we look at different things. And I think that's the really cool thing about being on a team."
The Associated Press contributed to this report.