Eagles guard Allen Barbre refuses to say Redskins: 'I call them the Pigskins'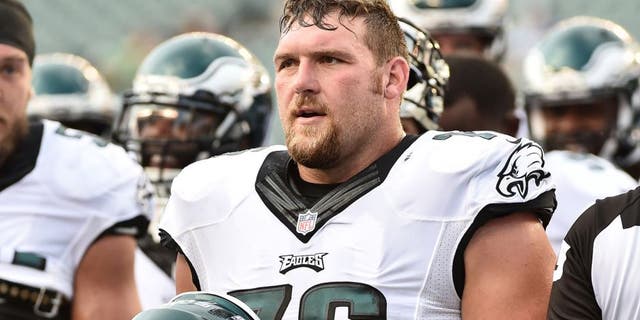 When the Philadelphia Eagles pay a visit to their division rival Washington Redskins on Sunday, one player won't be calling his opponent by name.
Eagles guard Allen Barbre, who's a Native American and has a grandfather living on the Tunica-Biloxi Indian Reservation, refuses to use the term Redskins.
"It's probably offensive to some people, and I can see why,'' Barbre said, via NJ.com. "It's certainly a derogatory term from back in the day, but I never put a lot into it. As a matter of fact, though, I just don't say it. I don't use the word.''
It's not that Barbre believes people who say the word are racists, he just doesn't use it himself. As for his grandfather, it's a conversation he's never had. As a result, Barbre isn't sure how his grandfather feels about the word Redskins.
Despite the fact that he doesn't use the word, Barbre didn't definitively say he wouldn't sign with Washington, should the Redskins offer him a contract at some point.
"I never thought about that,'' he says with a laugh. "I mean I never really thought of it as being a racist term as a team.''
So what does he refer to his division rival as?
"I call them Pigskins."
There have been several discussions and protests calling for the Redskins to change their team name. No headway has been made in that regard, but it's something that won't go away any time soon. One thing remains certain, though: Barbre will be among those declining to call Washington's team the Redskins.
And Barbre isn't the only one who declines to use a team name when referring to a franchise. A Blue Jays radio broadcaster won't use the term Indians during Toronto's upcoming American League Championship series.