Eagles' Chip Kelly says he is not going back to college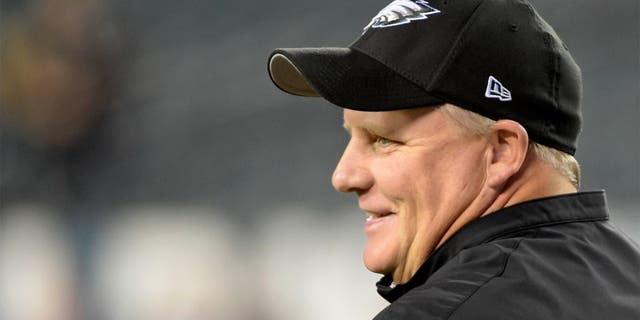 NEWYou can now listen to Fox News articles!
The rumors that Chip Kelly is headed back to the college ranks won't stop unless the Eagles continue to win. Eric Hartline USA TODAY Sports
It seems like no matter what happens, the speculation that Philadelphia Eagles head coach Chip Kelly is going back to college will never die. On Thursday, while speaking to reporters, Kelly confirmed that these rumors have no backing.
On Thursday, reporters asked Kelly about rumors that have connected him to the University of Southern California and Maryland.
"I understand it," Kelly said of the rumors, per True Jersey. "(The rumors are) going to happen.
"We're not successful and we're not winning, I came from college, I'm going to go back to college," Kelly said. "I hope someday I'm like (New York Giants head coach) Tom Coughlin where I win enough games that the speculation ends. But I understand (why the question is asked)."
If the Eagles can defeat the Giants on Monday night, they will get to 3-3, and this will go a long way in stopping the speculation and rumors. Until then, Kelly is not worried that these rumors will have any effect on his players and their ability to perform.
"I think our players could care less," Kelly said of the college rumors. "Ask them. I don't think (center) Jason Kelce is really concerned because my name came up in a college (rumor). I think he is concerned about going against (Giants defensive coordinator) Steve Spagnuolo's defense, which is first-and-foremost for our team right now."
MORE NEWS: Want stories delivered to you? Sign up for our NFL newsletters.