DW: Pocono Paves Way For An Exciting Race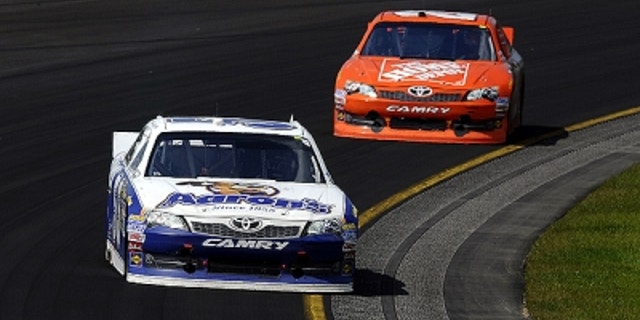 I can't tell you the last time I have been to Pocono when the race had as much anticipation as Sunday did. Resurfacing the track and shortening the race gave us blistering speeds and gave the drivers more of a sense of urgency. I have said for years that the races at Pocono are too long. I've always felt we'd have a better, more tense and more enjoyable race if it were shortened.
The repaving of the track was long overdue, and I was excited when I heard they were finally going to do it. When you combine that with the other improvements made to the track over the years, with the SAFER Barriers all the way around the track inside and out, paved-over areas that were previously grass, pit road has been redone with concrete pit stalls. When you walked into the place it was beautiful. It was beautiful and bad fast.
Something like 30-plus cars broke the track record in qualifying. Joey Logano came within a few hundredths of running a 180-mph average. Make sure you read that correctly — I didn't say top speed — I said average speed. Think what it takes to do that on that big 2-1/2-mile, three-corner joint.
Pocono truly is a unique racetrack. When it was originally designed, they took the best of Indy, Trenton and Milwaukee just to give the track a little flavor from these other famous tracks. So the design was unique. The old bumpy surface made running 500 miles there feel like an all-day excursion. That's not the case anymore.
Pocono's straightaway is the longest one we have on the circuit, and, right away, we were seeing speeds of 212 mph. I know there were questions of whether the cars were going too fast. However, these are speeds we are pretty much seeing at all the tracks these days. Combine that with the safest car these drivers have ever climbed into plus the tracks being the safest they have ever been, and these drivers and NASCAR have a pretty good comfort level of the speeds we are seeing out of these cars.
We knew right away on Sunday we were going to see something exceptional at Pocono. We had contact in the first turn. Then, before they even finished that first lap, we had a caution when Landon Cassill found himself up into the third-turn wall. That set the stage for the day.
We had lots of excitement, strategy and action all the way around on Sunday. We had different folks leading, and it truly was a very entertaining race. Like I mentioned earlier, with it being a shorter race, there was a sense of urgency with these drivers.
There were all kinds of strategies attempted on Sunday, but what really threw a kink into all that planning was the boatload of pit road penalties. That threw everyone for a loop — pun intended.
We had an-unheard-of 22 pit road speeding penalties Sunday. That blew away the previous record of 14 back in 2006 at Kansas. NASCAR's position was it was a brand new pit road and brand new loop locations. Most offenders were busted for going too fast at the exit of pit road. Robin Pemberton, NASCAR's vice president of competition, was quick to point out that maps are printed out each week and offered to the crew chiefs that show the timing loops. He said some choose to use them, some choose to measure their own lines and some choose to go off last year's measurements.
There had to be a reason it was happening. I just think once you hit 10 speeding penalties or even after you broke the record of 14, that NASCAR might have considered making some kind of adjustment during the race. There were just way too many speeding penalties. It sure did affect a number of guys throughout the day.
I loved the contrast at the end of the race, where we had our sport's youngest driver battling our sport's oldest driver for the win. You all know that I am not a big fan of the bump-and-run, but I understand it. Obviously, Mark Martin, who was on the receiving end of it from Joey Logano understands it because in his post-race comments he offered that if he could have gotten back to Logano, he would have returned the favor.
I understand it's accepted behavior these days. I just don't like it. I guess on the positive side of the equation, Logano just barely touched him to move Martin out of the way and didn't simply punt him into the wall.
Jeremy Mayfield got by me in 1998 when I was driving the Pennzoil car for Dale Earnhardt Sr. to win the race. He also used the bump-and-run on Dale to win at Pocono. So I understand it's not like we haven't seen it there before or at other tracks, like Bristol. It's just that I am not a fan of it.
You do have to give young Mr. Logano credit for becoming much more aggressive with his driving. Some might argue that you'll have that when you are at the end of your existing contract with Joe Gibbs Racing and questions remain if you will be back in 2013. I think getting all the turmoil of 2011 behind him and being so successful in that Nationwide car already this year has helped a growing confidence in Logano that he belongs in the Cup series.
He seems to want it more than ever before, and his confidence has never been higher in my book. I think you are seeing a driver grow past all the hype that was laid on him when he came into the sport and really grow into the talent that he's always possessed. You mix that with a new crew chief who believes in him, plus all the resources at his fingertips at Joe Gibbs Racing, well that all adds up to a pretty potent combination. I've seen this happen with others, where a race like Sunday becomes the springboard to a lot more wins.
The other major thing Logano did that hadn't been done in the past 31 Sprint Cup races was he won from the pole. He also became the youngest race winner in Pocono history. His crew chief, Jason Ratcliff, notched his first Cup win, so you know how special that had to be. It was Joe Gibbs Racing's ninth win at Pocono. That's second only to Hendrick Motorsports' 12 wins there. Logano's win also brings the total for Coach Gibbs to 97 NASCAR Sprint Cup wins. That's pretty darn impressive.
Dale Earnhardt Jr. had a good day despite questionable pit strategy at the end. I mean, I understand it. They don't have a win or two yet, so they just aren't in a position to gamble. There was movement in the points. Greg Biffle has finally been bumped from the top spot. His teammate Matt Kenseth took over the lead, and Dale Jr. moved to second. Biffle has fallen to third and is now 16 points out of the lead.
What's interesting with that No. 88 is the team is winning without winning. It is doing everything right to keep Junior high in the points. He's running well. He's competitive and finishing all the races. He's really knocking on the door each week to finally break through for a win.
I would bet once driver and crew feel they are to a level where they can't get knocked out of the top 10 and potentially miss the Chase, then the gloves will come off and you'll see them being a little more willing to gamble on strategy.
So it's really shaping up to be an interesting run to Richmond in September and the cut-off to make the 2012 NASCAR Sprint Cup Chase. Right now, the wild-card slots would be filled by Kyle Busch and Ryan Newman. Like Logano and Kasey Kahne, who also have one win each, Busch and Newman are higher in the points but not in the top 10. I don't think it is too much of a stretch to expect needing three wins to make the Chase as a wild-card this year.
Now, we head to Michigan and its brand new two miles of repaving. You can expect another week of blistering speeds. If it's as exciting as Pocono was, then I can't wait. There's always a lot of pride on the line at Michigan because you want to win for your manufacturer there.
We started racing in the Irish Hills clear back in 1969. Historically, that's a Ford track. Roush-Fenway Racing and the Wood Brothers hold the record with 11 wins each there.
It should be fun. I can't wait to get up there Thursday. We'll have practice and qualifying for you on SPEED and then be sure to tune in to us on SPEED on Sunday from 10 a.m. ET to noon for our NASCAR RaceDay show.