DW: Johnson tames the Monster again at Dover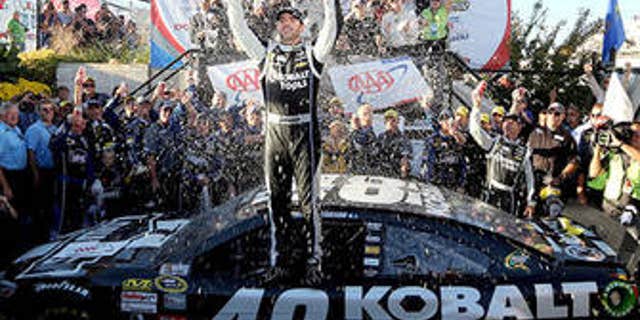 I could sit here for 30 minutes and recite all the accomplishments that Jimmie Johnson has earned at Dover. He has shaken his fist in the face of Miles the Monster and at the other 42 drivers that he's not scared of anyone at that race track. The statistics are just mind-numbing for such a short career.
He was tied with Richard Petty and Bobby Allison with seven wins. Guess what, he isn't tied anymore. Jimmie has eight wins in 24 starts. It took Richard and Bobby twice as many starts simply to get seven wins and here sits Jimmie with eight wins in half as many starts.
The other amazing thing is he has led the most laps in each of his wins at Dover. Sunday was more of the same. Jimmie led 243 of 400 laps bringing home checkered flag number eight.
Why is he so good there? Let me ask you, why is he so good at Martinsville? Two completely different style tracks that have one thing in common - concrete.
Once you figure out the concrete, it just seems there are very minor adjustments you ever have to make. Once you get a driving style combined with a spring/shock setup that works, well it simply doesn't change all that much over the years. Concrete isn't like an asphalt track. It never changes. The concrete never loses grip. Once you get the right combination, it's easy to repeat because of the consistency of the track. That's why Jimmie has been able to put the numbers up on the board like he has at those two tracks.
Jimmie now has 65 wins in 428 starts. Sunday also marked Jimmie's 23rd win in the Chase. He's had at least one win in all ten Chases that have been run. You can't ignore the fact that he entered this year's Chase not in very good form. What gets missed, though, and Jimmie brought it up at Chicago, is their performance was a lot better than their finishes. Sunday at Dover, from beginning, to middle and to the end, the No. 48 put it all together.
I heard some folks say the numbers are misleading and that it wasn't a three-man race. Whoever said that is flat-out wrong. Three races into the Chase, the three front-runners Matt Kenseth, Jimmie Johnson and Kyle Busch have widened the lead on the other ten Chase competitors each and every week. Go take a look at the standings as of right now. The drivers in fourth and fifth spot are almost a complete race behind. All that has happened in only three races and the bad news is there are only seven races left.
Points leader Matt Kenseth, Jimmie and Kyle Busch won the most races during the regular season. They are the most consistent cars week in and week out. Sunday at Dover, the three of them combined to lead an amazing 309 of 400 laps. They are the three best cars plain and simple. That's why it's a three-man race.
I have to say, the one guy that was really impressive this Sunday and I thought the race was his to win was Dale Earnhardt Jr. He sat on the pole, led 80 laps and came home second. I think the No. 88 let one get away from them on Sunday. I don't believe like others do that the pit road mistake cost him the race. That mistake happened early enough and Dale Jr. did one heck of a job saving the car. Even though it was a mistake, I believe it happened early enough and Dale Jr. minimized the damage.
I honestly thought having the first pit from winning the pole and taking four tires while most everyone else took two would have been his key to victory. I just thought it was going to fall into Dale Jr.'s lap and he would drive right around Jimmie. It's one of the best cars I have seen Dale Jr. have ever. It simply wasn't enough to beat his teammate, however, who only took two tires.
Jimmie and crew chief Chad Knaus practiced on Saturday by putting two right-side tires on the car. They wanted to see how fast the car would be and for how long. That last caution Sunday fell right into that window from what they practiced the day before. So in this case, two tires held off four tires. I know Dale Jr. was disappointed because he felt one slipped through his fingers, but he was up against the master of the Monster Mile in his teammate.
So now with seven races left, we head to the first of two in a row of the mile-and-a-half tracks. There is a total of four mile-and-a-half tracks left in this Chase and those are Matt Kenseth's bread and butter. This weekend it is Kansas. Matt won there this spring. I think Jimmie's next golden opportunity will be in four weeks in Martinsville.
Matt still retains the points lead. Kyle Busch moved from second to third. Jimmie moved from third to second with his win. More importantly, he cut the point lead to only eight points. Don't forget about Kyle. He's only 12 points out of the lead. Obviously with these mile-and-a-half tracks the engine guys will have some sleepless nights because you turn so many RPMs and you run the car so hard at Kansas, Charlotte, Texas and Homestead that you have to be real mindful of your engine combination. I just hope it all gets settled on the race track and not because of some mechanical failure.
Goodyear is bringing the same tire to Kansas that they had at Atlanta back on Labor Day Weekend. Atlanta is another fast mile-and-a- half racetrack. They call it the multi-zone tread. Basically the inside of the tire is a little harder than the outside of the tire. That shouldn't be a problem for the teams because like I mentioned, they already have run it at Atlanta roughly six weeks ago.
Matt and Kyle finishing first and second in the first two races of the Chase was surprising. The other big surprise and not in a good way, is the No. 78 car of Kurt Busch. I really thought having put their name in the NASCAR record books as the first single-car team to make the Chase format, they would roll into this Chase, albeit a dark horse, with a full head of steam.
Unfortunately they have done anything but.
Kurt dropped two more spots in the Chase Sunday and not only is he ninth out of the 13 drivers but he is 55 points out of first place. That means he is already over one race behind Matt Kenseth. I just thought this long-shot dark horse would give them a real run in the Chase, but it hasn't materialized. They even changed out the entire pit crew Sunday at Dover and that didn't even work out. I just expected more out of the No. 78 car.
So three Chase races are in the books and there are seven to go. Kansas this weekend is the next stop. I'll be there Sunday and curious to see if Matt can make the Kansas sweep of 2013 plus I am curious to see if Matt, Jimmie and Kyle will continue to separate themselves from the other ten Chase drivers.