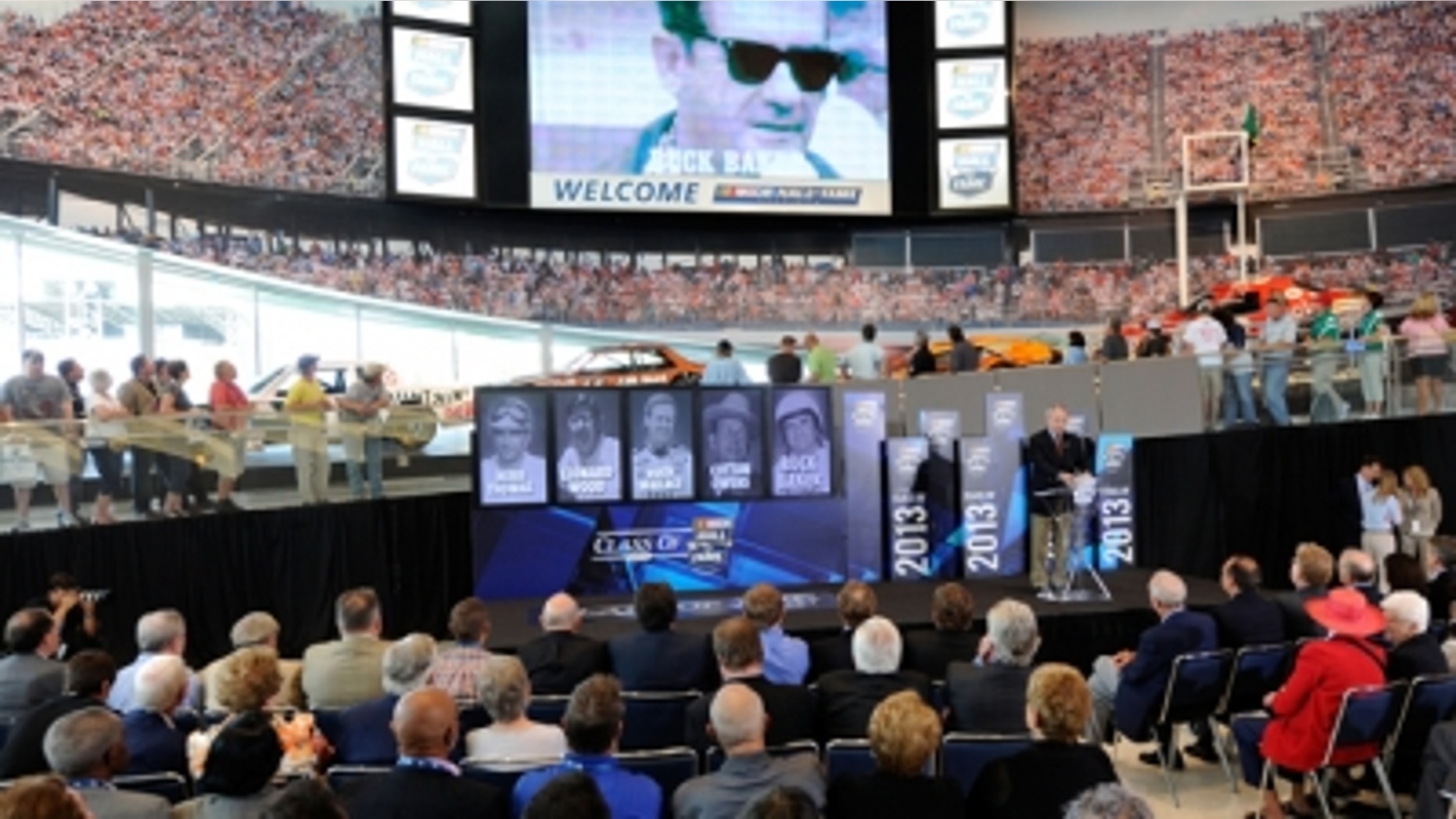 Easily the greatest honor an athlete can receive at the end of his career is being chosen by his peers and elected into that sport's hall of fame. It doesn't matter whether it's the NFL, MLB, tennis, soccer or NASCAR. Hearing your name called out and knowing you will forever be immortalized by your chosen sport is the peak of the mountain. It easily is the ultimate compliment.
There were 54 votes cast Wednesday for the NASCAR Hall of Fame Class of 2013. At the end of the afternoon, and actually at the end of tie/re-vote, five people – Herb Thomas, Leonard Wood, Cotton Owens, Buck Baker and Rusty Wallace – were selected to join me and the other 14 members already in the Hall.
There is a sense of pride and accomplishment that you and your family feel when an honor of this magnitude happens. When you dedicate your life, your heart and your soul to the sport you love and to be recognized for that is truly a humbling experience. You can win poles, races and championships. You can win at all the big-name events. You can do all that, but it still doesn't compare to being elected into the NASCAR Hall of Fame.
The selection committee put forth 25 names for the voting panel to review, discuss, analyze and vote on. From that 25 came the five names that were read Wednesday night. Any of those 25 people on that list is more than worthy to be in the Hall.
These are people the selection committee felt had done so much and made a huge impact in our sport that they deserved consideration. These are people who helped mold and move the sport of NASCAR forward. I am sure my five selections might be different than yours.
Some of my picks made it in while others didn't. What we learned from Wednesday's vote was it was that way during the voting process. For the first time in the selection process they actually had a tie for the fifth and final selection. They brought the voting members back into the room and Buck Baker, who was tied with Fireball Roberts, was selected for that fifth spot.
I maintain that for a driver, winning a championship in NASCAR is the most difficult thing you can do. Our sport consists of a long, grueling season. It takes a lot of effort, both mentally and physically, to claim the championship after many months of hard work. I believe any driver who wins a NASCAR championship should automatically go into another special category for consideration.
If you win a NASCAR championship, I believe you deserve higher consideration than someone that hasn't. For example, I am a huge Benny Parsons fan. I always have been and still miss him terribly. To me, it was the sum of all Benny's contributions that make him a Hall of Famer in my book. I could very easily vote for Benny on any ballot.
Jack Ingram was another one that I thought had a really good chance to make it in Wednesday. Obviously I feel he has the numbers to warrant it. I really liked the template the voting panel used last year. You had a couple drivers, a car owner and a crew chief and then someone from one of NASCAR's other touring series that was just as deserving to be in the Hall. Remember, it's the NASCAR Hall of Fame, not the NASCAR Sprint Cup Hall of Fame. So I had hoped that they would use that same template moving forward.
When you run names by me like Tim Flock, Joe Weatherly, Raymond Parks, Fireball Roberts, Tiny Lund, etc., these are the pioneers and characters in NASCAR that moved our sport forward. It's because of their efforts that the Cale Yarboroughs, Dale Earnhardts and Darrell Waltrips got the opportunities that we did.
So when they announced Buck Baker's name as one of the five on Wednesday evening, I certainly agreed with that. Buck won back-to-back championships in 1956 and '57, which, believe me, is even more difficult than winning a championship. Buck actually was the first driver in NASCAR history to win championships back to back. He even came in second in the final points two other years. So he definitely was deserving of the Hall selection.
Cotton Owens to me was a triple threat. He was a driver. He won the 1966 championship as an owner with the Silver Fox, David Pearson, behind the wheel. He also was one heck of a mechanic.
Herb Thomas is also in the NASCAR record books as the first driver in NASCAR history to win multiple championships. Herb reached the top in 1951 and then again in 1953.
I have said this repeatedly, but there is no greater family in our sport that I have respect for than the Wood family. The Wood Brothers were the nicest, kindest people to this punk from Owensboro, Ky., when I came into the sport. They helped me so much. There was never a question they weren't willing to answer for me.
So I am a big fan of the Wood Brothers and was thrilled when I heard Leonard's name called Wednesday night. He was one of the greatest mechanics our sport will ever see. He, Jake Elder, Harry Hyde, Bud Moore, etc., were the guys that I really looked up to because they were so extremely knowledgeable about what a race car needed to go fast.
Leonard Wood is the epitome of a Virginia Gentleman. Trust me, they don't come any better than Leonard. So personally, I absolutely loved hearing that he would be joining his brother, Glen, in the NASCAR Hall of Fame. I think it's great.
I also welcome my buddy Rusty Wallace into the Hall of Fame. It's common knowledge that Rusty and I didn't always see eye to eye on things. Obviously the 1989 Winston All-Star race saw it all come to a head when he spun me out coming off Turn 4 as we were coming to take the white flag. We didn't then, but we laugh about it now.
Let's face it, Rusty has the numbers and deserves to be in the Hall of Fame. He won 55 Cup races and the 1989 NASCAR Cup championship, so it makes all the sense in the world that he was selected. So I congratulate him.
I also laugh because now it completes the trifecta – Dale Sr., me and Rusty. The three of us had legendary battles on the track and in the media. We raced each other hard and took our shots at each other in the press. So I am thrilled that Rusty is joining us in the Hall.
The NASCAR Class of 2013 is a great group. It once again shows that anything is possible and doors are wide open for folks deserving of consideration. Come February, when this new five is inducted, we will have 20 members in our four-year-old NASCAR Hall of Fame. The Hall is putting together quite the foundation so that future generations will know how all of us worked so hard and so passionately about this sport that we love.
When your name is on that list of 25 nominees, the anticipation of voting day is nerve-racking. I am thankful for two things on Wednesday. I am thankful that I didn't have to sit there again waiting and wondering if my name was going to be called. I am also thankful that I wasn't one of the 54 voters sitting in that room trying to narrow 25 deserving names down to five.
The other really cool thing that came out of the proceedings Wednesday was the announcement of the newly created Media Excellence Award. This award will be given annually beginning in 2013 to honor the contributions of media to the success of our sport. It will bear the names of the first two award winners, my dear friends Ken Squier and Barney Hall, and be called the Squier-Hall Award for NASCAR Media Excellence.
Ken took me under his wing years ago and taught me so much about what it took to be a broadcaster. And there is something soothing when you hear the iconic voice of Barney Hall on Sunday afternoons calling a NASCAR race. Ken and Barney are the creme de la creme when it comes to being broadcasters. They can paint such beautiful pictures in your mind when they are calling a race.
The constant between both of these guys is the humility they bring to the table. These two guys are legends in the sport of NASCAR. I love the fact that NASCAR recognized our sport needed a special award for the media members in the NASCAR Hall of Fame. Let's face it, it is really tough to get them into the Hall when they are up against drivers, owners and car owners.
So now having the Squier-Hall Award is the perfect way to recognize the media and their contributions to our sport. I am proud of NASCAR for creating it and I am proud to call both Ken Squier and Barney Hall my friends. These two guys are truly NASCAR Hall of Famers and this honor is well deserved.