Duke surges past Wisconsin to win fifth NCAA basketball championship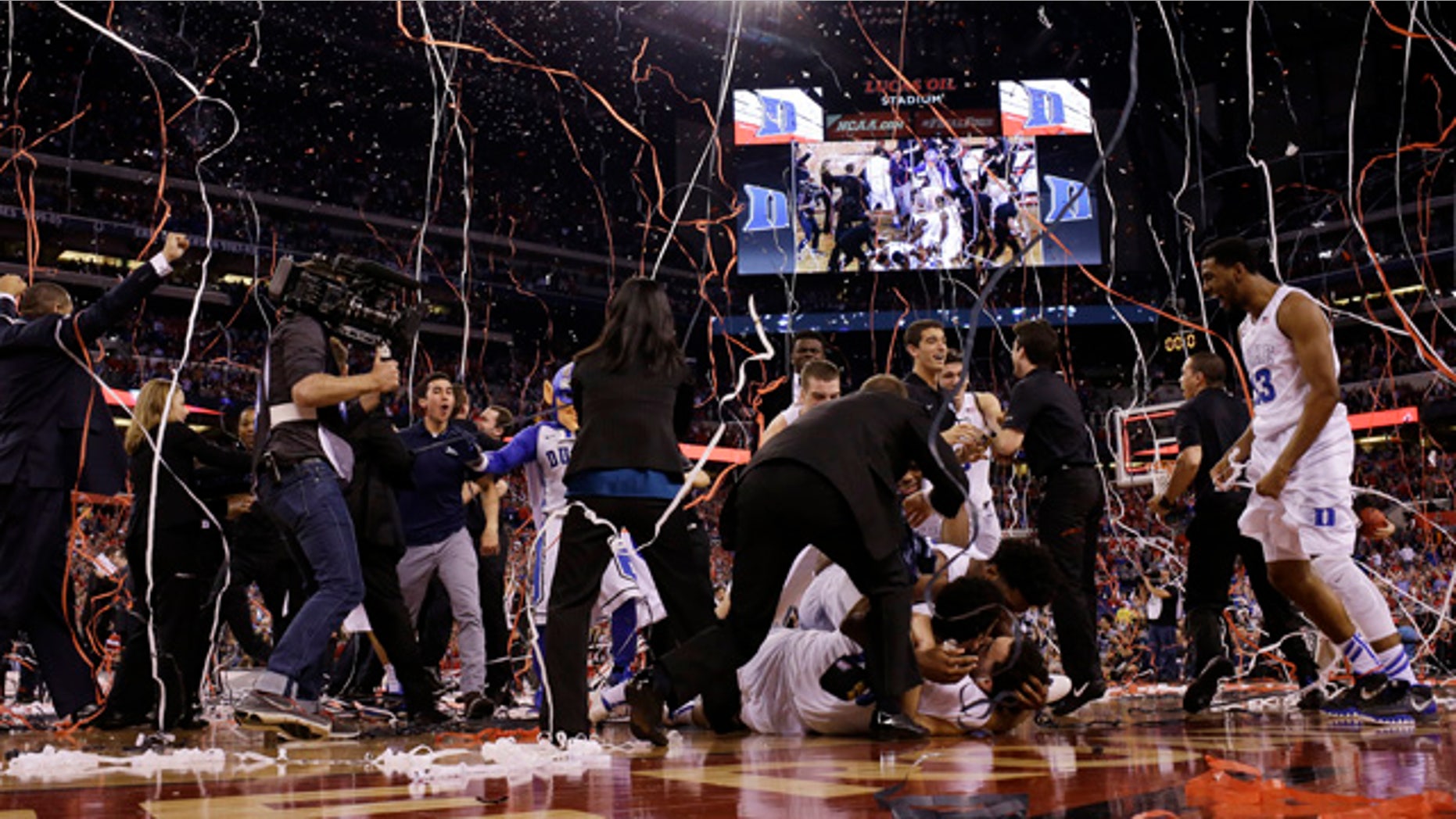 The Duke Blue Devils overcame a nine-point second-half deficit to win their fifth NCAA men's basketball title, defeating the Wisconsin Badgers, 68-63, in Indianapolis Monday night.
On a night when top players Jahlil Okafor and Justise Winslow struggled with foul trouble, the Blue Devils offense was paced by guards Tyus Jones and Grayson Allen, who scored 23 and 16 points, respectively. Jones was named the Final Four's Most Outstanding Player on the back of his unlikely championship performance.
"It shows a lot about their confidence," said Quinn Cook, Duke's only senior starter.
Duke's victory gave the school its first title since 2010 and denied Wisconsin its first championship since 1941.
Trailing 48-39 after Frank Kaminsky's layup with 13:23 to go in the second half, Duke closed the game by outscoring the Badgers 29-15, including a 10-0 run that turned a 58-56 deficit into a 66-58 lead with 1:22 left.
Wisconsin attempted to rally with five consecutive points, but Jones held his nerve, hitting two foul shots to extend the lead to five points with 35 seconds left. Wisconsin's final, desperate possession came up empty and the Blue Devils poured onto the floor at Lucas Oil Stadium to celebrate.
"They showed such grit tonight," said Duke coach Mike Krzyzewski, whose five titles puts him alone in second place on the all-time list behind John Wooden. "Our bench was spectacular, and like we said about two months ago, eight is enough. Eight is enough."
"It was fun to watch my teammates do what they do," Okafor said. "They have my back the entire season, and it was no different tonight."
Kaminsky, who won the Naismith Award as national player of the year on Sunday, scored 21 points and grabbed 12 rebounds in the defeat. Okafor, predicted by many to be a top pick in this summer's NBA Draft, scored just 10 points, while Winslow chipped in 11.
However, after Jones's three-pointer with 4:08 to play gave Duke the lead for good at 59-58, Kaminsky struggled to get a good look down the stretch and Okafor scored two key buckets over Kaminsky. On the first shot, Kaminsky tried to wrap an arm around him, but Okafor just powered his way through it for the bucket and the foul to make the score 61-58, Duke. He missed the free throw, but a different point had been made.
"He got in some foul trouble, but because of his positive attitude, he made some big plays down the stretch," Jones said.
In the seconds leading up to the basket, Winslow appeared to step on the baseline. But the whistle never blew and he delivered it to Okafor for the score.
That, and the foul count, had the Wisconsin Twitterverse fuming about some calls. The Badgers got whistled for only two fouls in the first half, but the count in the second half was Badgers 13, Blue Devils 6. Duke shot 20 free throws to Wisconsin's 10.
"There was more body contact in this game than any game we played all year, and I just feel sorry for my guys that all of the sudden a game was like that," Badgers coach Bo Ryan said.
Nigel Hayes had 13 points and Sam Dekker, the key guy down the stretch against in the Badgers' national semifinal win over Kentucky, had a very quiet 13 for Wisconsin.
"Shots just weren't falling, and they were getting to the line, and when the tide changes like that, it's kind of hard to get back in the flow," Dekker said.
This was not a dominant, wire-to-wire effort the likes of which some of the Duke title teams have enjoyed in seasons past.
Kentucky and its quest for perfection stole all the headlines this season. So, playing in relative shadows down on Tobacco Road was this group, which actually might have more one-and-dones than John Calipari says goodbye to in the Bluegrass State this year. Calipari was in the building, by the way -- honored for his induction into the Naismith Hall of Fame. He got booed heavily.
But in the end, it was all confetti and cheers. And it's not Calipari's team, but Krzyzewski's, that will end up in the history books.
The Associated Press contributed to this report.