Duke coach Krzyzewski reportedly bans players from locker room over losses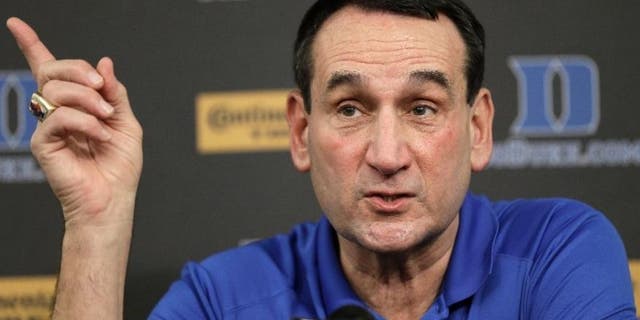 Legendary Duke men's basketball coach Mike Krzyzewski reportedly banned his team from the locker room and told his players they were no longer allowed to wear Blue Devils gear.
ESPN reported, citing sources, Krzyzewski held a team meeting at his house Tuesday night to discuss the team's recent woes. Krzyzewski has been recovering from back surgery and hasn't coached the team since Jan. 4.
Krzyzewski was reportedly extremely upset over the team's stunning loss to unranked North Carolina State. "He wasn't happy," the source told ESPN.
The Blue Devils have had a tumultuous season. Grayson Allen was under fire for his tripping incidents, while freshman Harry Giles, Jayson Tatum and Marques Bolden all missed the start of the season.
The team has also lost three of their last five since Krzyzewski took a leave of absence.
When will the penalties end for the Blue Devils? The source told ESPN, "until they start living up to the standards of the Duke program."
Duke plays Wake Forest in a pivotal ACC matchup on Saturday.
The Associated Press contributed this report.
Ryan Gaydos is a news editor for Fox News. Follow him on Twitter @Gaydosland.