Ducks jump into eighth in West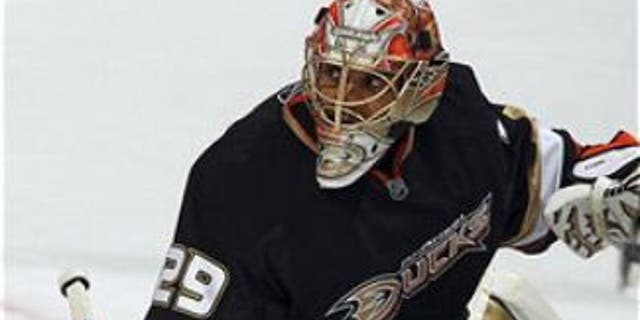 The Anaheim Ducks don't want to be left out.
The Ducks joined their four Pacific Division rivals among the top eight in the Western Conference by beating the St. Louis Blues 2-1 on Wednesday night, moving them from 10th place to the final playoff berth.
Jason Blake scored twice as the Ducks improved to 81 points. Calgary also has 81 but has played two more games.
At the top of the heap, the Vancouver Canucks became the first team in either conference to clinch a berth by beating Colorado 4-2 to wrap up the Northwest Division title.
In the East, there were two missed opportunities: Washington lost a chance to pass Philadelphia for first in the conference by losing 3-2 at Detroit, and Carolina missed a chance to pull even in points with eighth-place Buffalo by dropping a 3-1 decision at home to Toronto.
Here's a look at how the races in each conference shape up after Wednesday night's games:
Eastern Conference
Division leaders
Philadelphia (93 points) was assured of staying in first place in the East when Washington lost at Detroit. The Flyers continue their trip with a visit to Atlanta on Thursday night. It's the rematch of Saturday night's game in Philadelphia that saw the Flyers blow 3-0 and 4-2 leads in a 5-4 overtime loss.
Washington (92 points after Wednesday's 3-2 loss at Detroit) got goals from Alex Ovechkin and John Carlson but couldn't fend off the Wings, who got two goals by Henrik Zetterberg. It was their first loss since being routed 6-0 by the New York Rangers on Feb. 25. The Caps continue their six-game trip with a visit to New Jersey on Friday.
Boston (87 points) continues its road trip with a rare visit to Nashville on Thursday. The Bruins haven't been to Music City since Valentine's Day in 2009, and are making only their third visit to Bridgestone Arena since March 9, 2004, when they last won there.
The next five:
Pittsburgh (90 points) had the first of four consecutive days off before the New York Rangers come to town Sunday afternoon (12:30 p.m., NBC). Despite missing Sidney Crosby and Evgeni Malkin, the Penguins have scored 10 goals in winning their last two games.
Tampa Bay (87 points) had a second day off before visiting Montreal on Thursday night.
Montreal (83 points) called up forwards Nigel Dawes and Aaron Palushaj for Thursday's game against Tampa Bay. Tomas Plekanec and Jeff Halpern both left Tuesday's 4-2 loss to Washington with injuries. Habs defenseman Roman Hamrlik, the first player ever drafted by Tampa Bay, will play his 1,300th NHL game Thursday when he takes the ice against his former team.
New York Rangers (78 points) spent the off-day signing a pair of draft picks -- Dylan McIlrath (first-round in 2010) and Ryan Bourque (third round in 2009). They host Montreal on Friday.
Buffalo (76 points) had the first of three straight days off before weekend home dates with Atlanta and Nashville.
On the outside looking in:
Carolina (74 points after Wednesday's 3-1 home loss to Toronto) spent the night firing away unsuccessfully against the Leafs. The 'Canes launched 84 shots at Toronto goaltender James Reimer, but scored only once, while the Leafs took only 36 at Cam Ward but scored three times. Carolina will have to regroup before hosting the Islanders on Friday.
Toronto (72 points after Wednesday's 3-1 win at Carolina) made the most of its 19 shots on goal to win in Raleigh and climb within four points of eighth place. Dion Phaneuf scored twice and set up Toronto's other goal to support rookie James Reimer's 36-save performance. The Leafs don't get to relax -- they visit Florida on Friday night.
New Jersey (70 points) enter Thursday's game at Ottawa six points out of eighth place, meaning the Devils have made up 21 points since the midseason mark. New Jersey has lost just three times in regulation in the second half of the season -- but one was last Tuesday to the Senators, a 2-1 Ottawa victory in Newark.
Atlanta (70 points) hosts Philadelphia on Thursday in a game it can't afford to lose. The Thrashers have stayed alive by going 3-1-1 in their last five games, including a 5-4 OT win at Philadelphia last Saturday.
Western Conference
Division leaders:
Vancouver (103 points after Wednesday's 4-2 home win against Colorado) is assured of a top-three seeding and home ice in the opening round after rallying from a 2-0 deficit to beat the Avs. Henrik Sedin got the go-ahead goal and the empty-netter that locked up the Canucks' third consecutive Northwest Division title. They also lead Detroit by 11 points in the race for first place in the West and Philadelphia by 10 points in the Presidents' Trophy race.
Detroit (92 points after Wednesday's 3-2 home win against Washington) got a pair of goals by Henrik Zetterberg to end the Caps' nine-game winning streak. The win increased the Wings' lead over Chicago in the Central Division to eight points. Detroit heads to Columbus for a Thursday night game against the Blue Jackets.
San Jose (88 points) will be without top-line winger Dany Heatley when Minnesota comes to the Shark Tank on Thursday night. Heatley was suspended for two games by the NHL for a hit to the head of Dallas' Steve Ott on Tuesday.
The next five:
Los Angeles (85 points) starts a five-game homestand when St. Louis comes to Staples Center on Thursday after a 4-0-0 road trip.
Phoenix (85 points) continues its four-game trip with a stop in Edmonton on Thursday. The Coyotes already have wins in Anaheim and Calgary.
Chicago (84 points) had Tuesday and Wednesday off before visiting Dallas on Thursday. The Hawks also have two days of rest before each of their next three games.
Dallas (82 points) may be without All-Star forward Loui Eriksson, who left Tuesday's game against San Jose after taking a big hit from defenseman Douglas Murray and is day-to-day.
Anaheim (81 points after Wednesday's 2-1 home win against St. Louis) spotted the Blues a 1-0 lead but got two goals by Jason Blake and 30 saves by Ray Emery in his Anaheim debut for his first NHL victory since Feb. 10, 2010. The Ducks have won six of their last eight to jump into the top eight; they are off until they play at Los Angeles on Saturday.
On the outside looking in:
Calgary (81 points) recalled Ales Kotalik from its AHL farm team, the Abbotsford Heat. The
Flames need a pick-me-up entering Thursday's home game against Colorado after dropping their last three games.
Nashville (80 points) hopes forward Joel Ward might be ready to go when Boston comes to Bridgestone Arena on Thursday night. He missed Tuesday's 4-2 loss to L.A. with a lower-body injury.
Minnesota (77 points) finishes off what's been a painful (0-3-0) road trip with a stop in San Jose on Thursday. The Wild then come home and play six of the next seven at the Xcel Energy Center.
Columbus (74 points) faces yet another must-win game when Detroit comes to Nationwide Arena on Thursday. The Jackets had better hope the game doesn't go to a shootout -- they have dropped five in a row, including a 3-2 loss to Boston on Tuesday.