Draymond Green reveals what he told Stephen Curry after his injury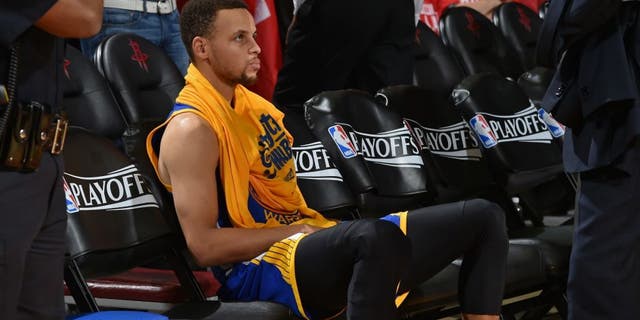 NEWYou can now listen to Fox News articles!
Golden State Warriors superstar Stephen Curry was in tears on the court after suffering a Grade 1 MCL sprain during Game 4 of the Rockets-Warriors series, but moments after Curry went down, teammate Draymond Green delivered a stern message to the reigning MVP and promised to win the game for him.
Green wrote about what happened during Game 4 in a playoff diary for ESPN, and said that Curry's injury gave the team a sense of urgency.
"Get out of here. Don't let them see you like this. Don't let them see you cry. We will hold you down. We got this. We will win this for you.
What made me say what I said to him on the bench was that I could see the pain. He wasn't crying because he was worried about his knee, he was crying out of frustration and not being able to be out there to help his brothers. Obviously, after leaving during the first half of Game 1, then in the first half of Game 4, you leave again?
It was the pain of not being able to be out there with us. You see the pain. So I let him know that he's all right. You go do what you got to do. We will go take care of this business. When I said that to him, he didn't say a word. I told him to put the shirt over his face. He put the shirt over his head and took off walking."
The Warriors responded by outscoring the Rockets by 21 points in the third quarter, and cruised to a massive win to go up 3-1 in the series.