Drama out of nothing: Larry Mac breaks down the Charlotte Chase race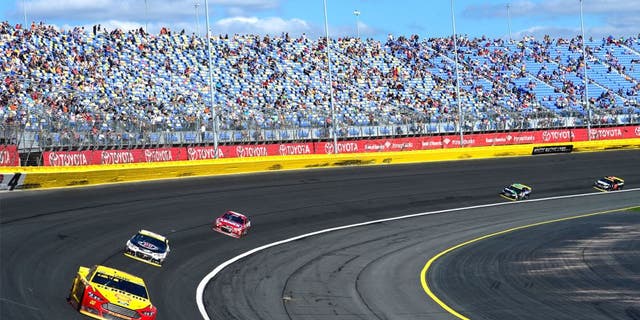 NEWYou can now listen to Fox News articles!
One of the things I took away from Sunday's race at Charlotte Motor Speedway is this Chase format is lending itself to making a non-eventful race into an exciting race. It's doing it with the drama as we saw Sunday of the roller coaster ride these Chase drivers are going through. As we saw Sunday, Matt Kenseth, Kyle Busch and Dale Earnhardt Jr. all had problems, while Joey Logano rolled into Victory Lane, punching his ticket to the next round.
I guess my point is if this were a race in the spring, where a driver led 227 of 334 laps, then folks would be complaining to high heaven about a mundane, boring race. I also think we keep seeing and realizing yet again that this isn't the best rules package that NASCAR has ever put out there. I think we've proved there are better packages out there. I mean I get it as to why we didn't change this rules package for the Chase, while at the same time I ask myself why we didn't change this rules package for the Chase.
As the old saying goes "it is what it is" and "we've got what we've got." Naturally you exclude Talladega Superspeedway, which means we still have five more races with this current rules package. For you newer fans, the superspeedway events, like the upcoming Talladega race in a couple weeks, is run on the 2014 superspeedway rules package.
I guess we're all pretty guilty in getting caught up with how strong Kevin Harvick has been these last two years, plus Joe Gibbs Racing having won 13 races, but we've really not paid much attention to the cat behind the wheel of the No. 22 Team Penske car. Joey Logano has just been as steady as could be. Going over the statistics from last year up to, and including Sunday's win, believe it or not, Joey is our winningest NASCAR Sprint Cup Series driver.
Do you know what the irony of all that is? Well, back in the middle of 2012, he didn't even know if he was going to have a ride in the NASCAR Sprint Cup Series. He literally was looking at possibly going back to running in the XFINITY Series. Here we sit today with Jimmie Johnson and our defending series champion Harvick with eight wins over the last two years, but Joey tops them both with nine wins.
The turning point, at least in my mind, of Sunday's race came with the caution at Lap 74. Joey and crew chief Todd Gordon decided not to pit, they stayed out and from that point dominated the race. Our pole sitter, Matt Kenseth decided to pit for four tires and fuel. That led to him restarting in 13th spot, and he never was a factor again. They had restart issues, hit the wall and ended up in the garage. To me, it was the huge turning point of the race.
I know with only two races left in this round, folks might think that Matt Kenseth and Dale Earnhardt Jr. are in trouble. With that said, I will continue to warn you that this is the most unpredictable round in the 2015 Chase. I go back to last year in this round when Kyle Busch had a substantial lead after the first two races, only to be eliminated from the Chase after getting caught up in the big crash on the backstretch at Talladega.
As always, Talladega is the wild card. If you have your driver up near the top of the points you can't be too content entering that race. Conversely, if your driver is near the bottom of the points you can't be overly concerned either. Talladega will tell it all. We've all known that all along.
I think we say Sunday that the larger expanded restart box in Sunday's race has seemingly fixed the restart issues at the front of the pack while at the same time causing havoc for guys in the back of the pack. Truth be told, I don't know if you can ever get to the perfect world on this restart issue. Remember, this is what the drivers were asking for so now they have it. Again, there weren't any issues at the front of the pack but there certainly were a lot of cars getting torn up at the back of the pack.
I know you've heard me say it before that I think we've over-saturated our schedule with Saturday night races. Obviously Mother Nature played a role in making sure this past weekend's race turned back into a Sunday race and I for one liked it.