Dolphins' Tannenbaum on Suh: 'He hasn't played as well as we hoped'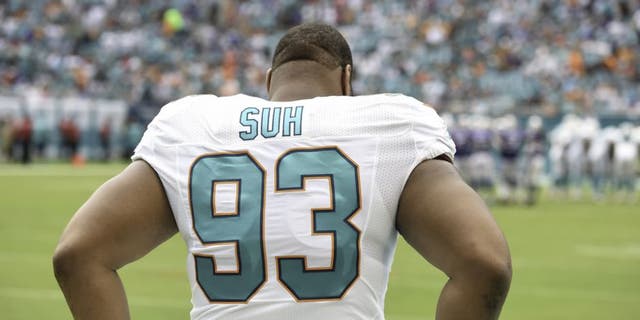 NEWYou can now listen to Fox News articles!
Saying the Miami Dolphins have been a disappointment thus far would be a huge understatement. They're second-to-last in the league in rushing yards per game, while they're dead last in sacks with just one in four games.
One name that stands out among the disappointments is Ndamukong Suh. He has yet to record a sack with the Dolphins since signing a massive six-year, $114 million contract in the offseason. Clearly, he hasn't lived up to that deal, but it's still early.
Executive vice president of football operations Mike Tannenbaum isn't ready to write off Suh yet, but he admits that he hasn't played to expectations.
"Let's be fair," Tannenbaum said on 640 AM, via the Sun Sentinel. "We signed him to a six-year contract, so we're four games into a six-year contract. He hasn't played as well as we hoped, we haven't played as well as we hoped. I think we have to give it a grade of incomplete."
No one would say that Suh has played well this season after recording 8.5 sacks and 53 tackles a year ago. But as Tannenbaum points out, the season is young and Suh has time to change his narrative of being a bust.
Suh and the Dolphins are returning from their bye and will take on the Tennessee Titans on Sunday.
(h/t ProFootballTalk)
MORE NEWS: Want stories delivered to you? Sign up for our NFL newsletters.