Dodgers rookie Julio Urias to become youngest starter in MLB playoffs history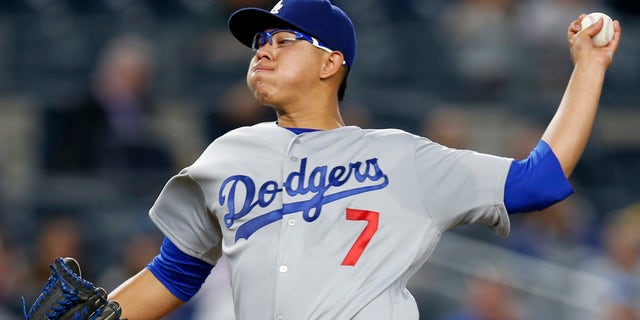 NEWYou can now listen to Fox News articles!
LOS ANGELES (AP) – Julio Urias finally is getting to start for the Los Angeles Dodgers in the postseason.
The 20-year-old rookie from Mexico came on in relief in a decisive Game 5 of the NL Division Series, helping the Dodgers beat Washington to advance.
Now, he'll take the mound Wednesday in Game 4 of the Championship Series against the Chicago Cubs, the youngest starting pitcher in major league postseason history.
"I felt the adrenaline when I was on the bench," Urias said through a translator. "I felt it in Washington, but then I knew that it was something that I could handle and something I could do. I know that I can do it again."
He's already the youngest Dodgers pitcher to appear in a postseason game and the youngest on any team to pitch in the postseason since 1970. At 20 years, 68 days, he will break the mark for youngest starter set by Kansas City's Brett Saberhagen in the 1984 ALCS at 20 years, 175 days.
"I thank God for the accomplishment, but I have to put that aside," Urias said Tuesday. "I really want to play a good game for my team, and that's really what it's about."
Urias made his highly anticipated big league debut on May 27 in New York against the Mets. At the time, he was 19 and the second teenager to start in the majors this century, joining Felix Hernandez who debuted at the same age in 2005.
Urias made 15 starts for Los Angeles before finishing the regular season at Triple-A Oklahoma City. In all, he's had four stints with the Dodgers in his first season, and Los Angeles has limited him to 16 innings since Sept. 1.
"That's how it's been all year. The decision has been the team's," he said. "The only thing that's important is to be in the mentality of go out there, do my job, and that's really what matters."
Urias hadn't been expected to arrive so early in the season; manager Dave Roberts had anticipated him being a September call-up.
"It's been incredible," Urias said. "As a ballplayer, I set goals for myself ever since I came to the United States. My goal originally was to set foot on a major league mound and to pitch at a big league level. I did that in May, and now to be able to have this opportunity and to be called on to start, it's great."
Now, he'll face off against Cubs veteran John Lackey, who leads all active pitchers with 21 postseason starts, going 8-5 with a 3.22 ERA in 24 total playoff appearances.
Lackey was four days past his 24th birthday when he started Game 7 of the 2002 World Series for the Los Angeles Angels, who beat San Francisco for the title.
"Sometimes it can be good to be young. You don't know what you're getting into," Lackey said of Urias. "You can just go out there and let your talent take over. And, obviously, he has a lot of that. Back then I was just worried about not messing it up for the older guys."
Urias has experience against the Cubs, having made two starts against them this season. The first was in Chicago and the second came at Dodger Stadium on Aug. 27, when he earned the victory and allowed one run in six innings.
"That really helps," he said. "It makes me a lot more comfortable, especially being that the second time was here at home. I go in with that mentality and try to give the best."
Cubs manager Joe Maddon will be watching Urias closely and hoping the umpires are scrutinizing his pickoff move, which some have said is close to being a balk.
"When you get to see it on TV, it's pretty obvious, it's not even close," Maddon said. "Give him credit, man, for going through with it. There are certain umpires that are in tune to that, some that are not. That's not an interpretation. That's balking 101 for me. We'll see how it all plays out."
Like us on Facebook
Follow us on Twitter & Instagram