Dodgers' Rich Hill rips Trump over tweet criticizing removal from World Series Game 4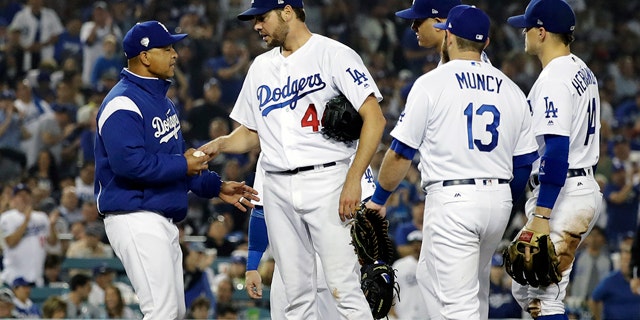 Los Angeles Dodgers pitcher Rich Hill criticized President Trump on Sunday after the president publicly questioned manager Dave Roberts' decision to pull Hill in the seventh inning of World Series Game 4.
Hill held the Boston Red Sox in check for most of Saturday's game and took a 4-0 lead into the seventh. Hill walked Xander Bogaerts and struck out Eduardo Nunez for the first out of the frame before Roberts lifted his left-handed starter after 91 pitches. The Red Sox scored nine runs in the final three innings against the Dodgers bullpen, winning 9-6 to move to within one game of the franchise's fourth World Series title since 2004.
Roberts' decision to pull Hill triggered a slew of debate on Twitter, with Trump weighing in to say: "It is amazing how a manager takes out a pitcher who is loose & dominating through almost 7 innings, Rich Hill of Dodgers, and brings in nervous reliever(s) who get shellacked. 4 run lead gone. Managers do it all the time, big mistake!"
"There was a mass shooting yesterday," Hill initially told reporters when asked about Trump's tweet Sunday, according to the Los Angeles Times. "I understand you're watching the World Series, but there was a huge tragedy that happened and people will say what they want to say. The focus, in my opinion, of the president is to be on the country, and not on moves that are made in a World Series game."
Hill was referencing the murders of 11 people at a Pittsburgh synagogue on Saturday morning. Trump previously had tweeted a message condemning what he called an "evil Anti-Semitic attack" as "an assault on humanity."
TRUMP MOCKS TOM STEYER AFTER LIBERAL BILLIONAIRE RIPS PRESIDENT'S RHETORIC
Following Game 4, Roberts said Hill had told him before the seventh inning to "keep an eye on me." The manager said Hill had never told him anything like that before during a game.
Before Game 5, Hill denied that his remark meant he was asking out of the game. Instead, he called it an "act of selflessness."
"You're thinking about the 25 guys, and understanding that, if things get haywire out there, and saying, hey, if there is a better option coming out of the bullpen, I'm going to be on board with that, because of the gravity of the situation," Hill said.
TOP DEMOCRATIC SENATOR SLAMS CLINTON'S CALL TO ABANDON CIVILITY WITH GOP: 'RIDICULOUS'
Roberts said Sunday he had discussed the president's tweet with his players and coaching staff, but hadn't thought much about it beyond that.
"I'm focused on winning today. So I really don't have too much bandwidth to kind of really take in all the criticism," Roberts said. "I think that there's a lot of thoughts and opinions that people don't have all the information, which is commonplace these days and cultivate opinions and give out there. So I think for me it's noise."
Click for more from the Los Angeles Times.
The Associated Press contributed to this report.