Doc Rivers calls reporter's question 'the dumbest thing I've ever heard'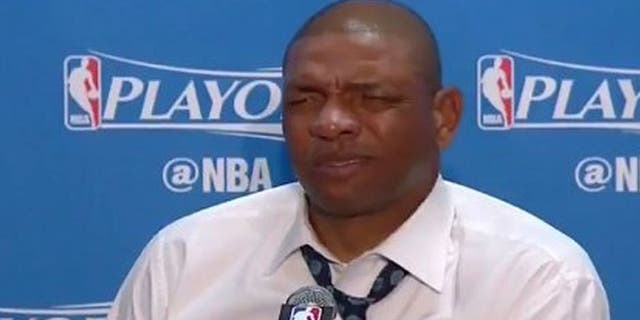 The Los Angeles Clippers are facing a 1-0 hole in their first-round series against the Utah Jazz after their gut-wrenching loss Saturday night that occurred on Joe Johnsons game-winning shot with no time left on the clock.
On the previous possession, the Clippers had the ball with 18.7 seconds left in regulation and were trailing by two points. Doc Rivers called an excellent out-of-bounds play in which Chris Paul received a dribble handoff that was followed by a pick and roll with DeAndre Jordan, who helped free Paul for the tying layup with 13 seconds left on the clock.
But it left was just enough time for the Jazz, who didnt call a timeout after Pauls bucket, to dribble up the floor and watch Johnson knock down a clutch floater over the outstretched arm of Jordan at the buzzer.
After the game, Rivers was asked if the play he drew up that allowed Paul to score the tying basket occurred too quickly and if he should have had the Clippers run down the clock possibly even taking the final shot?
"Who would do that?" Rivers asked.
"That makes no sense. That is like, the dumbest thing I've ever heard. When you're down two, you try to score. You don't wait. You score. If you can score in one second, you score. You always do that. And if you can find another coach to tell you different, I want to meet him."
David Richard-USA TODAY Sports | David Richard