Detroit Tigers' Delmon Young charged with hate crime in New York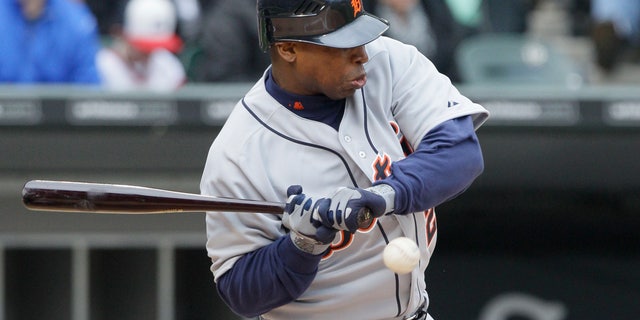 NEWYou can now listen to Fox News articles!
Detroit Tigers outfielder Delmon Young was arrested early Friday on a hate crime charge in New York after he allegedly attacked a group of four men while shouting anti-Semitic remarks, police told FoxNews.com.
NYPD Det. Joseph Cavitolo said Young was charged with aggravated harassment as a hate crime following the 2:40 a.m. incident outside of the Hilton New York in Midtown.
A group of four tourists who witnessed the incident told police they were approached by a panhandler wearing a yarmulke as they entered the hotel. The 6-foot-3, 240-pound Young began shouting anti-Semitic epithets and knocked one member of the group to the ground, according to police. The unidentified 32-year-old victim suffered minor cuts to his elbows and refused medical attention at the scene, Cavitolo said.
Young, 26, was traded to the Tigers from the Minnesota Twins last year. He was the first overall pick of the 2003 Major League Baseball draft out of Camarillo High School, in Camarillo, Calif., and although he has shown flashes, he has largely failed to live up to the promise of his talent. He was suspended for 50 games in 2006 after throwing his bat at an umpire in a minor league game.
Young finished second in the rookie of the year vote in 2007 as a member of the Tampa Bay Rays, but was later traded to the Minnesota Twins. In 2010, he hit 21 home runs and drove in 112 runs with the Twins. His brother is former major leaguer Dmitri Young.
Hilton spokesman Mark Ricci said the hotel's security team immediately called police following the incident.
"The well-being, safety and security of our guests are of paramount importance and we will continue to make every effort to ensure that all practices and standards are in line with strict safety and security regulations," Ricci said in a statement to FoxNews.com. "The hotel and the management of the hotel is fully cooperating with local authorities on this matter."
Tigers officials said in a statement issued Friday that they are aware of the incident but declined to comment on pending legal matters.