Detroit Red Wings biggest question mark: Goaltending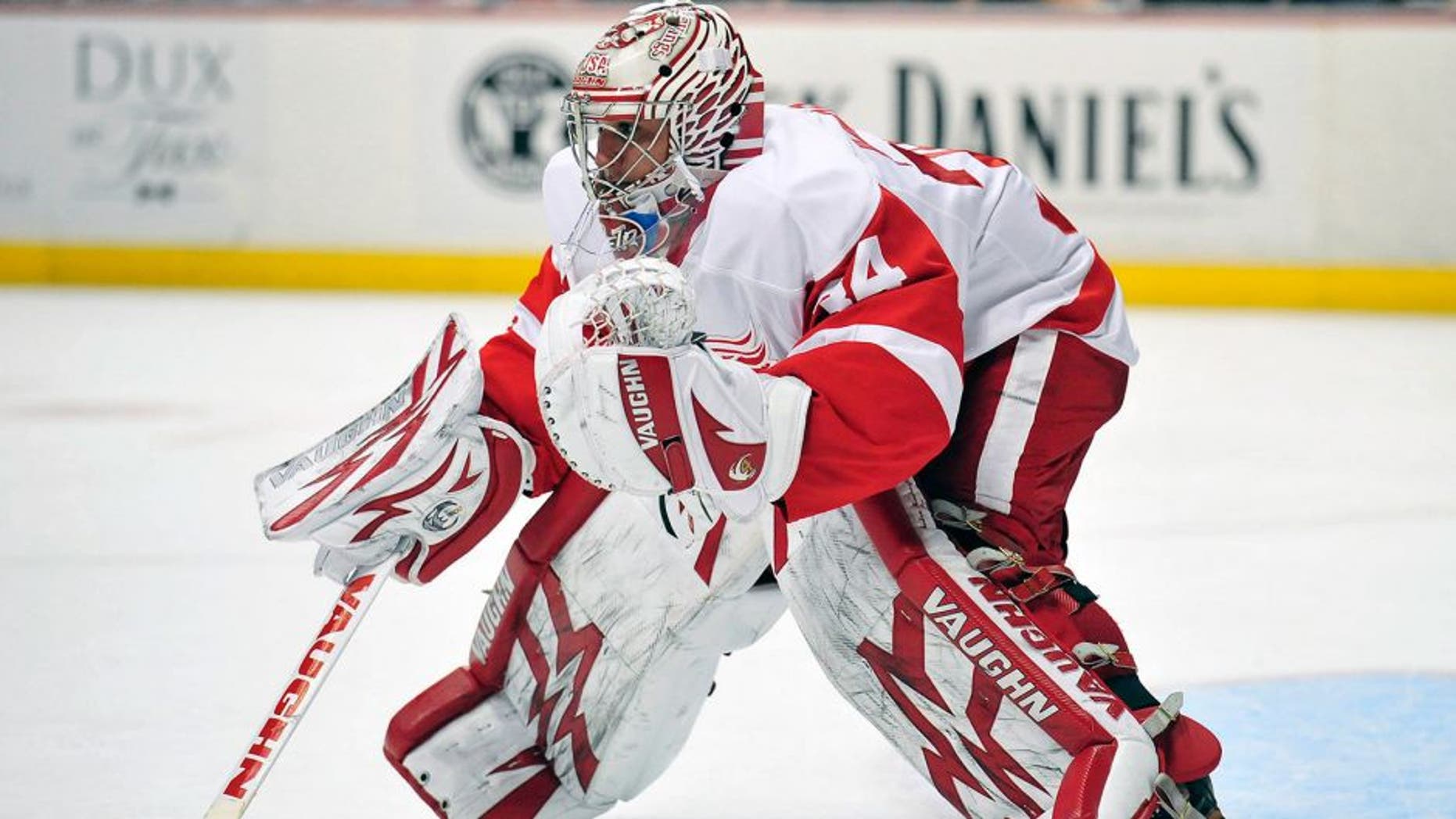 Who is going to be the primary goaltender for the Detroit Red Wings?
When you look at the roster initially, you would think it's Jimmy Howard. After all, Howard has been the team's primary goaltender since the 2009-10 season, and at 31, Howard has four years remaining on his six-year, $31.75 million deal he signed.
Not so fast, though. Because it was the 23-year-old Petr Mrazek who stepped in as the Red Wings' primary goaltender during their playoff matchup against the Tampa Bay Lightning. And Mrazek performed quite well, finishing with a .925 save percentage and a 2.11 goals against average.
Lets dive in a little deeper.
Last season, in 53 games, Howard finished with a .910 save percentage for the second season in a row, and recorded a 2.44 goals against average. Mrazek played in 29 games, recording a .918 save percentage and a 2.38 goals against average, better than Howard's numbers with a smaller sample size. In fact, if we check out their advanced goaltending statistics on War On Ice, Mrazek once again out-performed Howard last season. At even-strength five on five, Howard's save percentage was .922, while Mrazek's was .931. And if we take a look at their adjusted save percentage (which takes into account where the opposition is shooting the puck from), Mrazek's .934 save percentage at even strength five on five was once again better than Howard's .927 save percentage. Mrazek even out performed Howard when it came to saving shots from high-danger areas on the ice at even strength five on five: a .842 save percentage to a .825 save percentage.
And if we dive even deeper into their numbers, Mrazek managed to outperform Howard when his team was on the penalty kill. In 151.6 minutes of penalty kill time, Mrazek managed to record a .893 adjusted save percentage. And Howard? He managed to record .856 adjusted save percentage on the penalty kill. And Mrazek saw far more shots during his time on the penalty kill (62.14 shots against per 60 minutes of penalty kill time) compared to Howard (48.21 shots against per 60 minutes of penalty kill time).
Now, judge for yourself as to whether or not Mrazek's 29 games is a large enough sample size to judge whether or not he had a better season than Howard, but all signs do sort of point to Mrazek having the better year last season.
But the slate has been wiped clean for next season. With a new coach in Jeff Blashill, it's a fresh start for everyone. And Detroit Red Wings GM Ken Holland certainly believes in that. He made that quite clear when the two goaltenders cleaned out their locker rooms in May.
"My message to those guys today was professional sports is about competition and the competition begins again in September," Holland said. "If you didn't like the way the season ended, then get in the gym and do the work and be ready to be better next season. If you liked the way it finished, then get in the gym and make sure things keep going your way."
Whether that carries into next season or not, there is a clear issue for the Red Wings. Do they go with the proven goaltender of the past, or look towards the potentially rising star of the future next year?
(h/t Pro Hockey Talk)
All stats from War On Ice