Deron Williams turns back clock by beating it with game-winning 3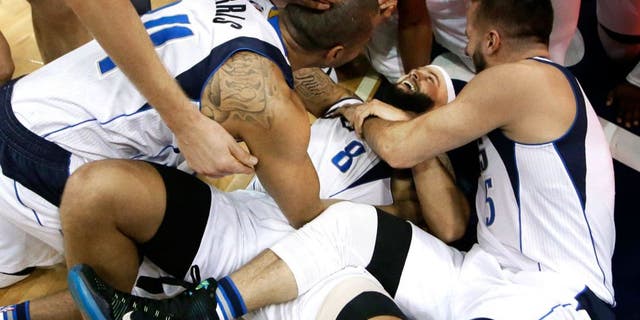 Remember when Deron Williams used to be one of the best point guards in the NBA?
Wait, do you remember Deron Williams … AT ALL?
Well, turns out he is still alive, and playing in Dallas, in the state in which he starred in high school.
And on Tuesday night, he reintroduced himself to a new generation of basketball fans in about the best way possible:
Yup, a game-winning, down-by-a-bucket, 3-pointer from the corner as time expired in double overtime. And to add injury to insult, go back and check out Williams take out Sacramento head coach George Karl while stumbling backward following the off-balance shot.
"That was definitely my first Mavericks mob scene," said the veteran guard, who led Dallas with 25 points and was 3-of-6 from long range in the 117-116 win. "I was at the very bottom of the pile, then all of a sudden it went dark and I couldn't breathe."
This is Williams' first season in Dallas after a rather forgettable last couple seasons in Brooklyn. Tuesday's game was Williams' first start since straining his left hamstring Dec. 22 against Toronto. He missed four games and came off the bench for two.
-- The Associated Press contributed to this report