Demonstrations and political unrest keeping heads of state away from Rio Games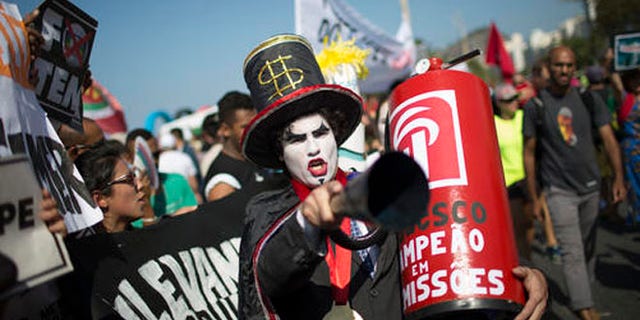 NEWYou can now listen to Fox News articles!
RIO DE JANEIRO (AP) – A reception welcoming foreign dignitaries to the opening ceremony of the Summer Olympics promises to be a lonely affair, with many heads of state staying away from Rio de Janeiro for fear of offending Brazilian political sensibilities.
Ahead of South America's first Olympics, officials had predicted as many as 100 heads of state would attend. But a list provided Friday by the Foreign Ministry showed fewer than 25 in attendance, among them the presidents of Argentina, France and Portugal. The United States is being represented by Secretary of State John Kerry.
They apparently are staying away because of the prospect of stepping into a country with two presidents. Interim President Michel Temer took over following the suspension in May of President Dilma Rousseff on impeachment charges.
For many leaders, it's too delicate of a diplomatic dance, said Maristella Basso, a professor of international law at the University of Sao Paulo.
"Leaders don't know which president to greet, the one who was removed or her interim replacement," Basso told The Associated Press. "So many decided not to come at all, to either avoid an uncomfortable encounter or to protest what they view as a coup."
Temer, who has avoided travel outside the country and kept a low profile since taking over for Rousseff, is holding a reception for foreign leaders Friday at the former Foreign Ministry palace, which was in use when Rio was Brazil's capital before 1960.
After a cocktail party, the group will relocate under tight security to the Maracana stadium for the opening ceremony.
Among the notable absences are leaders from some of Brazil's closest allies: Russia, India, China and South Africa — the so-called BRICS group of emerging market powerhouses that drew close to Brazil during during an aggressive, 15-year diplomatic push under Rousseff and her predecessor, Luiz Inacio Lula da Silva. Each instead sent their sports ministers.
Reflecting South America's ideological divide, only two regional leaders are here: fellow conservatives from Argentina and Paraguay. Leftist governments in Chile, Uruguay and Venezuela stayed home.
"The foreign leaders that are here are from countries that have a cold and distant relationship with Brazil," Basso said. "The timing couldn't have been worse."