Defending champ North Carolina knocked out in second round of March Madness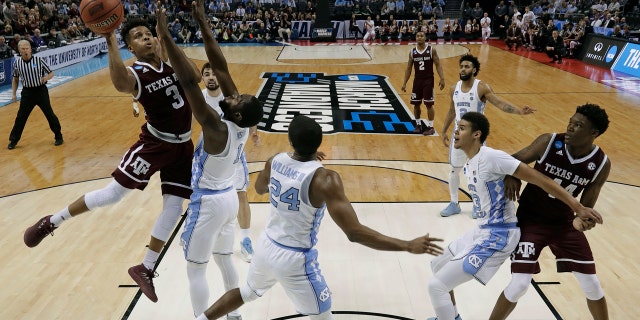 It was "Black Sunday" redux for the North Carolina Tar Heels.
The defending NCAA men's basketball champions had no answer for Texas A&M on either end of the floor and the Aggies blew out UNC, 86-65 Sunday afternoon in Charlotte.
Texas A&M advances to play Michigan on Thursday in the West Regional semifinals in Los Angeles. North Carolina's loss marks the second year in a row that the defending March Madness winner will miss the Sweet 16.
T.J. Starks led the way for A&M with 21 points, while Robert Williams added 13 rebounds, helping the Aggies take a 50-36 edge on the glass while shooting 52 percent — including 10 of 24 from 3-point range.
Joel Berry II scored 21 points in his final game for the second-seeded Tar Heels (26-11), who were trying to reach their third straight Final Four. North Carolina shot just 33 percent, including 6 of 31 (.194) on 3-pointers after entering the game shooting nearly 37 percent from behind the arc.

The Tar Heels were a very different team than last year's title winner, namely in the way they leaned on a small-ball lineup. But expectations grew that they could make a third straight Final Four run as UNC found a final-month groove, including two wins against Duke and a trip to the Atlantic Coast Conference Tournament championship game.

Instead -- after a heartbreaking title-game loss to Villanova in 2016 followed by last year's title win against Gonzaga -- the Tar Heels found themselves eliminated on the tournament's opening weekend for the first time since 2014.

UNC led 20-13 early only to see the Aggies go on a 15-0 run to change the entire dynamic of the game. Tyler Davis (18 points, nine rebounds) got loose for three baskets inside as the Aggies asserted themselves in the paint, while UNC started missing shot after shot.

By halftime, the Aggies had pushed to a 42-28 lead, then got 3-pointers from Admon Gilder and D.J. Hogg to open the second half and push the margin to a stunning 20 points.

Amazingly enough, the Tar Heels got no closer than 17 again to stun a crowd that was wearing a lot of blue and expecting the Tar Heels to advance.
The loss was just the second time the Tar Heels had lost an NCAA Tournament game in their home state. The first time happened on March 11, 1979, when No. 1-seeded UNC -- led by the legendary Dean Smith -- was stunned by Ivy League champions Penn in Raleigh. Two hours later, No. 2 seed Duke fell to St. John's, forever immortalizing that day as "Black Sunday" in North Carolina.
The Associated Press contributed to this report.