Deep passes continue to be an issue for Titans defense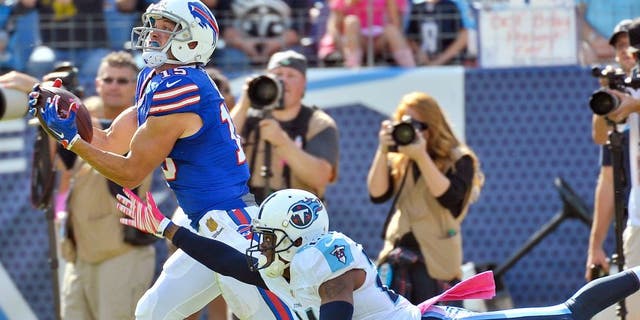 NEWYou can now listen to Fox News articles!
The Tennessee Titans pass defense is in the interesting position of being at the top of the league, while at the same time, in need of serious improvement.
The Titans lead the NFL in passing defense, giving up an average of just 166.5 yards per game in the air.
As the same time, as Jason Wolf of the Tennesseean notes, the team has allowed five passes of 40 or more yards, tied for fourth-most in the league.
The latest example came last Sunday in the Titans' 14-13 loss tot he Buffalo Bills. On what proved to be the game-winning drive in the fourth quarter, Tennessee cornerback Coty Sensabaugh was beaten by Bills wide receiver Chris Hogan for a 46-yard completion that set up a first-and-goal situation.
"Guys are frustrated," cornerback Jason McCourty said, per the Tennesssean. "You lose a game like we did (Sunday), and lose a game like we did two Sundays ago, guys are frustrated. They don't want to hear anything. The only message is that we have to continue to stick together and we have to go back to work. Obviously, we aren't where we want to be, but the only people that are going to get us out of this is going to be us. There is no point in pouting about it, or complaining and doing all of that. It's about coming back together as a team, working, and trying to improve next week."
At the current rate, the Titans are on pace to allow 20 passes of more than 40 yards. As Wolf points out, that would be nearly as many as the 23 such completions the team allowed over the past four seasons combined.
"As you watch all the big plays, we try to show them, 'Why are the big plays happening?'" defensive coordinator Ray Horton said. "I think it's at an alarming rate, and whether it's the balls being thrown over their head, missed angles, missed tackles, whatever the play happens to be throughout the league, we try to show the guys, 'Hey, it's happening throughout the league. How can we prevent it?'"
The Titans will look to improve their deep coverage Sunday against the Miami Dolphins.
MORE NEWS: Want stories delivered to you? Sign up for our NFL newsletters.