De La Hoya 'Greatly Appreciated' Mayweather Apologizing For Rehab Jab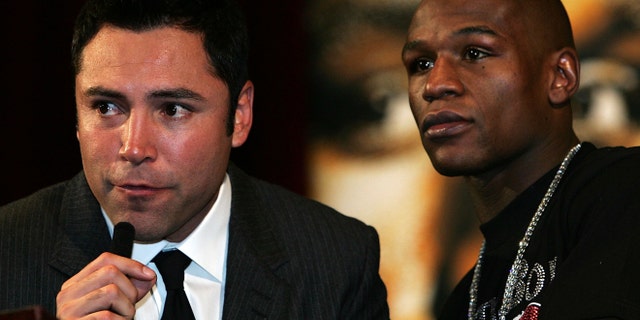 Oscar De La Hoya is not letting any bad blood brew between him and Floyd Mayweather Jr. despite a jab he made at his recent return to rehab.
De La Hoya gracefully accepted Mayweather's apology for the offensive photo that appeared on his Instagram account mocking his former rival.
"It was very nice of him," De La Hoya said to TMZ regarding Mayweather's admission he had done wrong.
"I greatly appreciated it ... so, thank you."
Monday evening Mayweather Jr. apologized for a sad looking photo of De La Hoya, along with a caption that read "MEANWHILE IN REHAB" followed by "OSCAR: I gave Canelo the wrong blueprint, I was high," that showed up on his account.
The comment was referencing when De La Hoya had talked about giving Canelo Alvarez, whom Mayweather handily defeated Saturday evening, "the blueprint" to beat him.
"It's unfortunate that a stupid picture was posted to my Instagram account earlier today that was not posted by me or authorized by me to post," Mayweather said in an e-mail to the LA Times
In his apology, Mayweather reiterated that he was nothing but supportive about De La Hoya's decision to go back to rehab.
"As I clearly stated during my fight week and again in the post-fight press conference, I completely support Oscar De La Hoya and his family during this difficult time in his life. Although we have had our differences in the past, I stand by him unconditionally and would never personally disrespect him or anyone who struggles with addiction."
Along with apologizing to De La Hoya, saying he was "rooting for him to win his fight," Mayweather also apologized to his Instagram followers.
"I have no ill will towards anyone and have repeatedly stated that I only seek positivity in my life and for others."
Follow us on twitter.com/foxnewslatino
Like us at facebook.com/foxnewslatino