Daytona 500 crashes take Kyle Busch, Dale Jr., and Johnson out of race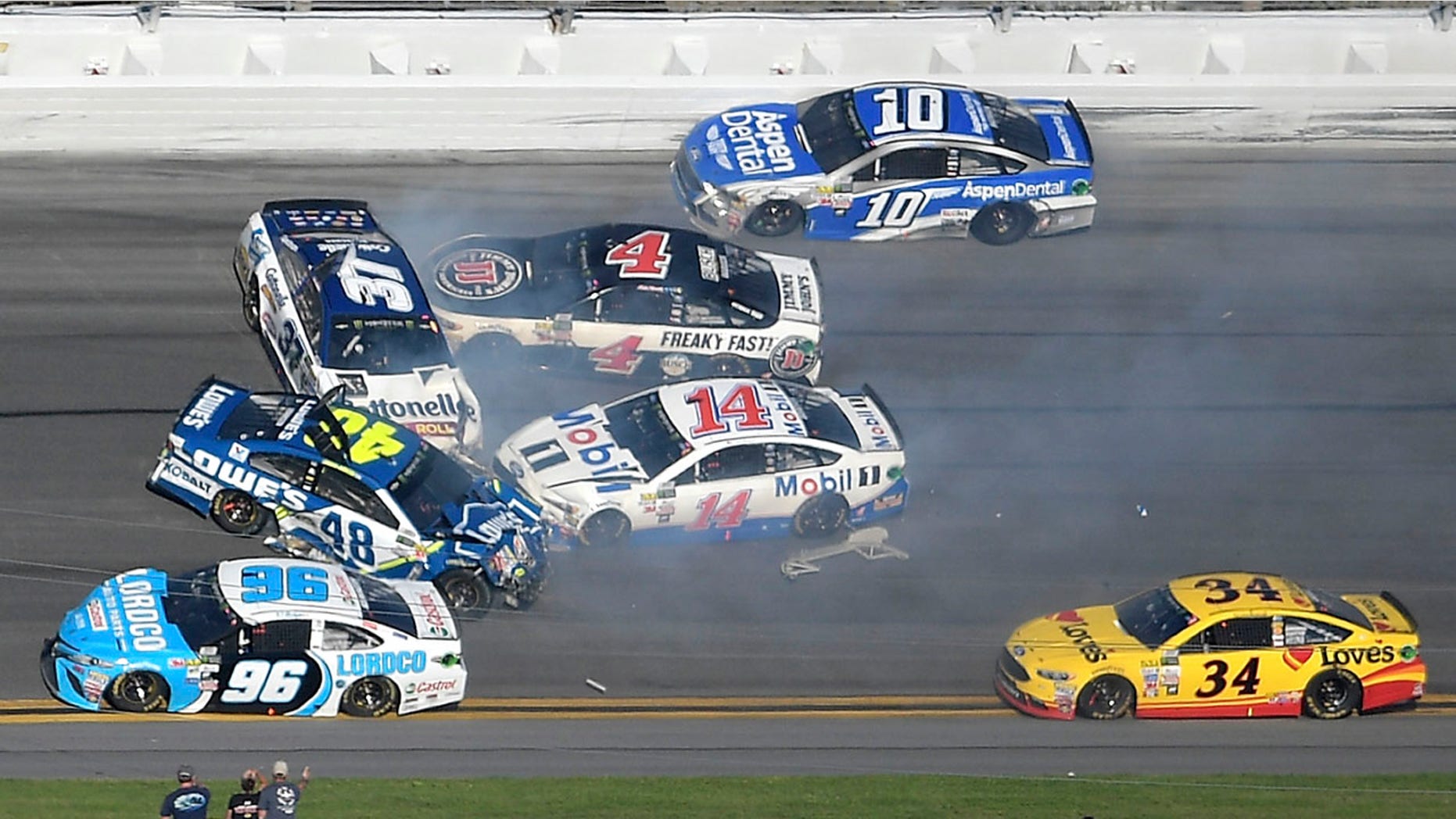 A pair of crashes took some of the biggest names in NASCAR out of the running at Sunday's Daytona 500.
The biggest pileup came on Lap 129, when 16 cars suffered damage and seven-time Cup series champion Jimmie Johnson was knocked out of the race.
The trouble began when Jamie McMurray tapped Johnson's No. 48 car, moving it from the top lane down the track, where it was hit by Trevor Bayne.
"Really? I mean the whole back straightaway, two of 'em tried to crash me," Johnson said on his car radio.
In addition to Johnson, Clint Bowyer, Danica Patrick, and Chris Buescher were knocked out of the race. Eventual race winner Kurt Busch and Kevin Harvick were involved in the melee but stayed on the track.

Twenty-five laps earlier, Kyle Busch caused a five-car crash when he blew out his right rear tire entering Turn 3, taking out his Toyota teammates and fan favorite Dale Earnhardt Jr. in the process.
Busch, the younger brother of Kurt Busch, turned directly in the path of Joe Gibbs Racing teammate Matt Kenseth and Erik Jones, a de facto Gibbs driver at Furniture Row Racing.

"Fantastic. Right rear went down entering Turn 3," Busch said on his car radio as he headed to the garage.

Earnhardt — seeking his third win in "The Great American Race" —  went to pit road, but his crew could not repair the damage in the alloted five-minute period and the No. 88 car was parked for the remainder of the race.

"I feel horrible for those guys," Busch said. "But nothing we did wrong. Goodyear just can't build tires that hold air. … That's so disappointing."

Busch had won the first 60-lap stage of the race, earning himself a point toward the Monster Energy Cup Series playoffs. 

FoxSports.com's Tom Jensen and the Associated Press contributed to this report.