David Ortiz Wants Extension; Red Sox Say 'Huh?'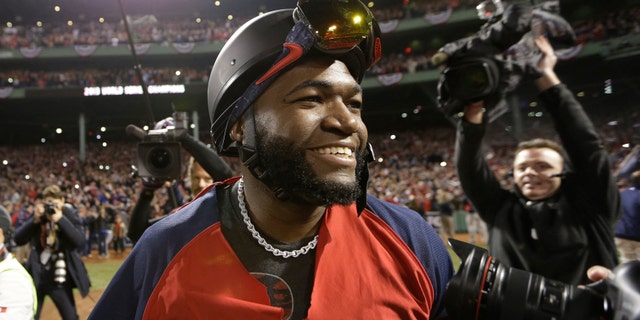 Slugger David Ortiz said in a news conference Wednesday in the Dominican Republic that he hopes to renew his contract with the Boston Red Sox for another year.
According to the Boston Globe, however, the Red Sox had an understanding with Ortiz, who turned 38 on Nov. 18, that the two sides would not talk about an extension until after the current deal expired.
The designated hitter said he hopes to keep playing as long as he feels physically healthy. His current contract runs through the end of next season.
Ortiz won the World Series MVP award last month after reaching base in 11 of 16 at-bats with 2 home runs and 6 RBIs.
He had a .309 average with 30 homers, 70 extra-base hits and 103 RBIs in 137 games this past season.
A few days after leading his team to the championship, Ortiz finished third in Boston's mayoral vote. He received most of the 560 write-in votes cast in the election – enough for him to finish behind Mayor-elect Martin Walsh, who received 72,514 votes, and John Connolly, who had 67,606 votes.
The devoted love for 'Big Papi' hit a fever pitch this year. Nearly seven months ago Ortiz emphatically declared "This is our [bleeping] city" at an emotional pre-game ceremony at Fenway Park to honor those affected by the Boston Marathon bombings, and then proceeded to carry the Sox to their third World Series title in a decade.
The hulking lefthander also won the World Series with the Red Sox in 2004 and 2007.
The Associated Press contributed to this report.
Follow us on twitter.com/foxnewslatino
Like us at facebook.com/foxnewslatino