Darvish looks to continue strong start again Oakland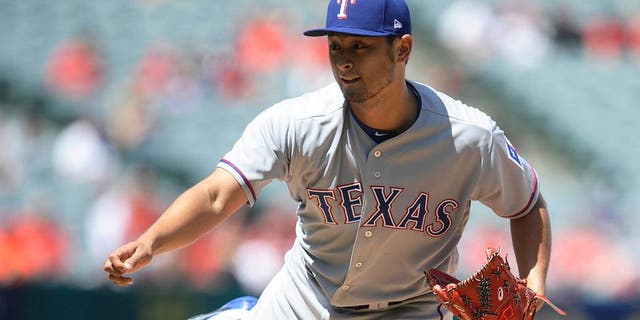 NEWYou can now listen to Fox News articles!
OAKLAND, Calif. -- The next earned run Oakland A's right-hander Andrew Triggs allows will be his first this season.
Triggs will take a 2-0 record and 0.00 ERA into his third start, a matchup against Texas Rangers ace Yu Darvish on Tuesday night at the Oakland Coliseum.
Triggs has spent most of his pro career as a relief pitcher, but he made six starts for the A's last season and won a spot in their rotation this year with a strong spring training. He has allowed eight hits and one unearned run over 11 2/3 innings this season with four strikeouts and four walks.
"I like it a lot," Triggs said of starting. "If you want to split hairs going all the way back to high school, I've started longer than I have relieved. But yeah, it's sort of dusting off old routines and old habits. I'm enjoying it a lot. It's been fun so far, and just got to keep things rolling."
Darvish, who missed the 2015 season while recovering from Tommy John surgery, is off to a strong start. He is 1-1 with a 2.33 ERA in three starts. Darvish has 19 strikeouts and 10 walks in 19 1/3 innings.
In his last start on Thursday, in an 8-3 victory against the Los Angeles Angels, Darvish allowed five hits over seven shutout innings and struck out 10.
"I had a sharp, good slider today," Darvish told MLB.com after the victory. "It was breaking a lot early, I had to just aim it better."
Darvish is 47-31 with a 3.26 ERA in 103 career major league starts. He has 831 strikeouts and 259 walks in 665 innings, but for some reason, he typically struggles against the A's.
Darvish is 3-10 with a 4.43 ERA in 15 starts against the A's. He is 1-3 with a 5.72 ERA at the Coliseum, though he beat the A's in his last start in Oakland on Sept. 24. He threw seven shutout innings in a 5-0 victory, allowing two hits while striking out nine.
Darvish held the A's to one run and four hits over six innings on April 8 at Arlington but took the loss in a 6-1 defeat.
Triggs is 0-0 with a 1.35 ERA in two appearances against the Rangers, including a start on Aug. 16 at Texas last season. He held the Rangers to one run on two hits over 5 2/3 innings but got a no-decision in a 5-4 A's loss.
The A's placed right-hander Kendall Graveman (strained right shoulder) on the 10-day disabled list Monday and recalled catcher Bruce Maxwell from Triple-A Nashville. Graveman joined right-hander Sonny Gray (strained right shoulder) on the DL. Little did the A's know that Triggs would become such an important piece of their pitching staff.
"I was preparing as a starter through spring," Triggs said. "That was my plan. If they said, 'Hey, we have a different thing in mind,' I would have said, 'Great.' If they said, 'Jump,' I'd say, 'How high?' That was the position I was in, but I came in and prepared as a starter. That was my mindset and what I wanted to do."
The Rangers have their own injury problems. Closer Sam Dyson was placed on the 10-day disabled list Monday due to a right hand contusion, and he likely will go on a rehab stint once his hand heals. Right-hander Matt Bush will take the bulk of Dyson's role in the ninth inning, but Rangers manager Jeff Banister said he would share the load. Right-hander Keone Kela, who was recalled from Triple-A Round Rock, is another option.
Dyson is 0-3 with a 27.00 ERA and three blown saves, but Banister said he hasn't lost faith in him.
"This is more about getting the hand right," Banister said. "We need Sam to get back up here. He's a huge part of this bullpen."
The Rangers opened the three-game series Monday night with a 7-0 victory, ending their three-game losing streak and handing Oakland its fourth consecutive loss.