Darren Fells earning spot atop Cardinals' depth chart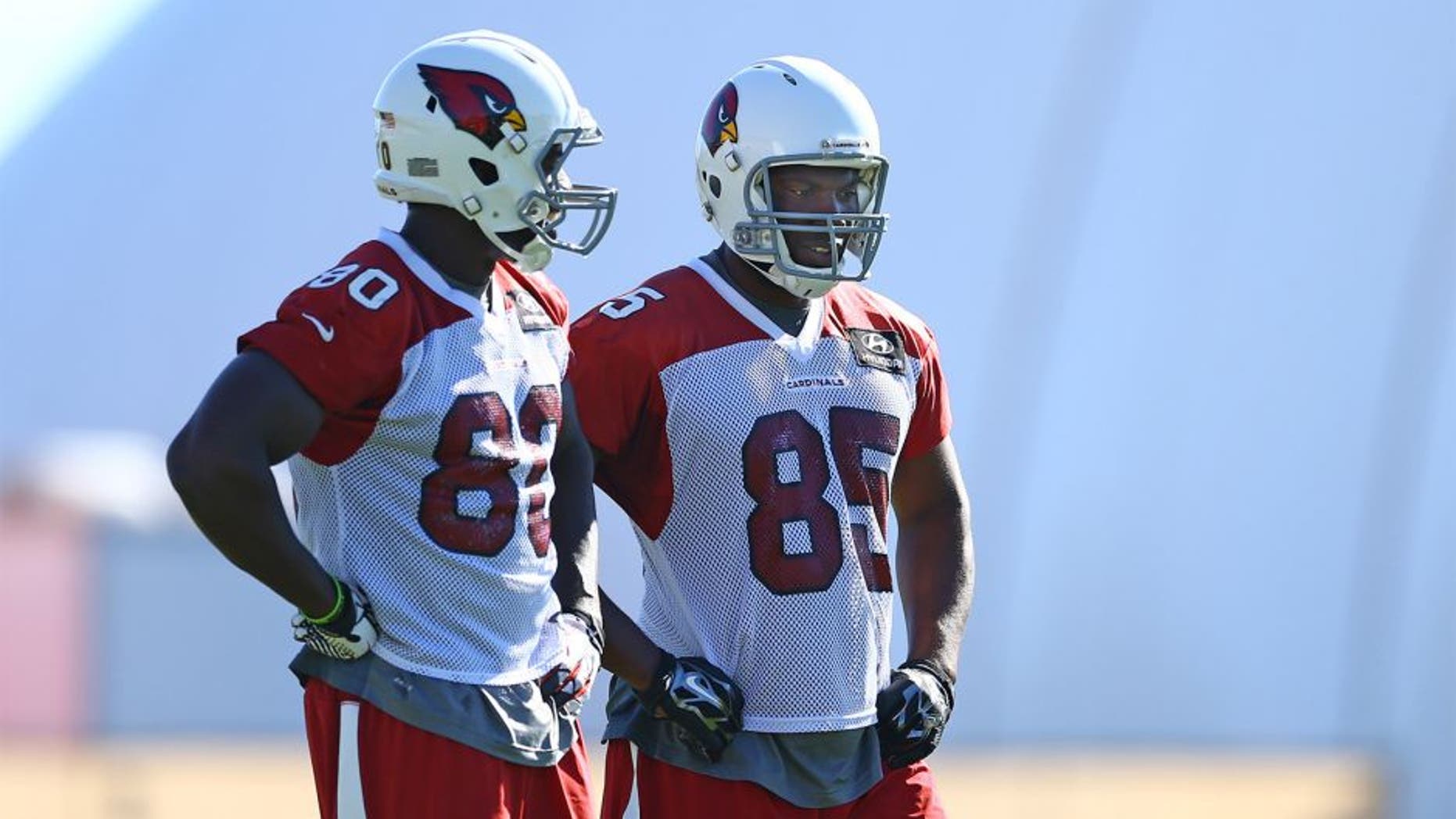 GLENDALE, Ariz. -- There were no glaring surprises on the first depth chart of fall camp released by the Cardinals on Monday, but there was a glowing endorsement of tight end Darren Fells from head coach Bruce Arians.
The depth chart should be taken with a grain of salt, due to the injuries that have sidelined several key players throughout the first week of practice, but for the purposes of documentation, here are a few items of note:
Fells and Ifeanyi Momah are listed as starters at tight end (when the team lines up with two tight ends), with Jermaine Gresham and Troy Niklas, neither of whom has participated in contract drills, listed as second team. Arians said he's been extremely pleased with Fells and indicated it's his job to lose.
"Jermaine? He ain't got no starting job," Arians said. "He's never played here. You've got to earn all that. You don't sign contracts and get jobs. He's got to come out and earn that on the field. Darren Fells is our starting tight end -- he's doing really, really well. It's going to be hard to beat him out."
A.Q. Shipley is ahead of recently re-signed Lyle Sendlein at center, and Bobby Massie is ahead of first-round draft pick D.J. Humphries at right tackle.
Kerwynn Williams and rookie David Johnson are both listed as second-team running backs, with Stepfan Taylor and Robert Hughes on third team.
Arians indicated he hasn't been pleased with the running back position and said he is looking at bringing another back into camp. Both Johnson and starter Andre Ellington have been limited by hamstring injuries.
Johnson is "very iffy" this week, and Arians said the injury is normally in the two-week time range.
"I am not pleased with the time (Andre) and David have lost, and I was not fired up about the running backs' performance on Saturday," he said.
Jerraud Powers, Tyrann Mathieu and Tony Jefferson join Patrick Peterson as starters in the secondary, with Deone Bucannon, Rashad Johnson, Justin Bethel and Jimmy Legree listed as second team.
Sean Weatherspoon and Kevin Minter are the starters at inside linebacker, flanked by Alex Okafor and Lorenzo Alexander. Kareem Martin and LaMarr Woodley are second team on the outside, with rookie Markus Golden on third team.
Arians said Weatherspoon (hamstring) and Humphries (knee) might be ready to practice by Tuesday. Powers suffered an oblique injury in Saturday's practice, but Arians is hopeful he will be able to play in this Saturday's preseason opener vs. Kansas City.