Daniel Sedin edging ahead of the scoring pack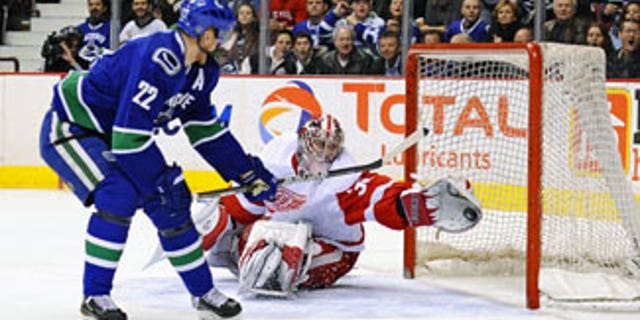 Daniel Sedin doesn't want to talk about succeeding his brother as NHL scoring champion. His play on the ice is talking plenty.
Henrik Sedin won the Art Ross and Hart Trophies last season. Daniel could take home both honors this season. He moved five points in front of runner-up Steven Stamkos in the race for scoring honors with 2 goals, including the game-winner, and an assist in Vancouver's 4-3 win at Calgary.
The three-point night capped a big week for Daniel, who had 3 goals and 8 points to help the Canucks win all three games to complete a sweep of their five-game road trip that saw him go 5-5-10, giving him 89 points in 70 games.
Five up — Five players who've been hot:
Henrik Sedin -- Daniel's big week only slightly overshadowed his twin brother's performance. Henrik had a pair of assists on Saturday, giving him six for the week, along with a goal. He's third in the NHL with 83 points.
Steven Stamkos -- The NHL's top goal-scorer has a pretty good week himself. The Tampa Bay star scored twice, giving him 43 for the season, and added 4 assists for a six-point week.
Braden Holtby -- Holtby was the odd man out in Washington's troika of young goaltenders until injuries gave him a chance to play this past week. All he did was go 3-0-0 while allowing just one goal on 82 shots and earning his first NHL shutout.
Anze Kopitar -- Kopitar is getting hot at the right time for the Los Angeles Kings, who are scrambling for a playoff berth in the West. The 23-year-old center had a hat trick on Friday and finished the week with 4 goals and 6 points in three games as L.A. went 2-0-1.
Martin Erat -- Erat has been giving Nashville an offensive boost. He had a goal and an assist on Saturday, giving him four consecutive two-point games, and is plus-5 with 9 points during a five-game point streak.
Five down — Five players who are struggling:
Marek Svatos -- Ottawa picked up Svatos in hopes that the former 30-goal scorer could add some offense. It hasn't happened. Svatos hasn't produced a point in his first eight games with the Senators.
Patrice Bergeron -- Boston has hit a bit of a skid, partly because Bergeron's been in a scoring slump. He's gone two weeks and six games without a point after getting 50 in the Bruins' first 60 games.
Mike Fisher -- Fisher is off to a slow start with Nashville after being acquired from Ottawa last month. He's gone without a point in his last six games and has just a pair of assists in his last 11. He was a plus player Saturday night for the first time since Feb. 17.
Lee Stempniak -- Stempniak had 14 goals in 18 games after coming to Phoenix at the trade deadline last year. He's had just 14 in 69 games this season, none in his last 20, and hasn't produced a point in his last six while seeing his ice time reduced.
Peter Budaj -- It's been a tough second half for Colorado, and especially for the Avs' goaltenders. Budaj lost both of his starts last week, allowing seven goals, and is 1-8-1 in his last 10 decisions.
Injuries, news and notes -- It's been a tough season for Philadelphia defenseman Chris Pronger, who has missed the Flyers' last two games and was seen with a cast on his right hand. He has 25 points in 50 games -- but has missed 18 more due to injuries.
Out -- Washington's Nicklas Backstrom had played all 313 regular-season games since entering the NHL in 2007 before sitting out the last two with a broken left thumb. … Vancouver's Tanner Glass missed Saturday's game with an upper-body injury. … Carolina defenseman Jamie McBain (upper body) sat out Saturday's game. … Defenseman Clayton Stoner (abdomen) missed Minnesota's three games last week. … Dallas forward Adam Burish left Friday's game with a lower-body injury and didn't return. … Colorado's Paul Stastny (back) and Milan Hedjuk (shoulder) both left Friday's game with injuries and didn't play Saturday. Defenseman John-Michael Liles missed both games with a leg injury. … Montreal defenseman Brent Sopel has been wearing a cast on his left hand and didn't play Thursday or Saturday. Forward Max Pacioretty (concussion and broken vertebra) is out indefinitely and likely for the rest of the season. … Buffalo forward Drew Stafford (hamstring) sat out Saturday's game, while center Paul Gaustad and defenseman Chris Butler missed the game with upper-body injuries. … Chicago's Dave Bolland left Wednesday's game in Tampa Bay after a hit to the head. … Florida forward Scott Timmins is out with what the team called a mild concussion. Alexander Sulzer missed the week with an upper-body injury. … Phoenix defenseman Rostislav Klesla left Tuesday's game after being hit in the face with a puck and hasn't played since. Forwards Ray Whitney and Martin Hanzal sat out the Coyotes' last two games with lower-body injuries. … St. Louis said defenseman Barret Jackman (broken finger) and forward Alex Steen (high ankle sprain) are out for the season.
Returning -- Dallas was happy to welcome back All-Star center Brad Richards on Tuesday after he missed 10 games with a concussion. Defenseman Niklas Grossman returned Thursday after sitting out 11 games with a hip injury. … Detroit's Patrick Eaves (groin) could return this week. … San Jose got a boost when All-Star defenseman Dan Boyle (upper body) returned Saturday night. He'd been out since Feb. 25, missing six games.
Still out -- Tampa Bay forward Steve Downie is still being hampered by knee and ankle problems and won't skate again until sometime this week. … Pittsburgh forward Arron Asham (concussion) is skating but still not ready to return. He's missed six weeks. … Minnesota captain Mikko Koivu (broken finger) has missed 11 games. He's day-to-day. Forward Cal Clutterbuck (upper body) has missed four games. … Edmonton's Sam Gagner had hand surgery last week and will miss the rest of the season.
The week ahead -- The games are starting to dwindle down to a precious few, with less than four weeks remaining in the regular season. All but two teams play at least three times; eight teams have a four-game week.
Games to watch: (March 14-20)
San Jose at Chicago (March 14, Versus/TSN2) -- The Sharks, who've spent the last two weeks at home, hit the road again with a stop in Chicago, where the Hawks are back home after a trip through the Southeast.
Carolina at Buffalo (March 15, Versus/TSN2) -- Two of the three teams at the top of the heap among those battling for the last two playoff spots meet at HSBC Arena 12 days after the 'Canes won 3-2 in Raleigh.
Washington at Detroit (March 16, Versus) -- Alex Ovechkin and the Caps make their only visit of the season to Joe Louis Arena.
Boston at Toronto (March 19, NHL Network/CBC) -- Tomas Kaberle, acquired by Boston from Toronto at the trading deadline, plays as a visitor at the Air Canada Centre for the first time.
New York Rangers at Pittsburgh (March 20, NBC/NHL Network-Canada) -- The Rangers go for a sweep of their three visits to the new Consol Energy Center in a game that's pivotal to their playoffs hopes.
Tough week ahead:
Phoenix Coyotes -- It's a tough grind for the Coyotes this week; after a Sunday game in Anaheim, they play three games in four days in Western Canada before returning home for a Sunday night meeting with Chicago.
St. Louis Blues -- It's off to California for the Blues, who visit Anaheim, Los Angeles and San Jose in a four-day stretch.
Tampa Bay Lightning -- The Bolts had played just three road games since late January before visiting Florida on Saturday. They play all three of this week's games away from the St. Pete Times Forum as they visit Eastern Canada.
Easy week ahead:
Buffalo Sabres -- The Sabres came home Sunday after their seven-game trip and spend the week at home hosting Carolina, Atlanta and Nashville.
Edmonton Oilers -- After four games in six days on the road, it's a quiet week for the Oilers, who are home for their only two games against Phoenix and Colorado.
Florida Panthers -- It's another week in South Florida for the Panthers, who host Philadelphia, Toronto and the New York Islanders as they try to stay alive in the playoff race.