Daniel Cormier: If Jon Jones is ready to go, I'm ready to go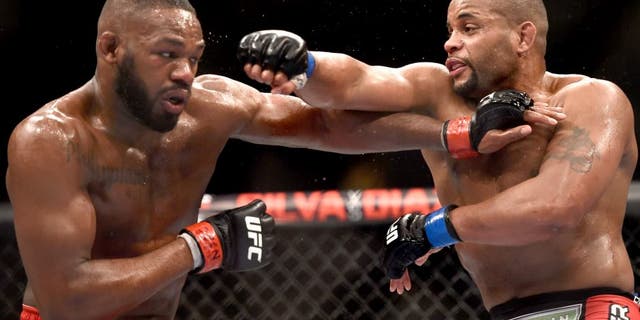 NEWYou can now listen to Fox News articles!
Daniel Cormier is still celebrating his win over Alexander Gustafsson from last weekend's UFC 192 fight card, but there's no rest for the weary because the champion already has his sets sight on former 205-pound king Jon Jones.
Jones is expected back at any moment after he was sentenced to 18 months probation stemming from an April arrest on hit-and-run charges in New Mexico.
Jones was indefinitely suspended by the UFC and stripped of his title after the arrest, but now that his legal woes are over and he won't face any jail time, expectations are high that he'll be reinstated sooner rather than later.
Jones imminent return also means UFC 192 winner Ryan Bader will probably have to wait even longer for his own title shot. Cormier says there's just no way he could pass up on the rematch with the former champion.
"(Bader) has by far earned a title shot, but with that being said, if (Jon) Jones is ready to go, I'm ready to go," Cormier said on "UFC Tonight". "This is the fight I want to be involved in, this is the fight the fans want to see and this is the biggest fight the UFC could put together."
Jones and Cormier battled to a five-round decision back in January at UFC 182 in one of the biggest pay-per-view cards of the year. Jones defeated Cormier to defend the light heavyweight title for the eighth consecutive time before he was stripped of the belt in April.
Cormier went on to win the title in May and then defended it last weekend against Gustafsson in Houston.
It seems everything is lined up for another showdown between Jones and Cormier and the current light heavyweight champion knows that fight will receive even more attention than the last bout, which means Bader is going to have to wait once again to get a title shot.
"Jon and I did big business in January and I believe we'd do even bigger business whenever we do fight again," Cormier said.
Cormier did show a lot of respect for Bader, who proved a lot of naysayers wrong by going out and beating former champion Rashad Evans handily in a lopsided decision, earning 30-27 scorecards across the board.
Cormier famously called Bader the 'easiest fight in the division' before they were scheduled to meet, but now even he has to say that the former "Ultimate Fighter" winner looked better than ever in his recent win.
"Ryan Bader really did stick it to me last Saturday by beating Rashad," Cormier said. "This guy, he's not playing by the rules! He's not following the rules of what we set up for him. Bader has completely changed the game. The guy is doing things a lot of people didn't think possible."
Unfortunately with Jones' return expected in 2016, Bader will likely have to sit and wait again or take another fight in the interim.
As much as Cormier likes to give Bader a hard time, he said in a perfect world the former NCAA All-American from Arizona State would get his title shot, but the rematch with Jones is just a bigger money fight for him and for the UFC so that's the matchup that will likely be made.
"Honestly, the UFC is a business and with that being said, Ryan, I apologize, but I think he's going to have to fight again and I think he knows that," Cormier said. "Because he said if he doesn't get a title shot, he wanted to fight Glover Teixeira again so I think he understands. He sees what's going on in this business."