D'Angelo Russell jokes about Nick Young-Iggy Azalea scandal in new commercial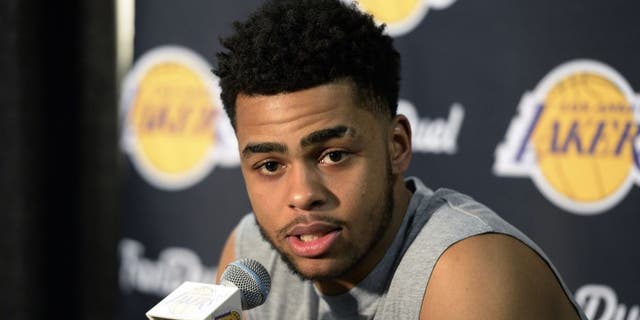 NEWYou can now listen to Fox News articles!
For the second year in a row the Lakers own the No. 2 pick in the NBA Draft, and this year they'll be looking to add another key piece to the roster to go alongside last year's lottery selection D'Angelo Russell. They'll also be hoping that whomever they select -- likely Duke's Brandon Ingram --- does a better job staying out of the headlines than Russell did last season.
Though Russell's rookie year was successful on the court, he made his biggest headlines off it, when he got caught recording a video about teammate Nick Young discussing his romantic life. It was a romantic life that did not include his then-fiancee Iggy Azalea, with the video eventually leading the two to call off their marriage earlier this week.
Still, time heals all wounds, and that appears to be the case with Russell as well, as he stars in a pretty funny new Foot Locker ad with fellow 2015 draftees Karl-Anthony Towns and Devin Booker, as well as projected No. 1 overall pick Ben Simmons.
In the commercial (above) Simmons is asking NBA advice from the trio, and when it gets to Russell, the Lakers star simply says "got a Phone?" and proceeds to throw it in the ocean.
We've got to say, shout out to Russell for making fun of himself, and making light of the uncomfortable situation he put himself in.
At the same time, even though the rest of us might think the commercial is funny, we're guessing Swaggy P and Azalea don't feel the same way.