DaMarcus Beasley set for final game for USMNT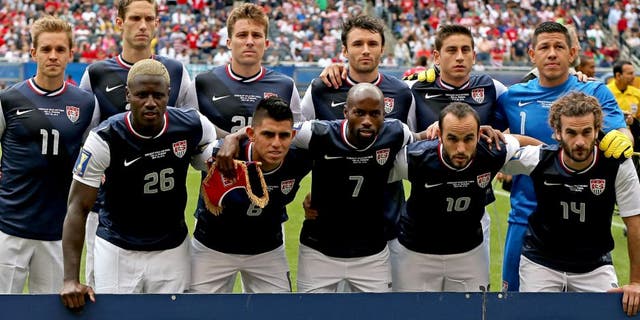 NEWYou can now listen to Fox News articles!
Upon retiring from the U.S. national team in December, DaMarcus Beasley didn't get the pomp and circumstance of a testimonial match. It turned out that a November friendly against Colombia had been his finale, unbeknownst to Beasley or anyone else.
But after coming out of international retirement for the CONCACAF Gold Cup knockout round, Beasley finally is poised for a proper national team farewell --€" probably.
"It looks like it comes to an end tomorrow, if he doesn't reconsider maybe," U.S. coach Jurgen Klinsmann said ahead of the Gold Cup third-place match against Panama on Saturday. "So we want to make it a special day for Beas."
Beasley was one of three mid-tournament replacements added to the U.S. squad after the Gold Cup group stage. But unlike Joe Corona and Alan Gordon, Beasley is yet to see the field after suffering a calf strain last week in his first training session.
The 33-year-old, who has compiled 121 caps, is slated to come on for the second half Saturday at PPL Park. Although Klinsmann implied the match will be a send-off of sorts for Beasley, the Houston Dynamo left back was less decisive.
"This crest, it sticks on you. You never want to take it off, and I'm not going to want to take my shirt off tomorrow," Beasley said. "We've only spoken about the Gold Cup and if I could play a part, and I would do that. Unfortunately, I didn't get a chance to do that because of my calf. But I don't know — I'm not going to say 100 percent I'm going to retire.
"If I did get the call from Jurgen in the future, and I'm playing well with Houston or wherever I am at the moment, then why not? My national team team means a lot to me. To be on the field with my brothers, wearing this crest, representing my country at the highest level of our sport, you can't get any better than that."
As training kicked off Friday, Klinsmann took a moment to gather his players and pay tribute to Beasley. Whether or not this is Beasley's final national team game, the coach hopes the four-time World Cup veteran remains involved in U.S. Soccer once his playing days are over.
"What he gave this team over the last many, many years has been unbelievable," Klinsmann said. "He's been an outstanding professional. He's been always a giver to the national team program."
FOX Soccer and Goal.com have teamed up to bring you the best in world soccer coverage. Visit Goal.com, and follow them on Twitter and Facebook.
More from Goal.com:
Goal Posts - Daily LIVE soccer blog