Dalvin Cook on verge of breaking FSU single-season mark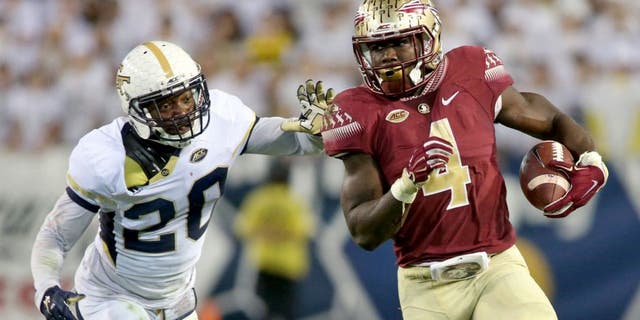 NEWYou can now listen to Fox News articles!
TALLAHASSEE, Fla. (AP) -- Dalvin Cook met Warrick Dunn for the first time three weeks ago before Florida State's game against Georgia Tech in Atlanta.
The two are likely to talk again this weekend when Cook is expected to break the Seminoles' single-season record.
Cook goes into Saturday's game against North Carolina State needing 12 yards to surpass Dunn's mark of 1,242 yards in 1995. Dunn, who played 12 years in the NFL and turns 41 in January, will be at the game.
"He was very encouraging. He motivated me, like 'Go and get it!' because he said that the record is there to be broken," Cook said of Dunn. "It's an honor to be mentioned in that record with him."
Cook grew up watching film of Dunn. Both have great vision seeing the field but Cook, who is three inches taller and 10-15 pounds heavier, is faster and relies more on power. According to STATS LLC, Cook is averaging 3.73 yards after contact, which leads Power 5 conference running backs with 100-plus carries.
While most of the national attention among backs has gone to LSU's Leonard Fournette, Cook has proven to be the more explosive back. Of his 148 carries, 15 have gone for 20 yards or more and five are 50-plus yards, which leads the nation.
Three of the 50-plus yard runs have come on the first carry of the game. That includes last week's 75-yard touchdown at Clemson.
"I put it in my head the first carry can go all the way if I really want it to and majority of time it happens," Cook said. "If I can get the running game going early, I know all of us are going to have that confidence the rest of the game."
Not only has that fired up the offense, but it gives the defense a jolt of confidence as well.
"You can see the whole sideline jumping up and down, fist-pumping," safety Lamarcus Brutus said. "We know he's a big-play guy like that, so we expect it. But it's still exciting when it happens."
When it comes to Heisman talk, Cook said he has largely ignored it but would be honored if he were invited to New York as a finalist.
If Cook breaks the record on Saturday, he will have done it in less carries and games (Dunn had 168 carries in 11 games). Cook missed three quarters of the Oct. 3 game at Wake Forest due to a hamstring strain and did not play Oct. 31 against Syracuse due to a sprained ankle. Cook did say this week that this is the healthiest he has felt since the start of the season.
In six of the eight games he has played, Cook has rushed for 150-plus yards and is the first Florida State back since Greg Allen in 1981 to have two 200-yard games in the same season.
"He's one of the best, if not the best, in America," coach Jimbo Fisher said. "It's an accomplishment for him, especially his tenacity to play and do the things he has to do to play while he's banged and bruised and things like that."
While their ACC and national title hopes are dashed, the 19th-ranked Seminoles (7-2, 5-2 ACC, No. 16 CFP) still have an outside shot at a New Year's Six bowl if they can win their final three games.
"The seniors, they know there's a lot ahead of us this season," Cook said. "It is better not to lose three or four now, so it's better to just open our eyes and know we have a lot ahead of us."