Dale Earnhardt Jr. explains why tweet that got him in trouble was worth it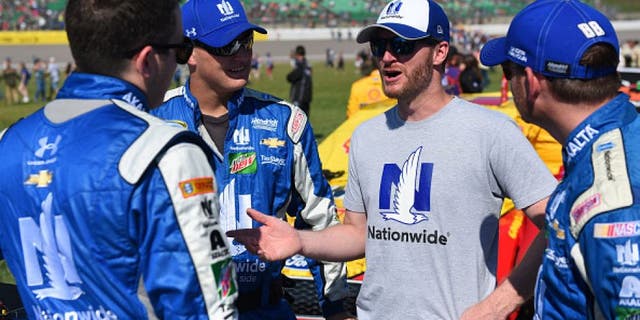 It appears even Dale Earnhardt Jr. can't do just whatever he wants at a NASCAR track without getting into a little trouble.
Earnhardt explained on his weekly podcast, The Dale Jr. Download, that the picture he took of Alex Bowman in the infield care center following Sunday's Hollywood Casino 400 at Kansas Speedway landed him in a bit of hot water after Junior put the photo out on Twitter. Bowman was subbing for Earnhardt as driver of the No. 88 Hendrick Motorsports Chevrolet and battled through a stomach virus to come away with a solid seventh-place finish that was the best of Bowman's young Sprint Cup career.
But Earnhardt, who is out for the season and hasn't raced since early July because of a concussion, said he had his reasons for wanting to share the photo of Bowman with the rest of the world.
"Alex was sick all weekend. He had a stomach bug before the race, and after the race he took some fluids," Earnhardt said on the podcast. "I tweeted a picture of him after the race, taking some fluids. I guess you're not supposed to do that … taking pictures in medical rooms and stuff like that. (It's) frowned upon.
"I got a little slap on the wrist, but I just wanted everybody to know how hard he worked and what he was going through inside the car. He was sick and wanting to puke. It wasn't fun -- but every time they threw the rag on green-flag restarts, he was up on the wheel and ran hard. I just wanted everybody to know that not only did he do a good job and he's a good driver and he realized some potential (Sunday), but he battled through some adversity to do it."
Bowman has been splitting time as driver of the No. 88 with Jeff Gordon since Earnhardt has been out. But even Gordon, the four-time NASCAR Premier Series champion who retired as a full-time driver at the end of last season, had not been able to finish better than 10th in seven starts in the car since stepping in as a sub.
Bowman also scored a 10th at Chicagoland, but his average finish in his four other starts (excluding Kansas) was a dismal 27.3 in the 88. So Earnhardt was very pleased with his substitute driver's finish in Sunday's event.
"The 88 guys finally got a finish. I know (crew chief) Greg (Ives) and the guys were really hoping to put one together," Earnhardt said. "They certainly had their share of adversity. Alex got into the fence there, trying to get around some cars he was lapping. He got a little over-eager there early in the race and got the guys behind. But, man, he drove great regardless.
"The car was awesome. He ran the high line most of the day. I think he ran maybe three or four laps at the start of the run on the bottom, and then he would work the high line. He spent most of the day up against that wall. That's hard to do without trying to get a little bit more and instead getting into more trouble."
Especially when you are feeling sick to your stomach the whole day. That much has been documented.