Dak Prescott reflects on heartbreaking loss: 'It was a missed opportunity'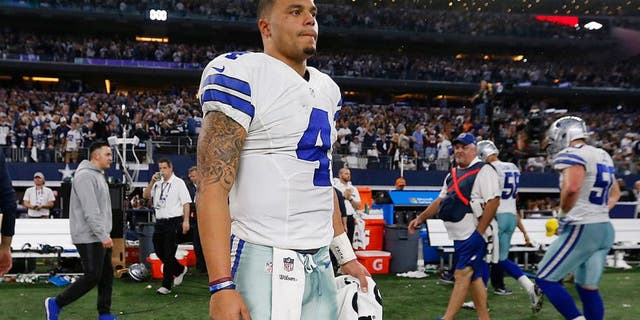 NEWYou can now listen to Fox News articles!
The Dallas Cowboys' season ended on a sour note Sunday. After winning 13 games in the regular season, the Cowboys were bounced from the playoffs in one-and-done fashion. While the loss was particularly hard for veterans like Tony Romo and Jason Witten to swallow, it will hit the young guys equally hard.
Dak Prescott reflected on the difficult conclusion Monday, and he was understandably disappointed.
"It's sinking in. It sucks. It stinks," Prescott said, via the Star-Telegram. "But it was fun; it was a great year. Great teammates, great coaches. The reality of it, though, is we all won't be back together. That's what team meeting was about. We know it's the business of this league. It's part of it. But yeah, it sucks."
Prescott isn't one of those rookies who comes into the league having lost three games in college -- like Ezekiel Elliott or just about every Alabama stud. He went through ups and downs at Mississippi State, and while losing in the NFL is a different animal, he's familiar with the pitfalls of football.
Not surprisingly, he's remaining optimistic about the future, as he should be. The Cowboys have a great core of players, most of whom are relatively young and under contract. This season was just a step in the right direction towards something greater.
"It was a missed opportunity," Prescott said. "It's obviously one because this team won't be back together, not the same team, not the same exact men and players won't be back together. But for the people that will for this organization, the youth in this team, it's a building block. We're going to get better from it. It's going to make us better. We'll make plenty more runs."
Prescott doesn't deserve any of the blame for the loss, considering he matched Aaron Rodgers throw for throw and put up 31 points against the Packers. He also threw for 302 yards, three touchdowns and an interception, posting a passer rating of 103.2.
While Jason Garrett didn't unequivocally declare him the starter in 2017, he'll be exactly that -- whether Tony Romo's back or playing elsewhere. This is Prescott's team, and he's completely embraced that narrative.