Daily Fantasy Baseball Advice for July 17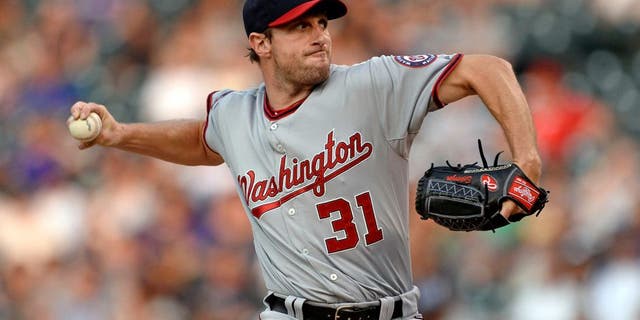 NEWYou can now listen to Fox News articles!
Welcome to Sunday's daily fantasy post! Remember that you can find our posts on the brand-spanking new DFS home page, as well as the fantasy page. Bookmark those sites now!
Let's get to Sunday's interesting facts, using DraftKings prices.
Five Things to Watch:
1. Here are the three highest projected over/unders, provided by OddsShark...
CLE-MIN: 9
LAD-ARI: 9
MIL-CIN: 9
2. Weather: Everything looks clear for Sunday.
3. You down with BvP? Brian McCann is 10 for 29 with 3 HRs against David Price. Robinson Cano is 9 for 28 with 2 HRs against Collin McHugh. Adam Jones is 10 for 25 against Jake Odorizzi. Yan Gomes is 6 for 14 with 2 HRs against Kyle Gibson.
4. Your three biggest pitching favorites for the night: Max Scherzer (-231) against Pittsburgh, Johnny Cueto (-215) against San Diego and Jacob deGrom (-170) against Philadelphia.
5. Sneaky stack options: The White Sox get soft-throwing Jered Weaver, who has a 5.28 ERA this season. Cleveland will take on Kyle Gibson, who has an ERA north of 5.00 as well.
Must-Start of the day: Max Scherzer, WAS
He's the strikeout king this year, and he's been nearly unhittable as of late. Over his past 10 games, Mad Max has 88 Ks in 69 innings, along with a 0.79 WHIP. He's worth every penny at home against a young pitcher in Chad Kuhl.
Deal of the day: Danny Valencia, OAK
He owns a 1.058 OPS against left-handed pitching this season and he's available for just $3,800 at a position that's surprisingly tough to fill on Sunday.
Avoid of the day: Kyle Seager, SEA
Seager is just 3 for 24 with 8 Ks lifetime against Collin McHugh.
Stack of the day: Los Angeles Angels
We don't choose the Angels often in this space, but a matchup with Jacob Turner is one to chase. Turner is making his debut and has gotten rocked in Triple A this year (4.71 ERA, 1.44 WHIP), so there's a strong chance the Angels do plenty of damage on Sunday.
Starting pitchers:
Max Scherzer, WAS: "Must-start of the day"
Johnny Cueto, SF: If you want to fade Scherzer, Cueto is your next best bet at home against the Padres. Although the strikeout potential isn't the same, Cueto can go deep in games and has notched at least 25 points on Draft Kings in five of his past six starts.
Julio Teheran, ATL: He hasn't gotten much shine because of the team he plays for, but Teheran has a 0.97 WHIP and a 2.96 ERA this year. The Rockies are much, much less scary on the road, making Teheran a solid mid-range option at $8,900.
Catchers:
Stephen Vogt, OAK: Hitting .478 with 2 HRs over his past seven games.
Brian McCann, NYY: McCann is 10 for 29 with 3 HRs against David Price.
First basemen:
Albert Pujols, LAA: Angels stack.
Jose Abreu, CWS: Gets soft-tossing Jered Weaver, who struggles against powerful righties.
Second basemen:
Robinson Cano, SEA: Cano is 9 for 28 with 2 HRs against Collin McHugh.
Jose Altuve, HOU: .355 three-year average against southpaws.
Third basemen:
Danny Valenica, OAK: "Deal of the day"
Josh Donaldson, TOR: Hot right now and owns a 1.069 OPS against southpaws.
Shortstops:
Francisco Lindor, CLE: Great matchup against Kyle Gibson and is hitting .313 over his past 10 games.
Marcus Semien, OAK: Decent chance at a homer against J.A. Happ, and you can mini-stack with Danny Valencia.
Outfielders:
Giancarlo Stanton, MIA: He's on fire right now, hitting .423 with 5 HRs over his past seven games.
Mark Trumbo, BAL: Hitting .407 with 4 HRs over his past seven games.
Mike Trout, LAA: If you want to stack the Angels, make sure Trout heads it up.